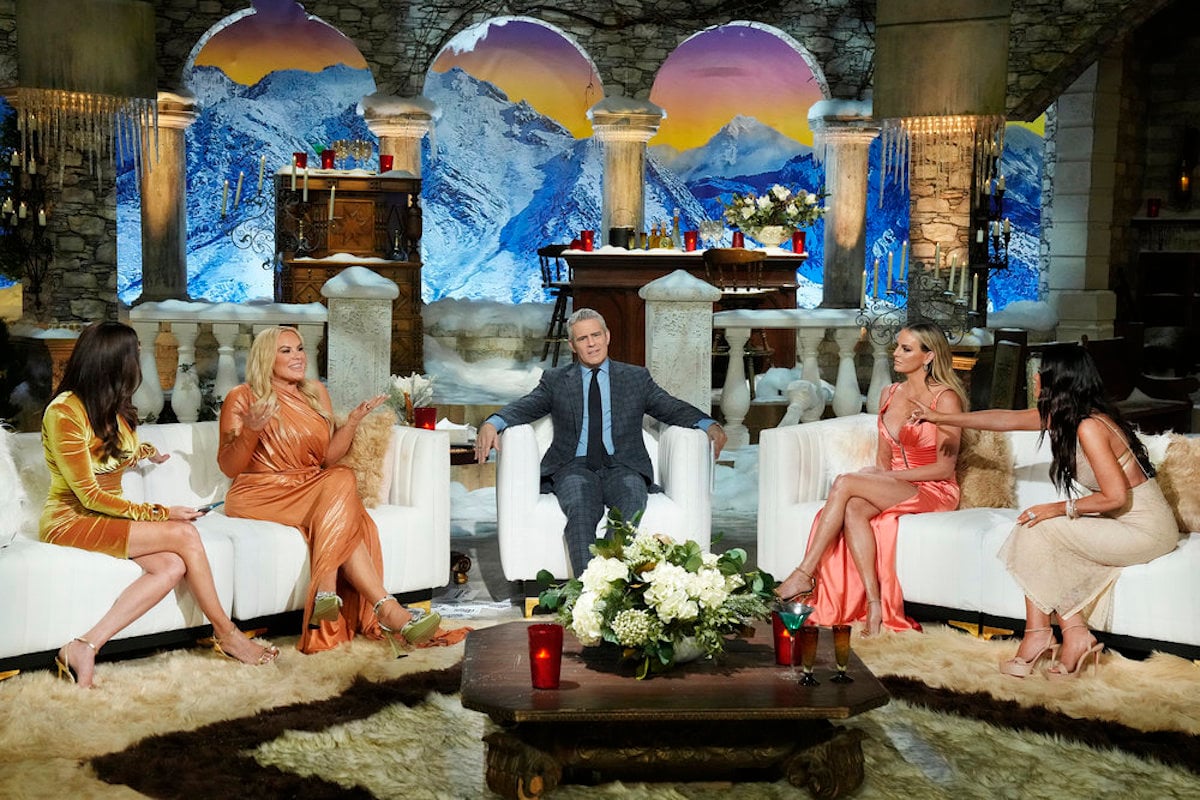 Meredith Marks, Heather Gay, Andy Cohen, Whitney Rose, and Lisa Barlow | Charles Sykes/Bravo
Jen Shah's trial prevented her from being part of the 'RHOSLC' reunion
Part one of The Real Housewives of Salt Lake City Season 3 reunion aired on Jan. 25 and it did not disappoint. Meredith Marks, Lisa Barlow, Heather Gay, and Whitney Rose were all present for the reunion. Angie Harrington, Angie Katsanevas, and Danna Bui-Negrete also made an appearance. Here are the shadiest moments from part one of the RHOSLC Season 3 reunion.
Meredith Marks, Heather Gay, Andy Cohen, Whitney Rose, and Lisa Barlow | Charles Sykes/Bravo
Jen Shah's trial prevented her from being part of the 'RHOSLC' reunion
If you're wondering where Jen Shah was, she skipped out on the reunion because her sentencing had yet to be decided. Jen was charged with conspiracy to commit wire fraud in connection with telemarketing and conspiracy to commit money laundering. She later pled guilty was sentenced to 6.5 years in prison on Jan. 6, 2023. 
Lisa Barlow throws shade about Jen Shah's prison sentence 
Still, Jen made a small cameo in part one of the RHOSLC reunion when Meredith called her to clear something up. In season 3, Lisa called Meredith a "pill popper" after Jen allegedly told her she and Meredith had taken ketamine — a "b****y thing to say," per Meredith, who denied these claims, as did Jen when she phoned her.  
"Calling someone a pill popper goes beyond being b****y," Andy Cohen interjected. "It's kind of an accusation." Lisa concluded, "It's funny that you'll believe someone going to prison for lying over me." 
Meredith Marks calls Lisa Barlow's hot mic moment a 'childish tantrum' 
Yet another shady moment from the RHOSLC reunion came when Meredith and Lisa, whose relationship has been on ice since the second season, were asked where they stood. "My issue with Lisa today has nothing to do with her childish tantrum," Meredith said, referencing the off-camera moment in Zion when Lisa called Meredith a "whore" who has "f***ed half of New York." 
Things haven't been the same between them since, but Meredith says they reached a "neutral space" after their Arizona trip. However, that all went out the window when Meredith discovered Lisa had removed her as a follower on Instagram and "hid her Stories."
"Then what really sent me completely over the edge was when [Lisa posted old texts about my dad's death]," Meredith said during the reunion. Lisa's social media posts about the date Meredith's father died left a bad taste in her mouth and made her feel like she didn't want to move forward in a friendship.
Lisa Barlow throws shade about the Jen Shah exposed Instagram account
In RHOSLC Season 3, Angie's husband Chris admitted to creating a fake Instagram account to troll Lisa despite the name of the account being "Shah Exposed." By the end of the season, he apologized to Jen and Coach Shah, but that didn't prevent it from coming up during the reunion.
Amid a conversation about Lisa's alleged favors for Utah Jazz tickets, Angie told her not to "question her husband's character." Lisa replied: "Your husband's character the whole world knows about."  
Meredith Marks makes a shady comment toward Angie K. during …read more
Source:: Showbiz Cheat Sheet
(Visited 2 times, 1 visits today)