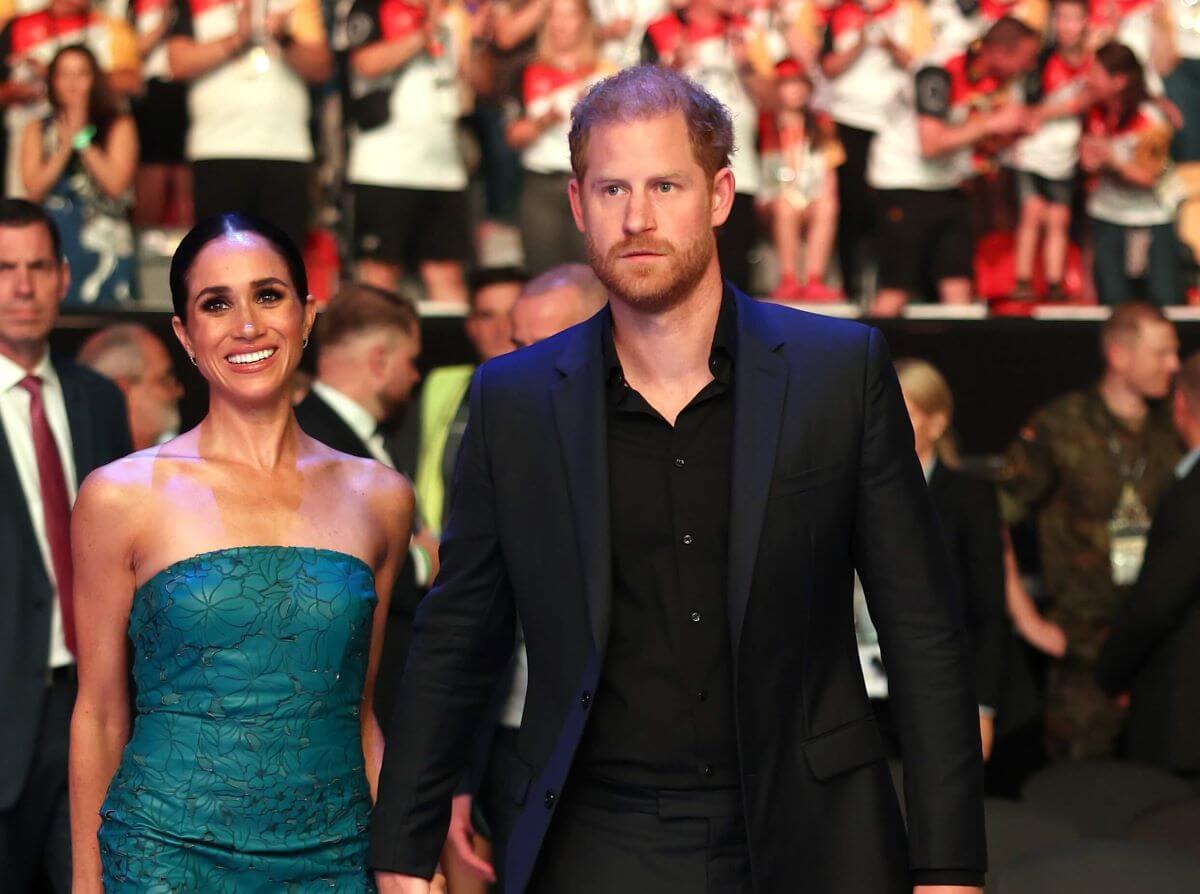 Royal watchers haven't been able to stop talking about Prince Harry and Meghan Markle's recent appearance in San Diego. The couple attended the ribbon-cutting ceremony at the Navy SEAL Foundation training facility for veterans on Nov. 8. But while Meghan smiled for the cameras, Harry did not.
Now video of the prince and his wife's differing body language and demeanor at the event has social media buzzing with sarcasm about the way Harry looks.
Video mocks Prince Harry as looking 'happy' and 'so in love'
The video titled "Prince Harry looks glum as Meghan Markle beams in first public outing since birthday row" was posted to TikTok on Nov. 9. It shows the former Suits star standing in front of her husband and right next to the speaker. The duchess, aware that the cameras are on them, flashes a few smiles during the remarks but Harry doesn't share that enthusiasm. The text in the clip takes a shot at the pair with the words: "They are so in love. They don't have to try."
So far the video has garnered more than 12,000 likes and over 2,600 comments filled with sarcasm about the couple's differing expressions, particularly Harry's.
"[Harry] can't contain the happiness, love and excitement," one user joked.
"The joy on his face is contagious," another posted with a laughing-till-crying emoji.
"Yes he's living the dream it's written all over his face … definitely in love," another added.
"The face of 'so in love' and happiness!" a fourth chimed in, while a fifth wrote: "He definitely has no regrets with that beaming love shining through."
A sixth said: "We can see the love all over his happy face." And another fan piled on: "Just so in love, never seen anything like it!"
Body language expert weighs in on the 'unsmiling' duke looking like a 'plus one'
Meghan Markle and Prince Harry attend the closing ceremony of the Invictus Games Düsseldorf 2023 | Chris Jackson/Getty Images for the Invictus Games Foundation
Related
Lip Reader Reveals What Prince Harry and Meghan Markle Were Laughing About During Tense Royal Event
Royal Commentators Claim Meghan Markle 'Wasn't Meant to Be on Stage' With Prince Harry at Event so It Was 'Very Embarrassing'
Body Language Expert Analyzes Throwback Photo of Meghan Looking Like She Wants to 'Disappear' and Prince Harry Looking Like He 'Hasn't Slept'
Body language and behavioral expert Judi James gave her take on the pair's appearance and said that Harry looked like Meghan's "unsmiling plus one."
James told Express: "For a couple that is normally bonded together as a double-act, it looked odd to see Meghan walking out ahead while an unsmiling Harry followed on showing several signals of inner anxiety, like the way he clenched his jacket together with one hand to form a body barrier and the way he rubbed his hands together as he spoke to the host.
"Meghan signals …read more
Source:: Showbiz Cheat Sheet
(Visited 1 times, 1 visits today)