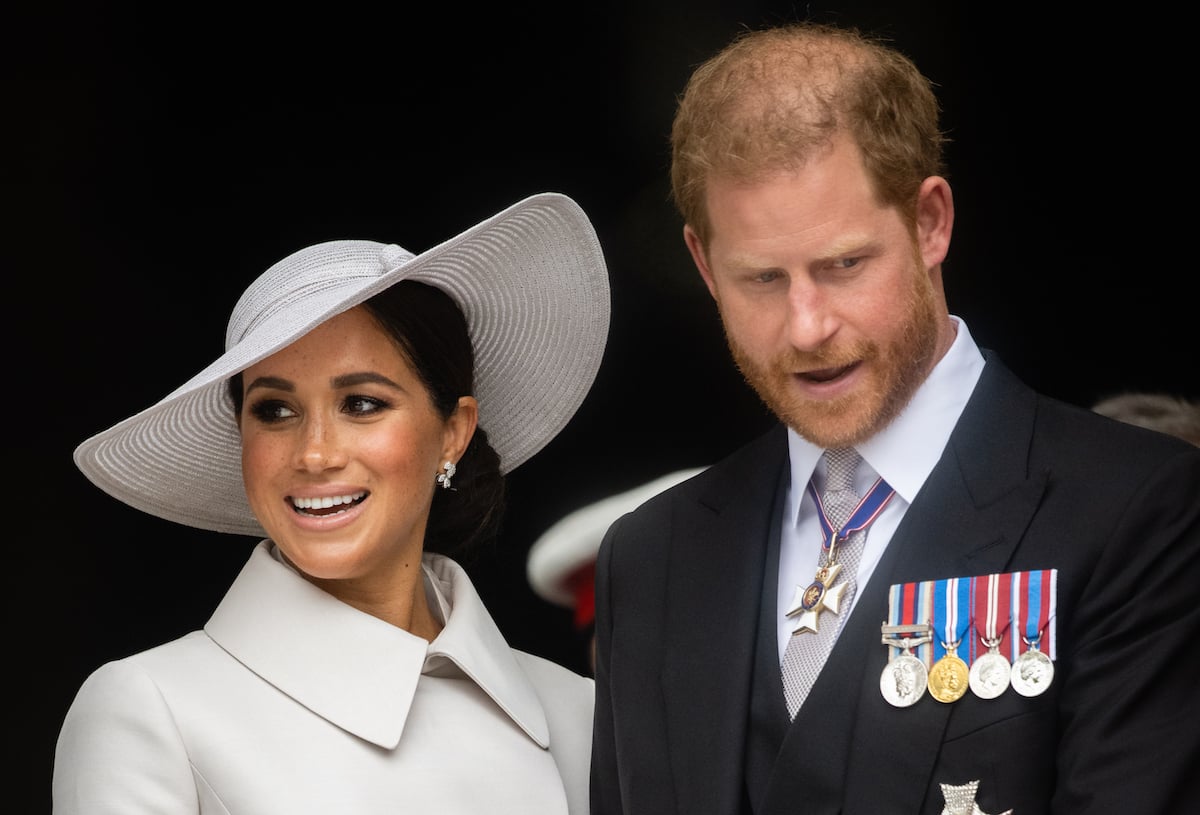 Meghan Markle and Prince Harry on June 3, 2022 | Samir Hussein/WireImage
Queen Elizabeth's Platinum Jubilee festivities in early June celebrated the monarch's long reign on the throne. But the world's eyes were on some other members of the royal family. Everyone was watching Prince Harry and Meghan Markle during their first big return to England. So, how exactly did the Duke and Duchess of Sussex's visit go?
Prince Harry and Meghan Markle's formal 15-minute visit with the queen
Meghan Markle and Prince Harry on June 3, 2022 | Samir Hussein/WireImage
Many assumed Prince Harry and Meghan Markle would use their time in England to ease any tension remaining between them and the rest of the royals. However, it looks like the couple might not have gotten the face time with the queen they wanted. 
The Duke and Duchess of Sussex secured only a 15-minute visit with Queen Elizabeth II over the four-day celebration, the Daily Mail reports. The short time they spent together was also reportedly a bit stiff. 
"It was a quick in-and-out job," a palace insider told The Sun. "It was all quite formal."
The queen wasn't the only royal family member keeping a distance from Harry and Meghan. 
Why Prince Harry and Meghan Markle left the UK so soon after the Jubilee
Prince Harry and Duchess Meghan attend National Service of Thanksgiving for Queen Elizabeth II's Platinum Jubilee, marking the first time the couple has appeared publicly with Britain's royal family since stepping down from their senior royal roles. https://t.co/nG8UITzyE4 pic.twitter.com/FgyqbqfzoM
— ABC News (@ABC) June 3, 2022
"The pair were then kept at arm's length by senior royals during the Jubilee," the anonymous source continued. "They jetted back to California last Sunday before celebrations had finished, and Harry was soon [seen] playing polo again back home."
According to some sources, including the Mirror, the Sussexes left the UK quickly because Harry struggled to handle his new role as a secondary royal. For example, he and his family weren't allowed to stand on the balcony of Buckingham Palace and wave to the cheering crowds during the Trooping the Colour. 
Why Queen Elizabeth wouldn't take a photo with great-granddaughter Lilibet
There was a sweet connection between Lilibet's cake and her parents' nuptials. https://t.co/6WKwflBKFx
— TODAY (@TODAYshow) June 13, 2022
The short, formal visit wasn't the only snub Prince Harry and Meghan Markle endured. According to The Sun, the couple's request for the queen to take a photo with Lilibet — whom Queen Elizabeth was meeting for the first time — was denied. 
"We now know that the Queen, well, the men in gray who really handle things, would not permit the Queen's photograph to be taken with Lilibet," royal biographer Christoper Andersen explained. 
"That spoke volumes. It was a really bitter pill for Meghan and Harry to swallow," he continued. "You have to remember, Archie was photographed with the Queen and Prince Philip and Doria Ragland when he was 2 days old."
"It's a tradition to be photographed with the monarch …read more
Source:: Showbiz Cheat Sheet
(Visited 8 times, 1 visits today)