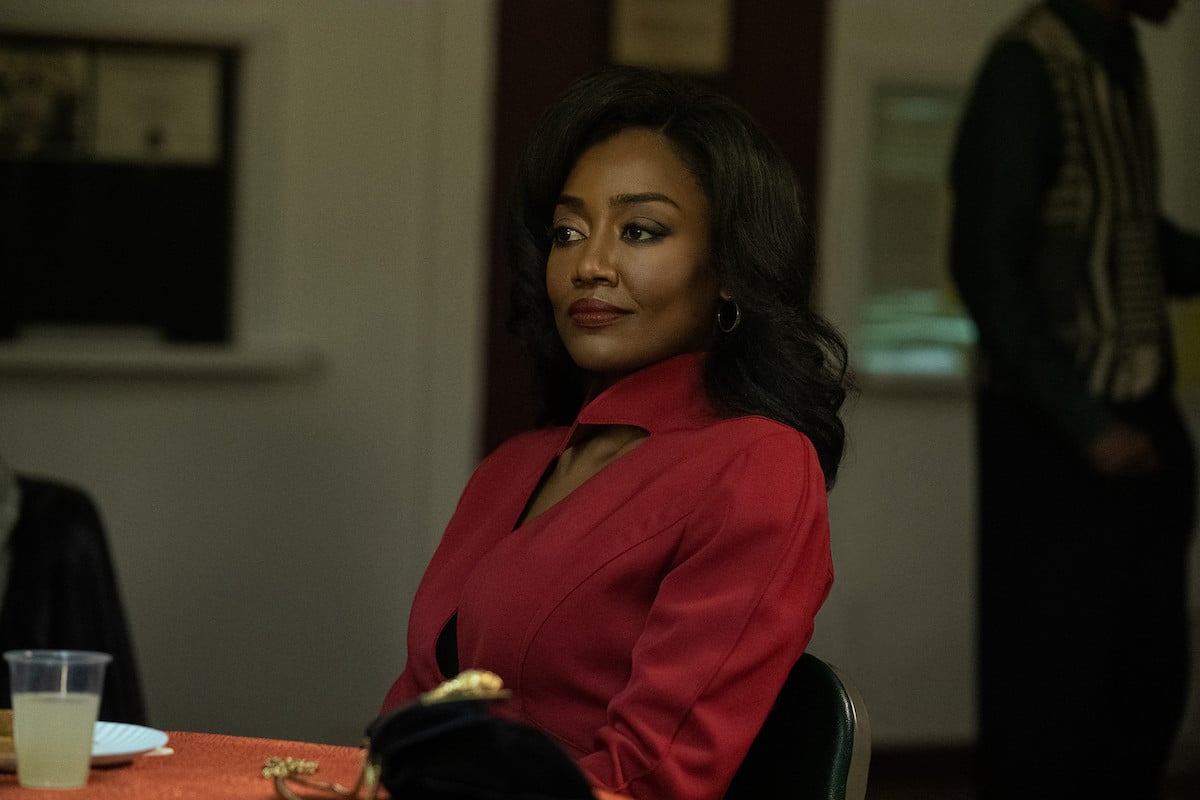 Patina Miller as Raquel Thomas in 'Power Book III: Raising Kanan' | Starz
Patina Miller shared her interest in a 'Power Book III: Raising Kanan' spinoff centered on Raq
Miller endorsed the idea of a Raq spinoff in an interview on
Raquel Thomas is considered by many viewers as one of the greatest and most complex characters of the Power Universe. Brilliantly played by Patina Miller, she's a drug dealer running a criminal operation in Power Book III: Raising Kanan with her brothers, Lou-Lou and Marvin. She tries to use those resources to provide a better life for her teenage son, Kanan Stark, but Kanan is already so familiar with the business that he'd prefer to do that.
Viewers will get to know more about Raq as the show progresses, but Miller is also open to a Raising Kanan spinoff to flesh out the character even more.
Patina Miller as Raquel Thomas in 'Power Book III: Raising Kanan' | Starz
Patina Miller shared her interest in a 'Power Book III: Raising Kanan' spinoff centered on Raq
Miller endorsed the idea of a Raq spinoff in an interview on The Crew Has It, the podcast hosted by Michael Rainey Jr. and Gianni Paolo of Power Book II: Ghost.
"She needs it," she said when Paolo mentioned a possible Raq spinoff.
While the show still has plenty of seasons left for viewers to get to know her, Miller would also like to back up a bit to explore how Raq became the person she is now.
"There's so much to unpack from her running with who she was running with at 15, being caught up with an undercover cop, dealing with two of the top kingpins, being up under them, and then learning all she needs to know from them, and then doing her own thing, being the woman in charge," she continued.
"That would be interesting as f***," Rainey said, musing the project could be titled Raising Raq. "Yeah, Raising Raq, baby!" Miller replied, laughing. "Come on, Sascha," she added, referring to Sascha Penn, the creator of Raising Kanan.
WHAT. A. NIGHT. How y'all feeling after the season finale of #RaisingKanan? pic.twitter.com/M9ZlJhaARB
— Raising Kanan (@RaisingKanan) September 27, 2021
Becoming Raq for 'Power Book III: Raising Kanan'
Miller also spoke about the experience of how she got cast on Raising Kanan in the first place. She remembered she was coming off of her longtime series Madam Secretary at the time and was feeling really unsure about what was next.
"Madam Secretary was wrapping and I was like, I haven't done anything else for six years," she recalled. "I had just had a baby. Like … I went through kind of like a scared moment. Oh God, I'm gonna have to start over. I've been super secure in my job for six years. Nobody knows me because I've been on a show."
Then she realized she needed to get out of her head. "One day I was like, what?" she went on. "You've done all these things. Like, girl, pick your sh** up, do what you gotta do, go to L.A., meet people, get out there again. And I went out to L.A., and I started meeting people, and I …read more
Source:: Showbiz Cheat Sheet
(Visited 10 times, 1 visits today)