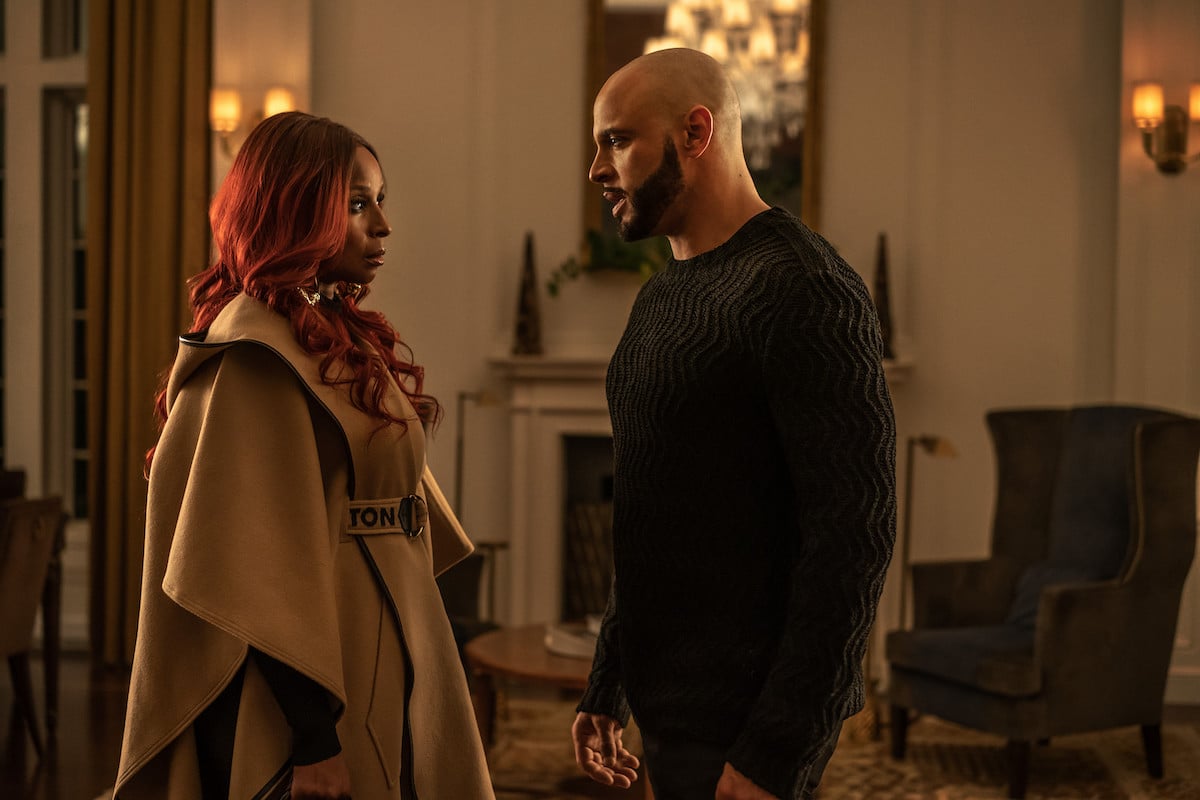 Mary J. Blige as Monet Tejada and Daniel Sunjata as Mecca in 'Power Book II: Ghost' | Starz
In Power Book II: Ghost, Tariq St. Patrick (Michael Rainey Jr.) has found himself mixed up with the diabolical Tejada family. Monet Stewart Tejada (Mary J. Blige), the family's matriarch, runs the family business with cutthroat viciousness. She rules over everyone including Tariq and her three children, Cane (Woody McClain), Diana (LaToya Tonodeo), and Dru (Lovell Adams-Gray).
Now it looks like Monet is going to be getting a run for her money with Mecca (Daniel Sunjata), a new character with a very dark agenda.
Mary J. Blige as Monet Tejada and Daniel Sunjata as Mecca in 'Power Book II: Ghost' | Starz
RELATED: 'Power Book II: Ghost': Fans Are Convinced Tariq Will Kill Monet and Lorenzo Tejada to Take Over Their Drug Empire
Who is Mecca on 'Power Book II: Ghost'?
When it comes to villains, the Power Universe has them in spades. From the late James "Ghost" St. Patrick to Kanan Stark (Curtis "50 Cent" Jackson), and Cane Tejada (Woody McClain), no one in the Power Universe has pure intentions.
However, newcomer Mecca might be the worse villain fans have seen thus far. 
"He is calculated, manipulative, and dangerous," Deadline reports. "Mecca conveniently reemerges in New York at the exact moment the Tejadas need to fill the void of a new product supplier. But when his mysterious past starts to become exposed, it reveals the drug business might not be his only end game with this family."
There's a new player in town. Can he be trusted? Find out when #PowerGhost returns Nov. 21. pic.twitter.com/LS2hjLykTk
— Power Book II: Ghost (@ghoststarz) November 6, 2021
RELATED: 'Power Book II: Ghost' Season 2: Fans Already Have Predictions
Daniel Sunjata says Mecca has a pretty dark agenda 
So far not much is known about Mecca other than he gets in the mix with the Tejadas and it appears that he gets very close with Monet. 
Now Sunjata is revealing that his character has a very dark agenda. 
"In brief, Mecca is introduced in the very first episode," he told TV Fanatic. "His place is revealed as the episodes unfold, but I can say he comes in with an agenda. He's pretty much willing to do anything that he has to do in order to produce the desired outcome and gets a little messy."
Sunjata has been a fan of the Power Universe from the beginning so he was eager to step into the role. "Watched every episode of every season, and they didn't take anything to draw me in. As soon as I got the offer, I was like, couldn't get to New York fast enough," he revealed. "I mean, I'm a huge fan. And this is one of the crazy things is.
Here's an exclusive look at season 2 of 'Power Book II: Ghost,' including the premiere date. https://t.co/tBhbVHUwas
— Entertainment Weekly (@EW) September 15, 2021
RELATED: 'Power Book II: Ghost': Fans Believe Monet and Ghost Have a Secret Daughter
Mecca and Monet's romance will cause problems in …read more
Source:: Showbiz Cheat Sheet
(Visited 12 times, 1 visits today)