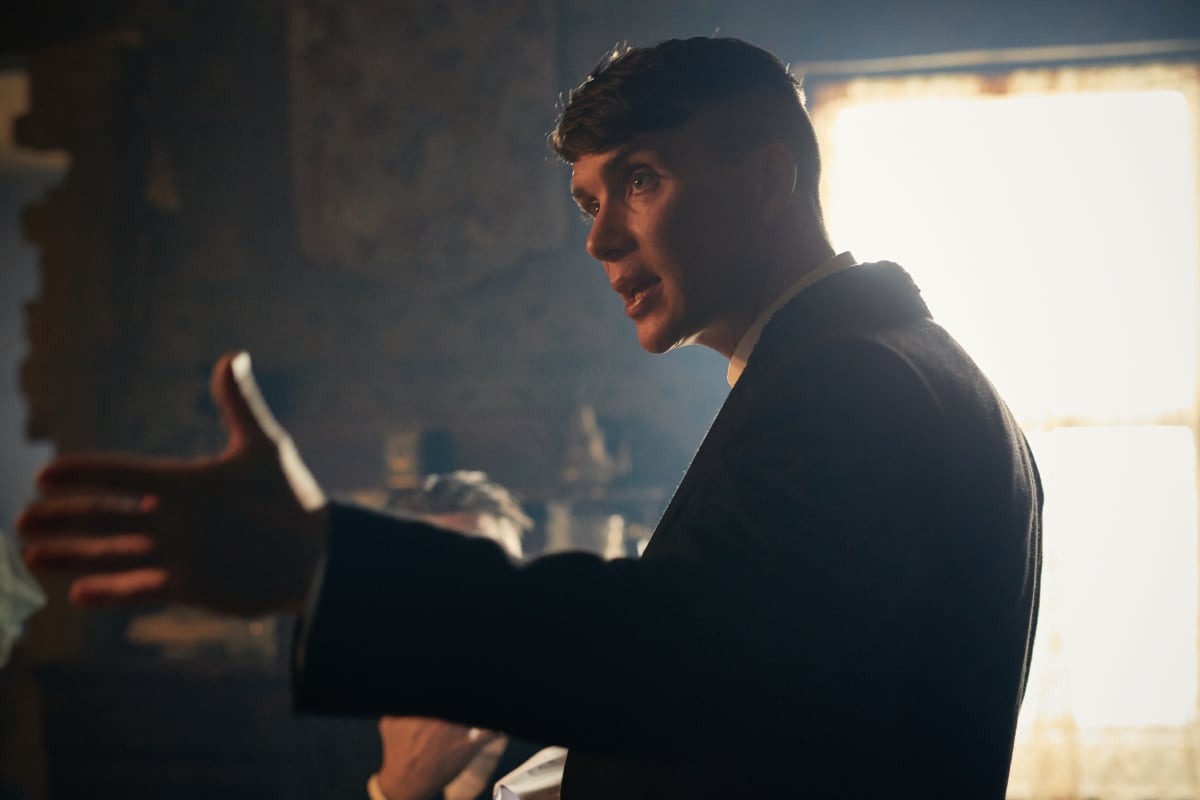 Cillian Murphy as Thomas Shelby in 'Peaky Blinders'
| Robert Viglasky/Netflix
'Peaky Blinders' begins after the end of WWI
The first season of Peaky Blinders is set in 1919 Birmingham, approximately
Peaky Blinders takes place over an interesting timeline. Understanding the show's history is pretty crucial while watching the series. The BBC show also features several time jumps. Here's everything you need to know about the Peaky Blinders timeline from season 1 to season 6.
Cillian Murphy as Thomas Shelby in 'Peaky Blinders'
| Robert Viglasky/Netflix
'Peaky Blinders' begins after the end of WWI
The first season of Peaky Blinders is set in 1919 Birmingham, approximately one year after the end of WWI. The post-war setting is an extremely important part of the show. Tommy, Arthur, and John all experience different levels of PTSD after returning home that continue to affect them throughout the series.
Peaky Blinders Season 2 jumps forward in the timeline to 1921, the same year the Anglo-Irish treaty ended Ireland's War of Independence, Tudum writes. The end of the war created a split within the IRA, in which Tommy finds himself caught up. By this time, Prohibition is also in full swing. Tommy goes into business with Alfie Solomons, who manufactures bootleg liquor. Tommy then sells that money at a high markup in America.
Seasons 3 and 4 pick up in the mid-1920s
Peaky Blinders Season 3 returns in 1924 in the timeline, kicking off with Tommy's wedding to Grace. Unfortunately, their marriage is short-lived and Grace is killed in the second episode. During this time, fear of communism begins to grow, leading to the rise of ultra-conservative organizations, Tudum writes. The Economist League, led by Father John Hughes, attempts to blackmail Tommy into helping Russian aristocrats overthrow the Soviet government, which was established in 1922. Tommy also begins a romantic relationship with Duchess Tatiana Petrovna.
The majority of Peaky Blinders Season 4 takes place in 1926. Luca Changretta and the New York mafia target the Shelby family for the murders they committed a year earlier. They manage to kill John by the end of the first episode. Italian American gangster Al Capone even gets a mention in this season. Meanwhile, Jessie Eden leads a strike with the goal of obtaining better working conditions and equal rights for women.
Fascism begins to rise in 'Peaky Blinders' Seasons 5 and 6
Peaky Blinders Season 5's timeline begins with the stock market crash of 1929, which plummeted the United States into the Great Depression. Michael causes Tommy to lose quite a bit of money because he refused to take Shelby money out of stocks until it was too late. In this season, Tommy is a Member of Parliament in the Labour Party. He begins to butt heads with Oswald Mosley, leader of the British Union of Fascists.
Season 6 skips ahead to 1933. On the eve of the end of Prohibition, Tommy visits Miquelon Island, where the angry locals are preparing for the upcoming economic devastation of no longer being able to sell illegal booze in America. Fascism continues to rise in Britain, and subtle hints of the upcoming Second World War are …read more
Source:: Showbiz Cheat Sheet
(Visited 7 times, 1 visits today)