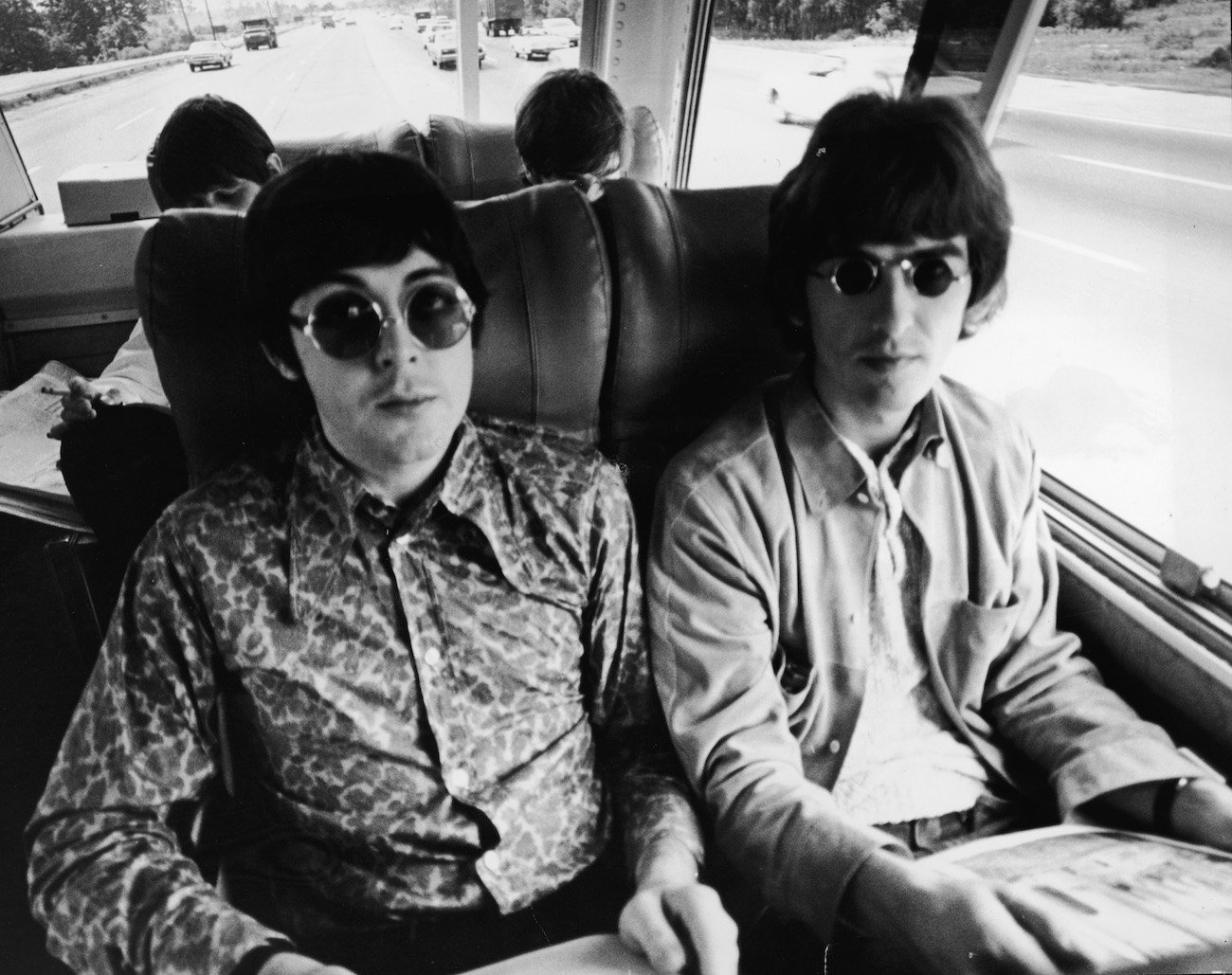 Paul McCartney and George Harrison | Express Newspapers/Getty Images
Paul McCartney talked to George following fabricated reports during his last months
In May 2001, George Harrison underwent surgery for lung cancer. He released a statement saying it was successful, and he was well into an excellent recovery. Two months later, doctors treated him for a brain tumor at a clinic in Switzerland. Still, George and 
Paul McCartney advised George Harrison to stay at Speke Hall in Liverpool during his last months. The Beatle wanted to help his former bandmate find a peaceful place to stay. In the end, George died in an LA home once leased by Paul.
Paul McCartney and George Harrison | Express Newspapers/Getty Images
Paul McCartney talked to George following fabricated reports during his last months
In May 2001, George Harrison underwent surgery for lung cancer. He released a statement saying it was successful, and he was well into an excellent recovery. Two months later, doctors treated him for a brain tumor at a clinic in Switzerland. Still, George and his wife, Olivia, were hopeful of the ex-Beatle's full recovery.
However, the newspapers spun stories. The Mail on Sunday fabricated an interview from The Beatles' former manager, George Martin, that claimed George was dying. He was "disappointed and disgusted" by the reports.
In a 2001 interview, Rolling Stone brought the issue up with Paul. The "Yesterday" singer said he had to call George to hear the truth.
Paul said, "I spoke to George immediately after that. He said, 'I suppose you're ringing about [the newspaper reports].' I said, 'Not really, but I'm concerned.' He said, 'I just got an e-mail from George Martin, who said, 'I promise you, George, I really didn't say that. I wouldn't ever.'"
Paul continued, "I don't really like to talk about [George's health] because I don't know enough about it. I don't really like to pry. Obviously he's had problems, and I'm not sure of the current stage of things. But every time I ring him, he's very upbeat. So I just cross my fingers and pray that things will be all right."
Unfortunately, the Mail on Sunday's false reports became a reality shortly after. George was dying.
RELATED: George Harrison Thought It Was Strange That Michael Jackson Bought The Beatles' Catalog Because He Was Supposed to Be Paul McCartney's Friend
Paul suggested George stay at Speke Hall during his last months
It seems Paul was more concerned about George than he initially let on.
During an interview with The Telegraph, Paul said George traveled around the world in his last months seeking treatment. He suggested George retire someplace nice.
"He'd gone to Geneva to see what they could do," Paul said. "Then he came to a special clinic in New York to see what they could do. Then the thought was to go to L.A. and see what they could do."
Paul said he suggested George go to Speke Hall, a famous Tudor mansion in Liverpool. He said, "He was sort of getting a bit, 'Can't we just stay in one place?' And I said: 'Yes, Speke Hall. Let's go to Speke Hall.'"
RELATED: George Harrison Didn't Miss Paul McCartney at The Beatles' Rock & Roll Hall of Fame Induction
Tom Petty said the press hounded George during the last year of his life
George wanted to rest someplace nice, but he also wanted privacy. Unfortunately, he didn't get it.
During an …read more
Source:: Showbiz Cheat Sheet
(Visited 1 times, 1 visits today)