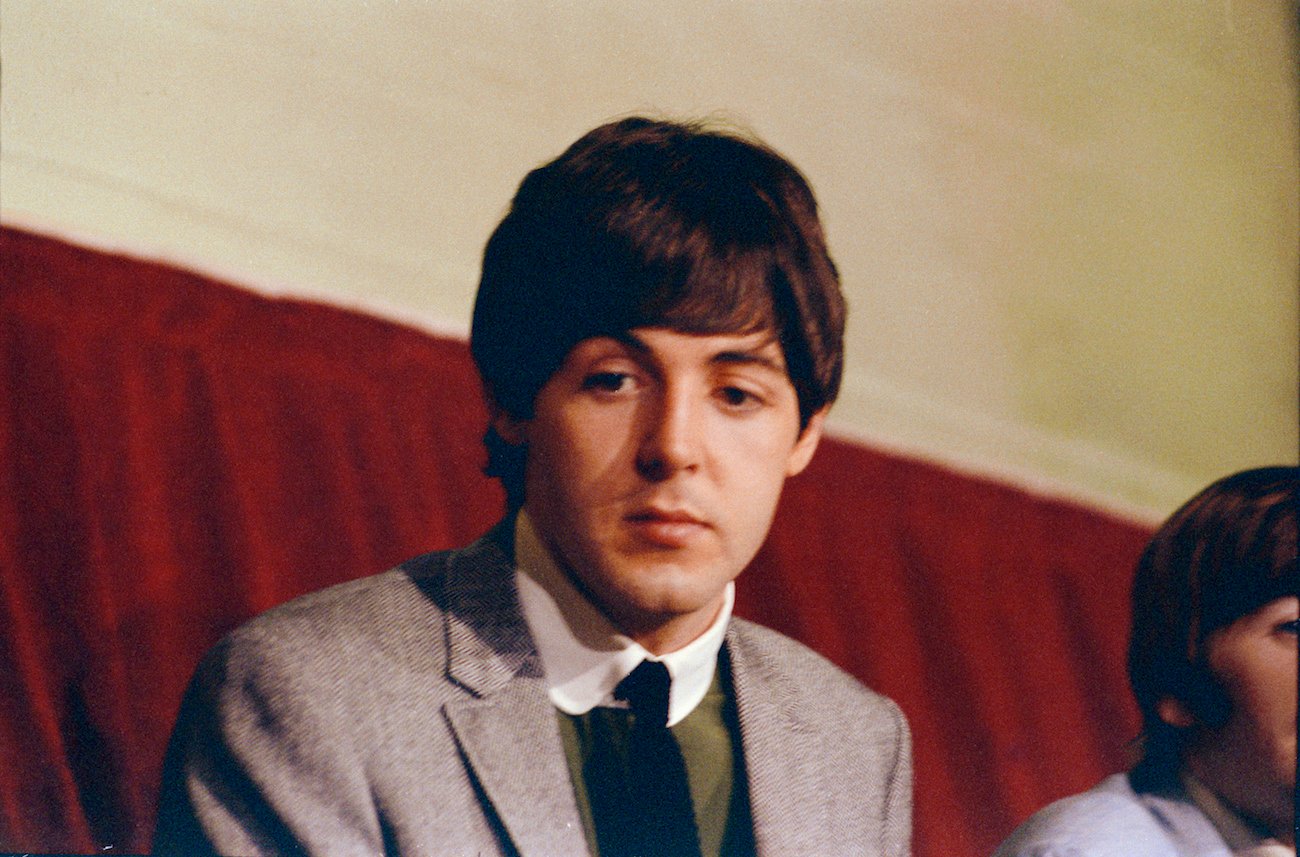 Paul McCartney | Michael Ochs Archives/Getty Images
Paul McCartney said he based The Beatles' 'Eleanor Rigby' on an old lady he used to visit as a boy
In The Lyrics: 1956 to the Present, Paul said he knew many old ladies growing up partially through Bob-a-Job Week, "when Scouts did chores for a shilling." He explained, "You'd get a shilling for cleaning out a shed or mowing a lawn."
Paul McCartney based The Beatles' "Eleanor Rigby" on an old lady he often visited as a boy. The stories she used to tell the singer-songwriter "enriched" his soul.
Paul McCartney | Michael Ochs Archives/Getty Images
Paul McCartney said he based The Beatles' 'Eleanor Rigby' on an old lady he used to visit as a boy
In The Lyrics: 1956 to the Present, Paul said he knew many old ladies growing up partially through Bob-a-Job Week, "when Scouts did chores for a shilling." He explained, "You'd get a shilling for cleaning out a shed or mowing a lawn."
Years later, during his time with The Beatles, Paul wanted to write a song that would pay homage to the older women in his neighborhood, specifically one old lady he got on with very well. He doesn't remember how he first met "Eleanor Rigby," but he'd go to her house often.
"I found out that she lived on her own, so I would go around there and just chat, which is sort of crazy if you think about me being some young Liverpool guy," Paul wrote. "Later, I would offer to go and get her shopping. She'd give me a list and I'd bring the stuff back, and we'd sit in her kitchen. I still vividly remember the kitchen because she had a little crystal radio set.
"That's not a brand name; it actually had a crystal inside it. Crystal radios were quite popular in the 1920s and '30s. So I would visit, and just hearing her stories enriched my soul and influenced the songs I would later write."
Initially, Paul wanted to call 'Eleanor Rigby' 'Daisy Hawkins'
Years after hearing the old lady's soul-enriching stories, Paul wanted to immortalize her in a song. However, he had to give her a great name.
"She may actually have started with a quite different name," Paul said. "Daisy Hawkins, was it? I can see that 'Hawkins' is quite nice, but it wasn't right. Jack Hawkins had played Quintus Arrius in 'Ben-Hur.' Then there was Jim Hawkins from one of my favourite books, 'Treasure Island.' But it wasn't right."
Just as Paul doesn't remember how he met the old lady, he doesn't exactly recall how he came up with "Eleanor Rigby." He wrote, "This is the trouble with history, though. Even if you were there, which I obviously was, it's sometimes very difficult to pin down."
Related
Paul McCartney Experienced Something Horrific While Recording 'Band on the Run' in Nigeria
The Beatle doesn't think he named his song after seeing a woman's gravestone
Paul might not be able to "pin down" the story of how he came up with "Eleanor Rigby," but he also doesn't believe he named his character after seeing a gravestone. There is a gravestone in the cemetery at St. Peter's Church that says "Eleanor Rigby." Despite hanging out there often, Paul doesn't believe he ever saw it.
"It's like the story of the name 'Eleanor Rigby' on a marker in the graveyard at St Peter's …read more
Source:: Showbiz Cheat Sheet
(Visited 1 times, 1 visits today)