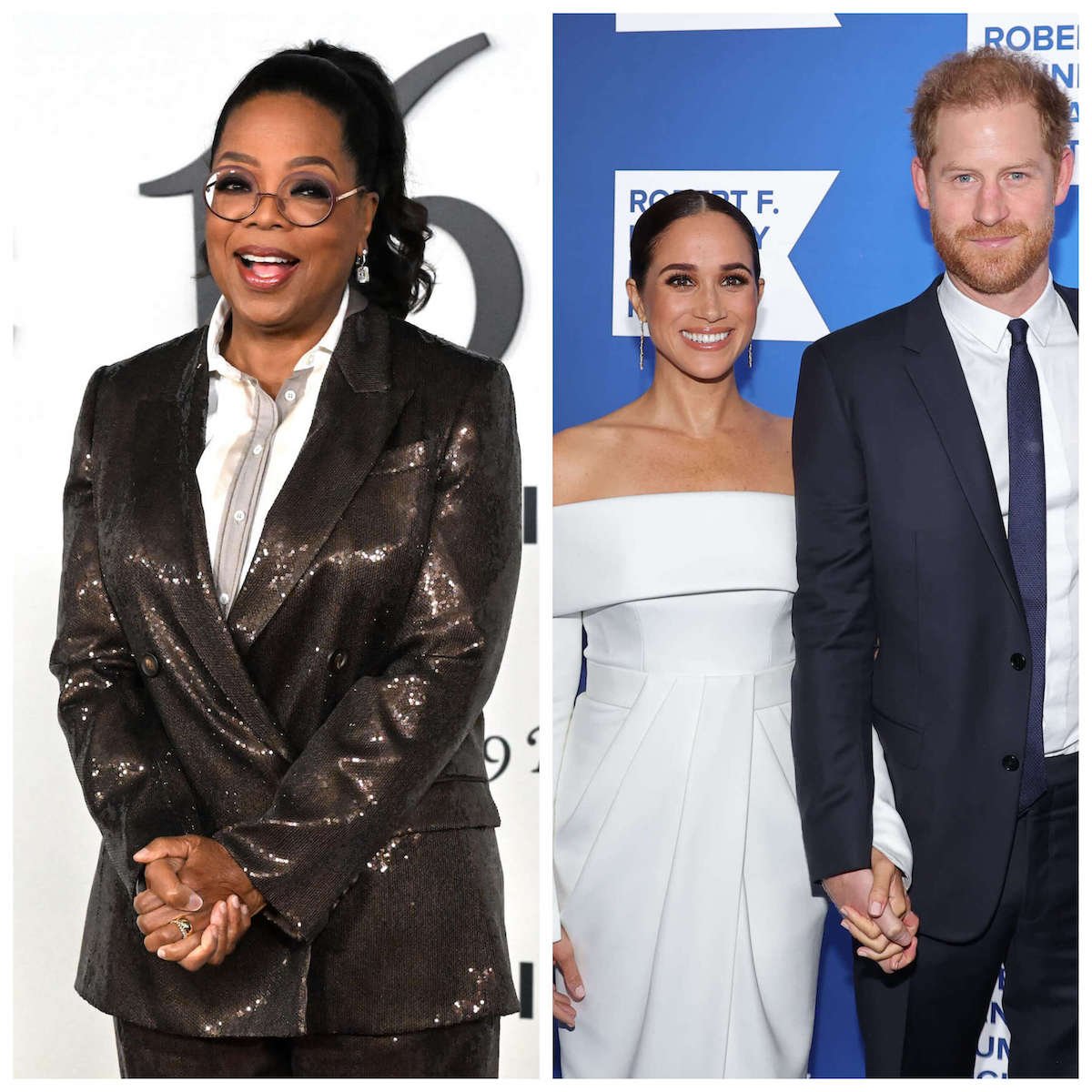 Oprah; Meghan Markle and Prince Harry | Albert L. Ortega/Getty Images; Mike Coppola/Getty Images for 2022 Robert F. Kennedy Human Rights Ripple of Hope Gala
Oprah Winfrey is joining royal watchers, experts, and commentators alike by weighing in on the situation that is Prince Harry, Meghan Markle, and King Charles III's coronation. During a CBS Mornings appearance, Oprah shared her thoughts on whether the Duke and Duchess of Sussex should attend the May 2023 ceremony. 
Oprah thinks Harry and Meghan 'should do what they feel is best' when it comes to attending King Charles' coronation
After sitting down with Harry and Meghan in 2021 for a primetime interview, Oprah discussed the couple briefly on CBS Mornings. There to promote her latest — and 100th — book club pick, Ann Napolitano's Hello Beautiful, Oprah shared what she thinks the pair should do. 
"Do you think they should go, do you think they should not go? Is it something you'd like to comment on? I'm listening," Gayle King, a friend of Oprah's and Harry and Meghan's, asked. 
"I think they should do what they feel is best for them and their family. That's what I think," Oprah replied. "That's what the bottom line comes down to. What do you feel like is the right thing for you?"
The What Happened to You author also told King Harry and Meghan haven't come to her for advice. "They haven't asked me my opinion," Oprah said.
Related
Royal Expert Maps out Harry and Meghan's 'Best Way Possible' to Attend the Coronation: 'A Lose-Lose Situation'
Prince Harry and Meghan Markle Have an 'Added Incentive' to Attend the Coronation That Has Nothing to Do With the Rift
Prince Harry and Meghan Markle Not Revealing Coronation RSVP Dubbed 'Childish'
Harry and Meghan were emailed about the coronation in early March 2023
Days earlier, on March 5, a spokesperson for Harry and Meghan revealed they'd been in touch with King Charles' "office" about the coronation.
"I can confirm The Duke has recently received email correspondence from His Majesty's office regarding the coronation," the spokesperson said (via CNN).
However, the spokesperson didn't explain how Harry and Meghan would RSVP. "An immediate decision on whether The Duke and Duchess will attend will not be disclosed by us at this time," they said. 
In the wake of the announcement came another update from the California-based couple. Harry and Meghan announced new titles for their children. Their 3-year-old son, Archie Harrison Mountbatten-Windsor, is now formally Prince Archie. Meanwhile, their 1-year-old daughter, Lilibet Diana Mountbatten-Windsor, is Princess Lilibet.
Not to mention Harry and Meghan have been told to vacate Frogmore Cottage, their U.K. residence near Windsor Castle. 
Buckingham Palace staff are reportedly preparing for the coronation on the assumption that Harry and Meghan will attend
In the aftermath of Harry's explosive Spare memoir and Netflix's Harry & Meghan docuseries, the question remains whether or not the Duke and Duchess of Sussex will be at Westminster Abbey when the king is …read more
Source:: Showbiz Cheat Sheet
(Visited 1 times, 1 visits today)