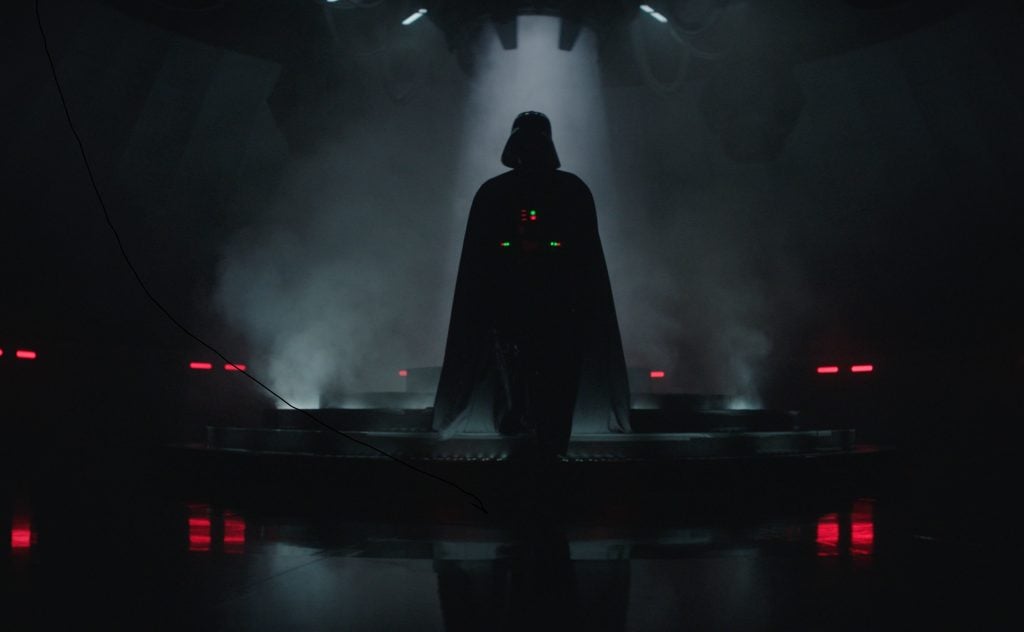 Hayden Christensen as Darth Vader |
Three different people are in Darth Vader's suit in 'Obi-Wan Kenobi'
A great deal of the marketing surrounding the Star Wars miniseries Obi-Wan Kenobi involves Hayden Christensen returning to the role of Darth Vader. Christensen previously played Anakin Skywalker in the prequel trilogy, briefly portraying Darth Vader in Star Wars: Episode III – Revenge of the Sith.
So far, fans of Obi-Wan Kenobi have seen Christensen in the Disney+ as Anakin in flashbacks and as Darth Vader in a bacta tank. Christensen is also credited as playing Darth Vader when the character is suited up, but the actor isn't always the one in the Darth Vader suit onscreen.
[Spoiler Alert: This article contains spoilers for the first season of Obi-Wan Kenobi.]
Hayden Christensen as Darth Vader |
Three different people are in Darth Vader's suit in 'Obi-Wan Kenobi'
Three people act in the suit as Darth Vader in Obi-Wan Kenobi. In addition to Christensen playing the character, Dmitrious Bistrevsky performs in certain scenes, and Tom O'Connell is the stunt performer for the character.
In the comments of an Instagram post, Bistrevsky explained how it works to have three different actors playing Darth Vader.
"Darth Vader is played by three people, we all worked together to create the best Darth Vader in cinematic history. It's me, it's Hayden , It's Tom. We are a symbiosis. We all contributed our strengths to create the best representation of the character," Bistrevsky wrote in an Instagram comment.
Bistrevsky also gave fans of Obi-Wan Kenobi insight about when each actor is playing Darth Vader onscreen.
"Hayden and I both act in the Darth Vader scenes, we bring the character and the emotions (and the pain, suffering, anger) I'm 6'7 so when you see a full body shot it looks better having an actor, vs a CGI creation," Bistrevsky wrote on Instagram. "Tom specializes in the fighting. The fights are Tom. Full body with Helmet On is me, Hayden carries the heaviest burden of all, the pain and betrayal of his best friend and once mentor."
The finale of #ObiWanKenobi starts streaming tomorrow on @DisneyPlus. pic.twitter.com/rRn4PoSgl3
— Obi-Wan Kenobi (@obiwankenobi) June 21, 2022
RELATED: 'Obi-Wan Kenobi': Who Voices Darth Vader?
Dmitrious Bistrevsky does not think it matters that multiple people play Darth Vader in 'Obi-Wan Kenobi'
While some fans might be curious to know how much Christensen was actually in the suit as Darth Vader, Bistrevsky reiterated to fans on Instagram that bringing Darth Vader to life is a "collective effort."
"People get so hung up on who was what, when the most important thing is the collective effort of bringing this legendary character to life. Some scenes required switch back and forth between multiple people. It took a village. And we delivered the best we had for your enjoyment," the actor wrote.
Of course, multiple actors portraying Darth Vader is nothing new. In the original Star Wars trilogy, David Prowse physically portrayed the character with Bob Anderson acting as the character's stunt double.
Multiple actors once again appeared as Darth Vader Rogue One: …read more
Source:: Showbiz Cheat Sheet
(Visited 7 times, 1 visits today)