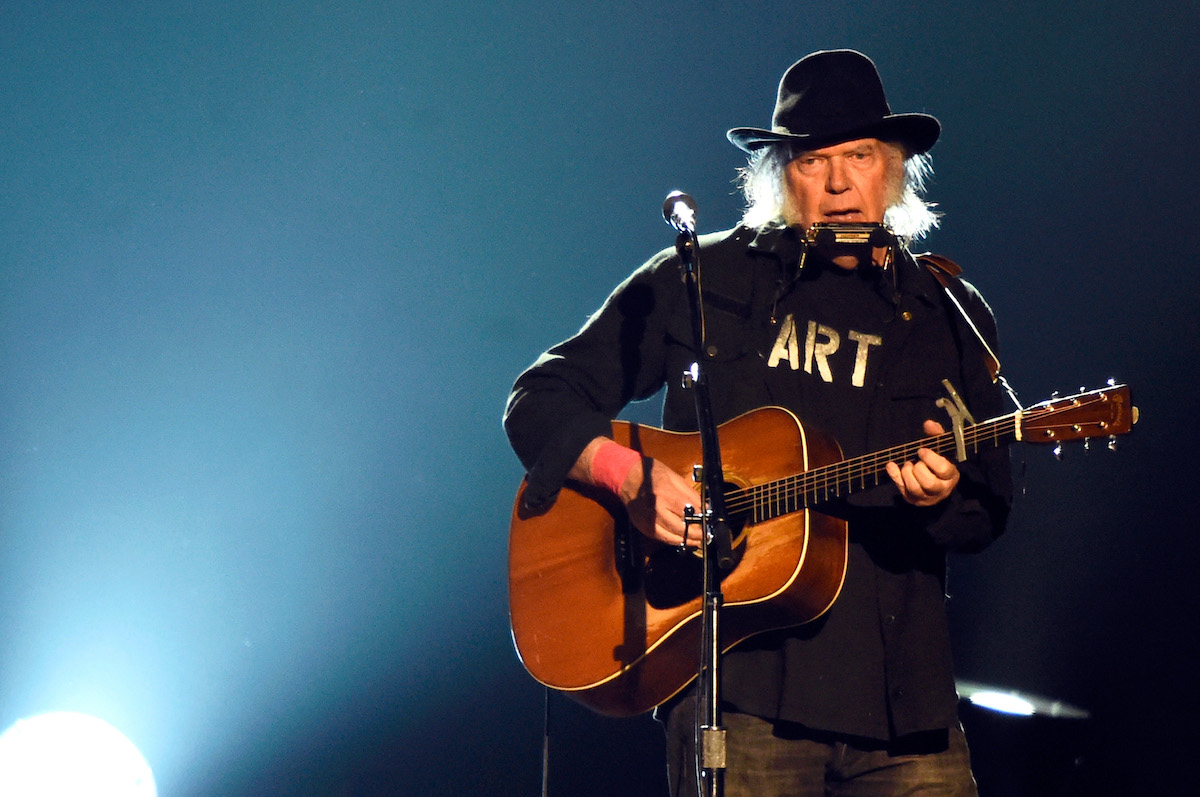 Neil Young in 2015 | Frazer Harrison/Getty Images
The song first appeared on Young's 1972 Harvest album, which included the hit singles "
Music icons such as Janis Joplin, Kurt Cobain, and Dee Dee Ramone were addicted to heroin, losing their lives at a young age. Over the years, many artists have penned powerful songs about the pain of losing loved ones to drug overuse. In 1971, Neil Young wrote about the devastating effects of heroin addiction in "The Needle and the Damage Done." The classic rock legend was inspired to write the song after losing a good friend and bandmate to a drug overdose. Many fans believe the song is about one person, but it represents many others who lost the battle.
Neil Young's 'The Needle and the Damage Done' is about heroin addiction
Neil Young in 2015 | Frazer Harrison/Getty Images
The song first appeared on Young's 1972 Harvest album, which included the hit singles "Heart of Gold" and "Old Man." He chose a live acoustic performance from 1971 of "The Needle and the Damage Done" to include on the album.
According to Fandom, the song was also on Young's Decade compilation album. On the handwritten liner notes that accompanied the release, the "After the Gold Rush" singer wrote, "I am not a preacher, but drugs killed a lot of great men."
Needle and the Damage Done
EQUAL TIME FOR PAST PRESENT AND FUTURE
AT NYA#NeilYoung #NeilYoungArchives pic.twitter.com/PB6emEcLLJ
— Neil Young Archives (@NeilYoungNYA) March 16, 2020
On the 2007 album Live at Massey Hall 1971, Neil Young introduced the song by saying, "I got to see a lot of great musicians who nobody ever got to see for one reason or another. But, strangely enough, the real good ones that you never got to see was because of heroin, and that started happening over and over, and it happened to someone that everyone knew about, so I just wrote a little song."
Who is Neil Young's 'The Needle and the Damage Done' about?
'Roxy : Tonight's The Night Live' is the NYA album of the week! Feel it in Xstream all week free!
'We had very recently lost Danny Whitten and our roadie Bruce Berry…we were missing them and feeling them in the music every night as we played' https://t.co/n0TCvlj7ZV #neilyoung pic.twitter.com/V0dzesvzBx
— Neil Young Archives (@NeilYoungNYA) June 19, 2019
According to Songfacts, Neil Young's "The Needle and the Damage Done" is about "heroin use and what it will do to you in the end."
Young reportedly wrote the song about Danny Whitten, an original member of Crazy Horse, who died from an overdose after a lengthy battle with heroin addiction. The "Cinnamon Girl" singer hired Crazy Horse in 1971 to go on tour with him, but after Whitten repeatedly showed up high and unable to hold his guitar, Young became frustrated.
"Young fired him, gave Whitten 50 bucks (for rehab) and a plane ticket back to Los Angeles," according to Songfacts. "Upon reaching LA, Whitten overdosed on alcohol and Valium, which killed him."
Several months later, Young lost a friend, roadie Bruce Berry, to a heroin overdose. 
Neil Young's "The …read more
Source:: Showbiz Cheat Sheet
(Visited 87 times, 1 visits today)