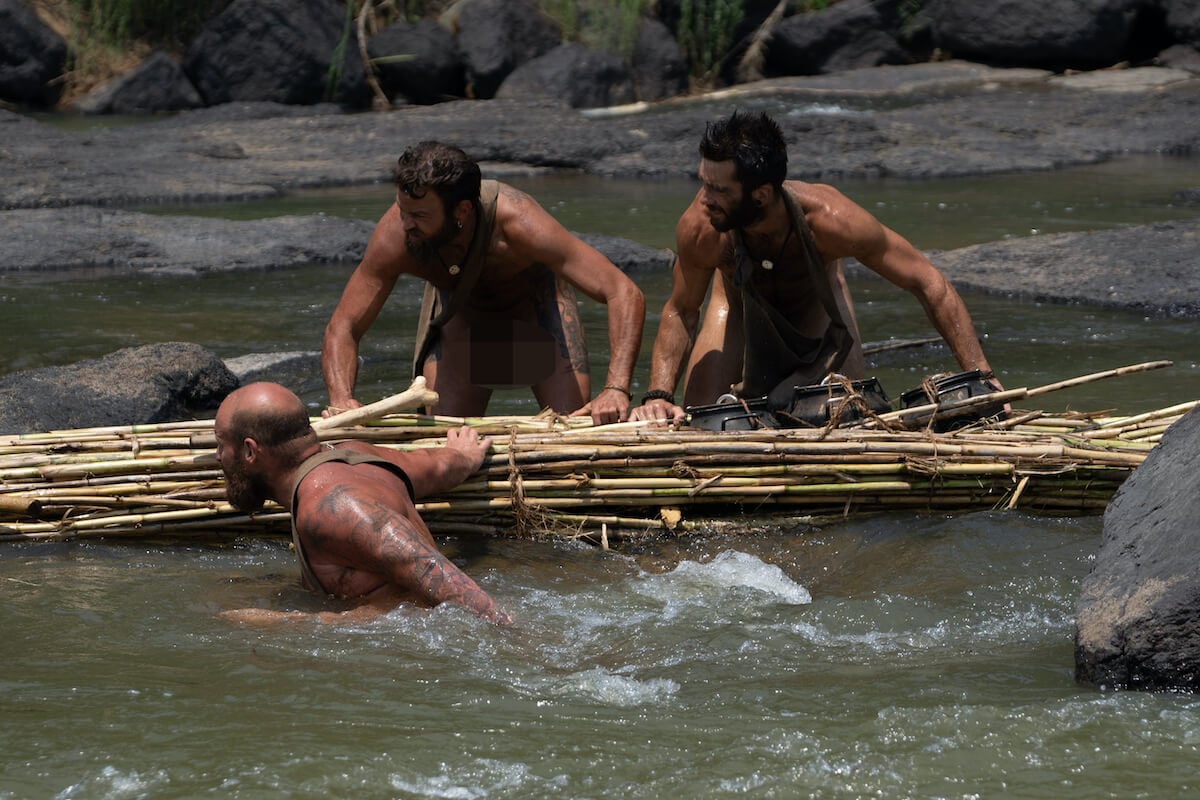 Steven, Waz, and Dan in 'Naked and Afraid: Last One Standing' | DIscovery
Naked and Afraid: Last One Standing will return to Discovery Channel for season 2. The network announced the renewal in mid-July, ahead of
Earlier this year, Discovery Channel introduced a major twist to its long-running reality series Naked and Afraid. The new spinoff Naked and Afraid: Last One Standing pitted 12 experienced survivalists against each other in a 45-day, multiphase challenge. Adding an element of competition – and a $100,000 prize – to Naked and Afraid didn't go over well with everyone. But the show was a hit with viewers. So, will the show return for another season? Here's what we know. 
Discovery Channel renewed 'Naked and Afraid: Last One Standing' for season 2 
Steven, Waz, and Dan in 'Naked and Afraid: Last One Standing' | DIscovery
Naked and Afraid: Last One Standing will return to Discovery Channel for season 2. The network announced the renewal in mid-July, ahead of the season 1 finale, which saw Waz Addy go home with the six-figure prize. 
The season 2 pickup was not surprising considering that Naked and Afraid: Last One Standing was Discovery's highest-rated series of 2023 and the network's highest-rated new series in five years. It had reached more than 15 million total viewers since its premiere in early May 2023. 
"Naked and Afraid is one of Discovery's top franchises and we knew audiences resonated with Last One Standing as ratings continued to build week after week," said Howard Lee, President of Discovery Networks and TLC. "We are giving viewers more of what they crave."
Jeff Zausch wants a shot at redemption in season 2
Related
'Naked and Afraid': Is There a Prize for Completing the 21-Day Survival Challenge?
As of now, there's no set premiere date for Naked and Afraid: Last One Standing Season 2. Nor is there any word on which past Naked and Afraid participants might sign on for the challenge. However, there's one season 1 cast member who's said he'd like another shot at winning the big prize.
Jeff Zausch's aggressive approach to the competition alienated some of his fellow cast members (and some viewers) in Last One Standing's first season. Though he was confident he'd emerge victorious, he was eliminated in the contest's final stages due to failure to start a primitive fire. The loss stung, and he wants a shot at redemption.
"If there's a season 2, I'm going all in … Season 2, when it comes around, you are going to see scorched earth," he said during a post-show appearance on the Reality After Show podcast with Survivor alum Jonny Fairplay. "Like, no one is going to have a shelter because they're all going to be on fire. I'm done. They've mistreated me and now I'm pissed. I guarantee you, season 2, the best man will win. That is my commitment to the viewers." 
Which 'Naked and Afraid' alums might return for 'Last One Standing' Season 2?
Who could go up against Jeff if he's invited back for Naked and Afraid: Last One Standing Season 2? Fans will have to wait to find out. But they might hope to …read more
Source:: Showbiz Cheat Sheet
(Visited 1 times, 1 visits today)