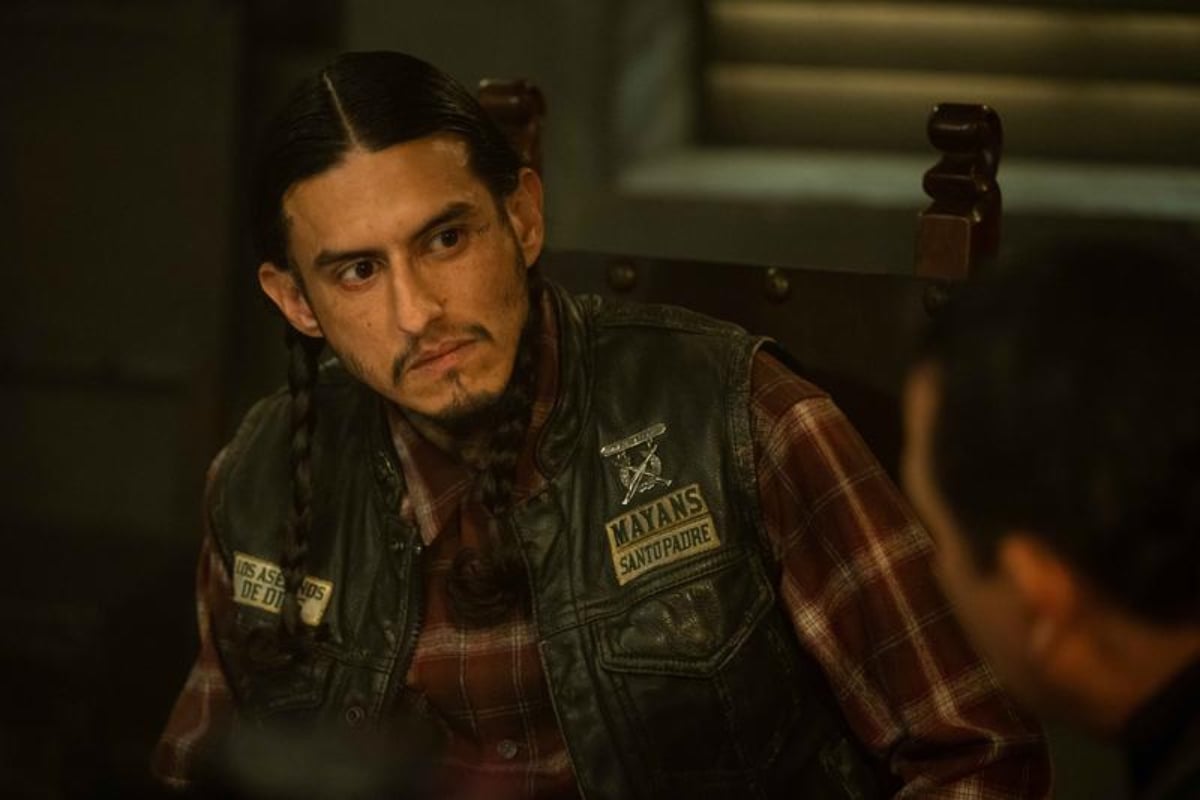 Richard Cabral as Coco in 'Mayans MC' Season 4 | Prashant Gupta/FX
Coco was killed in a hit from the Sons of Anarchy
Mayans MC Season 4 included several tragic character deaths. This season ramped up the violence and firmly rooted EZ into a life of crime. Meanwhile, Coco worked to put his life back together and get right with the club. Things seemed to be headed in the right direction until Coco met his end in a hit from the Sons of Anarchy. Coco has been an important character since the beginning of Mayans MC, and his death was meant to hit fans hard.
Richard Cabral as Coco in 'Mayans MC' Season 4 | Prashant Gupta/FX
Coco was killed in a hit from the Sons of Anarchy
Mayans MC Season 3 saw Coco spiral into drug addiction following an injury from a gun fight. This caused a strain within the club, especially between Coco and Gilly. "The club has rules and you have to abide by them or you can easily be removed from the club," Vincent Vargas told Entertainment Weekly in 2021. "Coco is walking that fine line right now. He's choosing the addiction over the brotherhood, that's rough."
However, by season 4 things were looking up for Coco. He and Hope committed to staying clean together and Coco put in the work to get right with the club. Marcus Alvarez notices this and sends Coco on an assignment in Oakland. Unfortunately, this decision would end up causing Coco's death.
pic.twitter.com/LMvv1rWASY
— Vincent Vargas (@thereal_Rocco) May 11, 2022
Elgin James says Coco's death was meant to make fans feel 'gutted'
While Coco was in Oakland, the Sons of Anarchy launched an attack on the Mayans that resulted in Coco's death. Fans took the character's death hard. "I was dramatic about Coco's death. I thought Taza or Bishop would've been next. I'm seriously crushed," one Reddit user wrote. "Wow. I am still in shock. RIP Coco," another said.
Mayans MC showrunner Elgin James expected fans to be upset about Coco's death. "I know it was gutting for people when we lost Coco but that's intentional. There are a bunch of conspiracy theories, I'm sure when they saw Richard Cabral was in the writer's room this season. But that's what it feels like," he told Deadline.
Someone asked if this scene hit close to home…. Yes it did…. Picture below was my Ranger Buddies and I, carrying SSG Ricardo Barraza to his final resting place. RLTW #MayansFX pic.twitter.com/Su5rKcfTI7
— Vincent Vargas (@thereal_Rocco) June 15, 2022
"We've all lost people that we love. So unless it's your 95-year-old grandparents, it's always gutting and surprising. And unfortunately, so often it happens when a person is getting their act together. It was important for us to feel that so we had it set up in a way for people to feel gutted even if it makes them say they'll never watch the show again. We're not done exploring the loss of Coco."
Coco's funeral …read more
Source:: Showbiz Cheat Sheet
(Visited 5 times, 1 visits today)