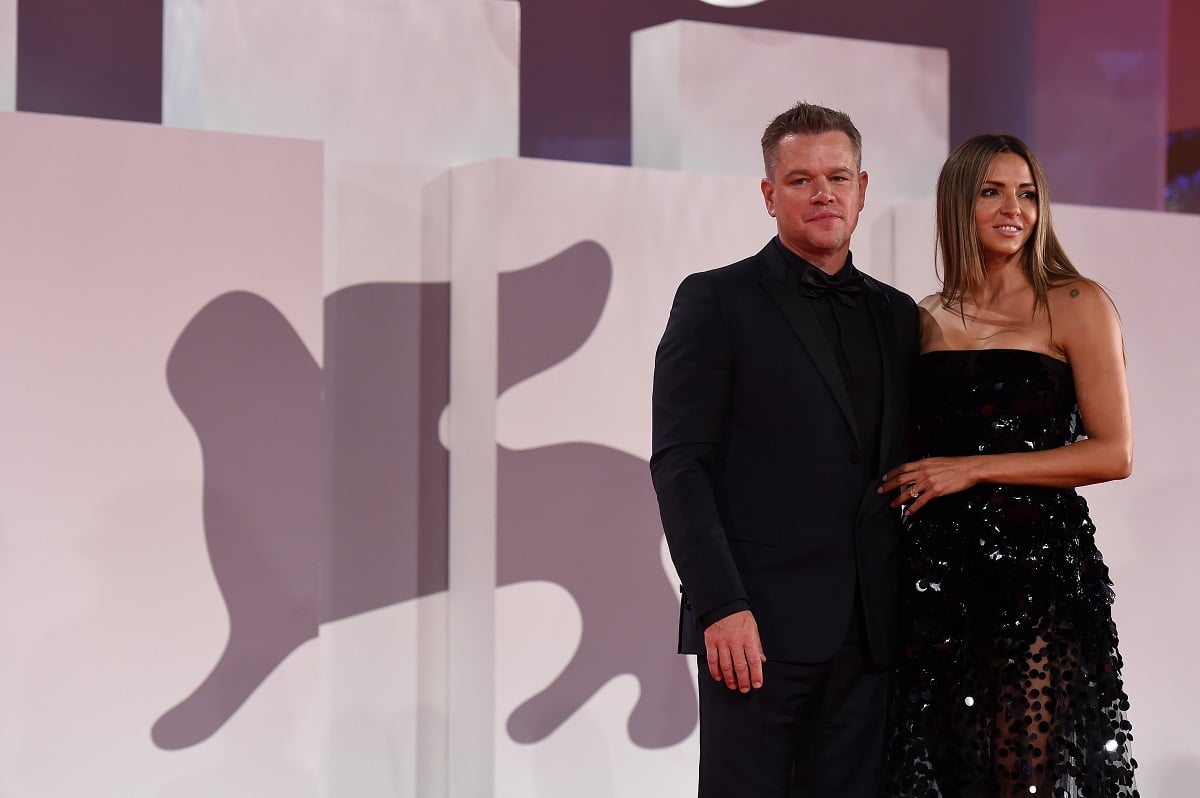 Most people who have celebrity crushes can only fantasize about marrying the celebrity of their dreams. But in some cases, however, the marriage between a celebrity and a non-celebrity can be a real thing. Matt Damon's relationship with Lucy Damon is a prime example of this phenomenon. The two have been together for 15 years, raising 4 kids together, one of which Damon adopted.
Not only do they prove that a celebrity and non-celebrity marriage can work, but it can go the distance. Back when Lucy only knew Damon from movies, however, the former bartender revealed she actually preferred Damon's other half in actor Ben Affleck.
Matt Damon's wife was actually a Ben Affleck girl before she met her husband
Matt Damon and Lucy Damon | Stefania D'Alessandro/Getty Images
Before Damon and Lucy came together, however, he wasn't his wife's number one choice. Damon told Shepard on an episode of Armchair Expert that Lucy used to prefer Ben Affleck.
"My wife, in fact, she was the Ben fan before we met," Damon revealed. "And her best friend was on my team."
Damon and his wife occasionally bring up the irony for laughs, with Damon quipping that if anything goes south in their relationship, he has Lucy's best friend as a second choice.
"And so we still joke about that," Damon said. "I'm like, I always got Ilene if Lucy f— me over."
With their relationship lasting longer than other celebrity couples, however, it seems that Lucy couldn't have found a more perfect match than Damon.
How Matt Damon and Lucy Damon met
Matt Damon's and Lucy's origin story has a rom-com element to it. Damon ran into Lucy at a bar that he almost didn't go to. He was filming the 2003 comedy Stuck On You at the time, where the movie switched locations from Hawaii to Miami before shooting. His crew members wanted to go out that night for drinks, but a wary Damon initially declined the offer.
Fortunately for Damon and Lucy's relationship, his friends persisted.
"They kind of drag me along," Damon said in an interview with Ellen. "And we ended up at a bar where my wife was the bartender. I literally saw her across a crowded room, literally. And my eight years and four kids later, that's my life. And so I don't know how else our paths would've crossed if that didn't happen. If all those things didn't happen."
In an interview with Vogue, however, Lucy tells another side to that story that went into a little more detail.
"I was working as a bartender in South Beach (Miami) and he was shooting a movie there and the crew ended up in the bar one Saturday night," Lucy opened up. "Matt's story is that he saw me across the room and there was a light on me. And I'm like: 'yeah it was a nightclub – there were lights everywhere!'"
But when Damon started getting noticed by the bar's customers, he hid behind …read more
Source:: Showbiz Cheat Sheet
(Visited 12 times, 1 visits today)