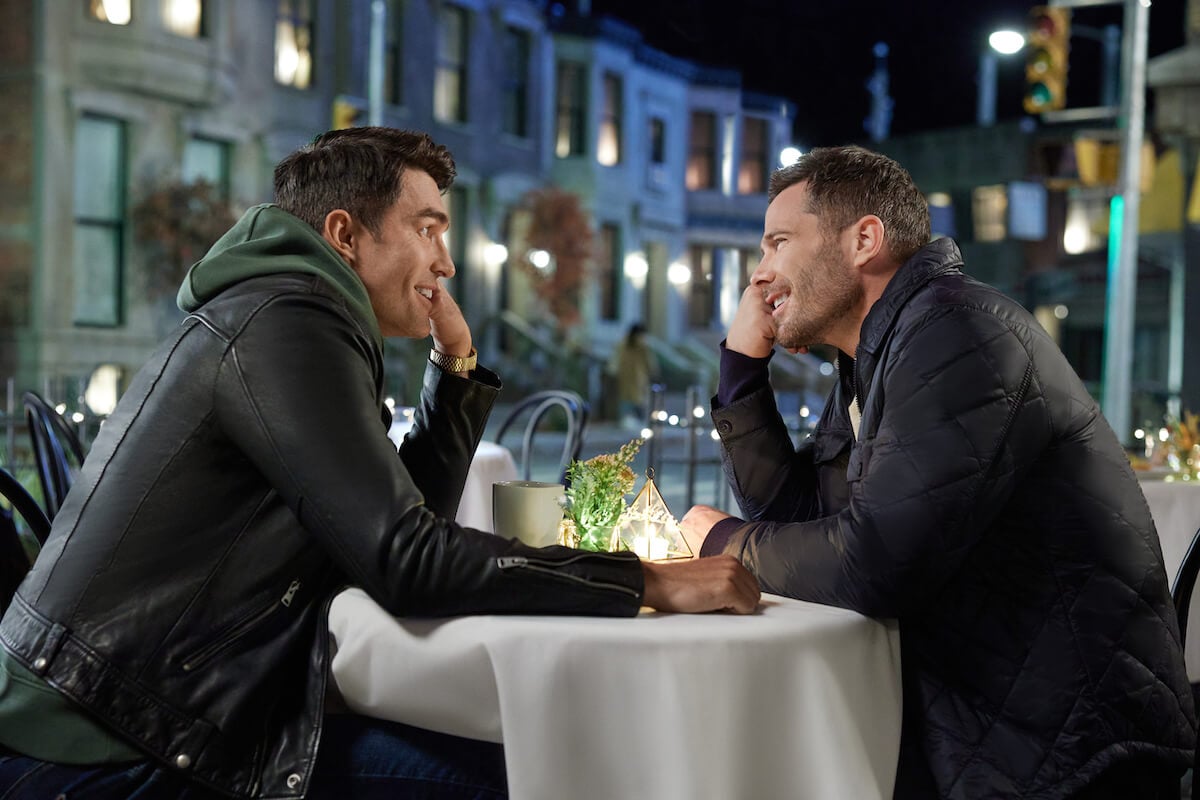 Peter Porte and Luke Macfarlane in 'Notes of Autumn' | ©2023 Hallmark Media/Photographer: Allister Foster
Hallmark Channel star Luke Macfarlane has a new job: dad. The Notes of Autumn actor and his partner, Hig Roberts, recently became proud parents to a baby girl. 
Hallmark's Luke Macfarlane and Hig Roberts are proud parents
Macfarlane, 43, shared his happy news in a June 2023 Instagram update, along with photos and videos of himself and Roberts, 32, bonding with their little one.  
Tess Eleanor Macfarlane was born June 4. Her life started with "some hectic days," but fortunately, she "received world-class care" and the new dads were able to bring their baby home on Father's Day, according Macfarlane.
"Her Dads can't wait to introduce her to all the remarkable people and the beautiful world we live in," the Bros star wrote. 
Macfarlane and Roberts, a champion Alpine skier, have mostly kept their relationship out of the public eye. They've stayed mum about how they met and when they started dating.
Macfarlane's new Hallmark movie features an LGBTQ romance 
In addition to welcoming his first child, Macfarlane has also been keeping busy professionally. He stars in the new Hallmark movie Notes of Autumn, which airs Sept. 16. 
The Brothers and Sisters star plays Leo, a novelist with a severe case of writer's block. To get out of his rut, he switches places with his best friend Ellie (Ashley Williams). That throws him into the path of Ellie's friend Matt (Peter Porte), who inspires him to write something completely different – and helps him discover what his heart really wants. Meanwhile, Ellie connects with Leo's neighbor Sam (Ride's Marcus Rosner). 
Notes of Autumn is one of several movies Hallmark has released in recent years that move beyond its stands girl-meets-boy template to highlight non-heterosexual relationships. Others include The Holiday Sitter and Love, Classified.
The actor previously hinted he might be done at Hallmark 
Peter Porte and Luke Macfarlane in 'Notes of Autumn' | ©2023 Hallmark Media/Photographer: Allister Foster
Related
'When Calls the Heart': Erin Krakow Just Adopted an Adorable Puppy With Co-Star Ben Rosenbaum
Macfarlane is no stranger to Hallmark, having previously starred in more than a dozen movies for the network. But last year, after taking a starring role in the raunchy queer rom-com Bros, he hinted that the long relationship might be at an end. 
In an interview with Vanity Fair, Macfarlane called Hallmark's movies "delightful" and said he was grateful "that they gave me jobs when other people weren't giving me jobs." But it sounded like he was ready to move on from playing a straight male love interest. 
"I always felt like I'd kind of wink at the camera a little bit because I knew that the most provocative thing they were putting on air was a gay man playing everybody's fireman — that satisfied me for a while," he said. 
"I don't think they'll ever have me back after today," he added. 
But Hallmark apparently had no qualms about continuing to work with Macfarlane. In addition …read more
Source:: Showbiz Cheat Sheet
(Visited 1 times, 1 visits today)