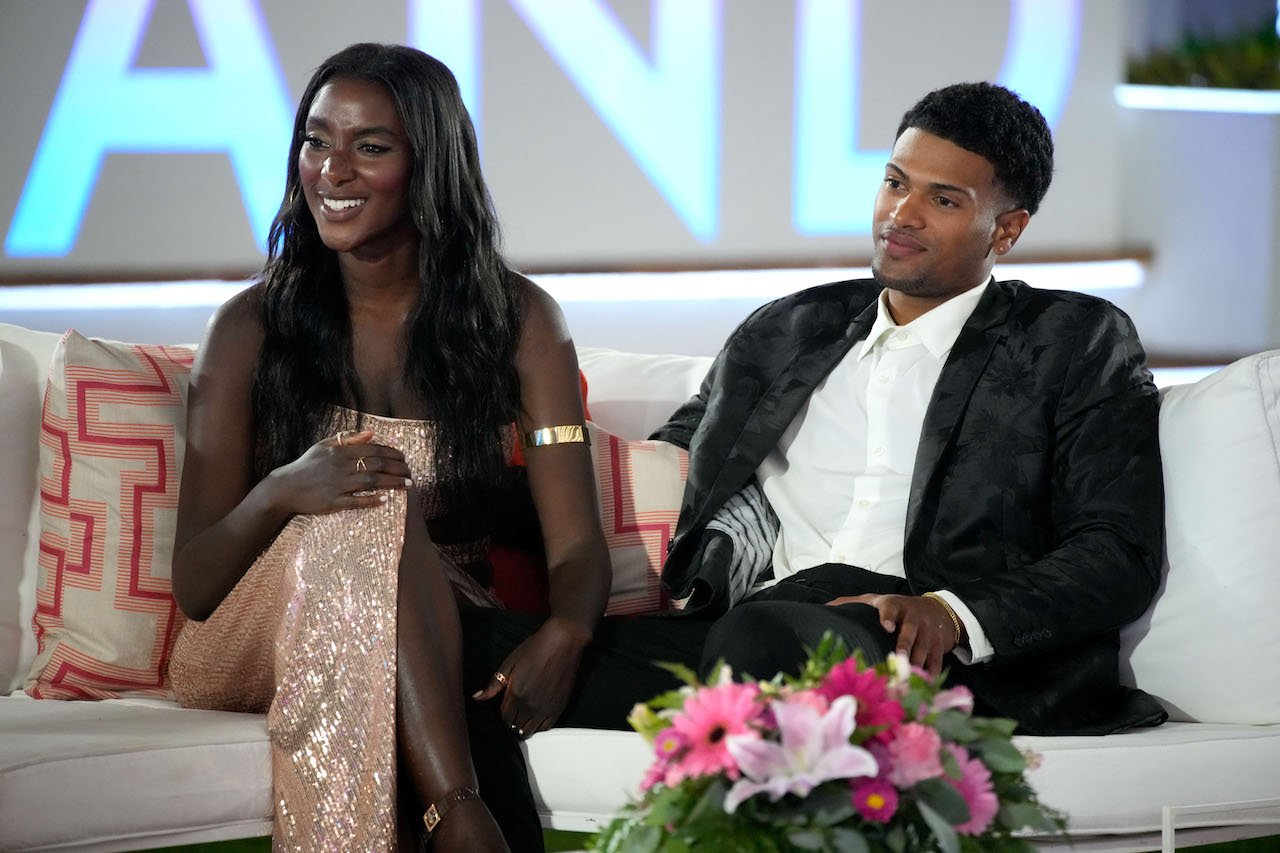 It's no secret that some people go on Love Island USA for exposure and careers. But Love Island USA fans believed Timmy Pandolfi and Zeta Morrison were a real couple. Timmy claims the romance between them ended and became more about business.
Zeta said she felt used by Timmy after 'Love Island USA'
From Day 1… ? #LoveIslandUSA pic.twitter.com/bCOQqtvymW
— Love Island USA (@loveislandusa) August 29, 2022
Season 4 ended with Zeta and Timmy winning as America's favorite couple. She claimed that while other couples in the cast were close afterward, she already noticed Timmy was pulling away. He went to New York without her.
She also met his sister and was disturbed by the advice she gave him. "I do remember one line that she said. And she was like, 'Yeah, I told Timmy, go for a dark-skinned girl. Like America loves that,'" she told Murad Merali. "And you know he says when I was told him about that, he was like, 'Well, of course! My mom's dark-skinned. My sister loves dark-skinned women.'" 
"And I'm like, OK, great," Zeta claimed. "But also, why didn't she tell you just go on the show and find who you really vibe with?" She said this made her wonder if this was all gameplay for him.
Timmy says his relationship with Zeta was business after 'Love Island USA'
Timmy responded to the claims Zeta made about their relationship. He claimed there was an "understanding" between them that Zimmy was more of a brand than their actual romantic relationship.
"All our arguments, we were like very much like heavy and fiery," Timmy told his friend. "There was a lot behind it, and we both just didn't want to budge. It was like a tug of war, man, like tug of war. And that's fine. She stood her ground, but like in the midst of all that, she still was able to maintain the business. So, like, she was a great business partner because we knew we weren't pursuing, like, after those fights, man, the romantic thing stop."
Zeta Morrison and Timmy Pandolfi in 'Love Island USA' | Casey Durkin/Peacock
Related
'Love Island USA': Zeta Says Timmy Was Told to Go After a Dark-Skinned Woman, 'America Loves That'
'Love Island USA': Zeta Reveals Timmy Dodged Her After the Show Ended
'Love Island USA': Kat and Jared Are No Longer Together
"It was understanding," he claimed. "She knew that we weren't communicating like that. We weren't reaching out on that type of time. We weren't posting. People were constantly asking us like, 'What's going on, ya'll together?' All this, that, and the third. Weren't doing any of that. And there was a clear understanding within our dynamic that that's not what it was." 
"We were both able to put the business first as far as not compromising the Zimmy name," he continued. "So, like, you know, she's doing her blog. She's talking about the relationship. She's talking about it in a very high manner, like she's doing …read more
Source:: Showbiz Cheat Sheet
(Visited 1 times, 1 visits today)