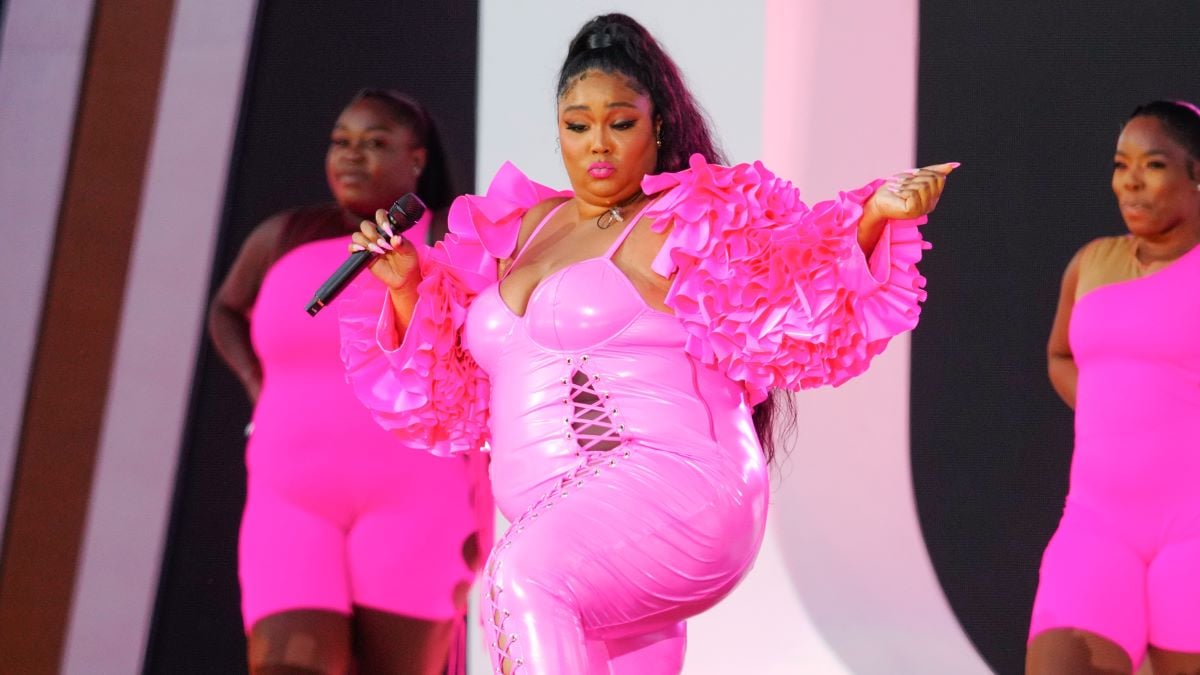 Music star Lizzo is known for her twerking abilities and body positive attitude, but did you know that one thing actually has a lot to do with the other? She recently revealed her booty was once her least favorite part of her body but noted how Rihanna once gave it a standing ovation. Now, she realizes that it's her "greatest asset".    
 What did Lizzo say about how her body isn't a "trend" and why "twerking is part of the revolution"?
Lizzo | Gotham/WireImageTwerking while playing the flute looks easy for Lizzo
Lizzo impressed many of us when she showed that she is multi-talented and can multi-task by playing a flute and twerking at the same time. She is a classically trained flutist, after all, and she's been tooting the instrument since fifth grade.
As for twerking, she's been doing that since she was a teenager. But she recently said she didn't know the origins and importance of the dance in Black culture then.
"Black people carried the origins of this dance through our DNA, through our blood, through our bones," she said. "We made twerking the global cultural phenomenon it became today."
Lizzo's TED talk: 'twerking ain't a trend'
Lizzo recently created a TED Talk that she shared with People, and her intention seems to be to enlighten more people about where twerking came from. It's much more significant than a popular dance.  
"Modern-day twerking derived from Black people and Black culture. It has a direct parallel to West African dances like Mapouka," Lizzo explained. Unfortunately, she said she thinks it's misunderstood because it's been misrepresented.
Lizzo lamented how twerking was "taken out of context" following Miley Cyrus' somewhat infamous 2013 MTV VMAs performance with Robin Thicke. "Everything that Black people create, from fashion to music to the way we talk, is co-opted and appropriated by pop culture."
It's much more than a stage gimmick for Black women, according to Lizzo. She noted that it's part of their heritage, it's part of their liberation, and it's unique to their experience. "Black women invented twerking and twerking is part of the revolution," she said.
Lizzo said twerking helped improve her self-image
WARNING: Video contains unedited mature language
For Lizzo, the positive impacts of twerking were more than finding a deeper connection with her culture. She says it helped to improve a negative body image.
"I always felt like my body type wasn't the right one, or the desirable one growing up," she explained. She elaborated by saying she thinks she is shaped like her father, but with her mother's thighs. Unfortunately, she said she didn't always love the way she looked.
"I used to hate my ass, believe it or not," she said. But now she believes it's her "greatest asset" thanks to twerking. She told her audience, "My ass has been the topic of conversations. My ass has been in magazines. Rihanna gave my ass a standing ovation. Yes, my booty!"
She reminded them it was once her least favorite part of her body. So through …read more
Source:: Showbiz Cheat Sheet
(Visited 10 times, 1 visits today)