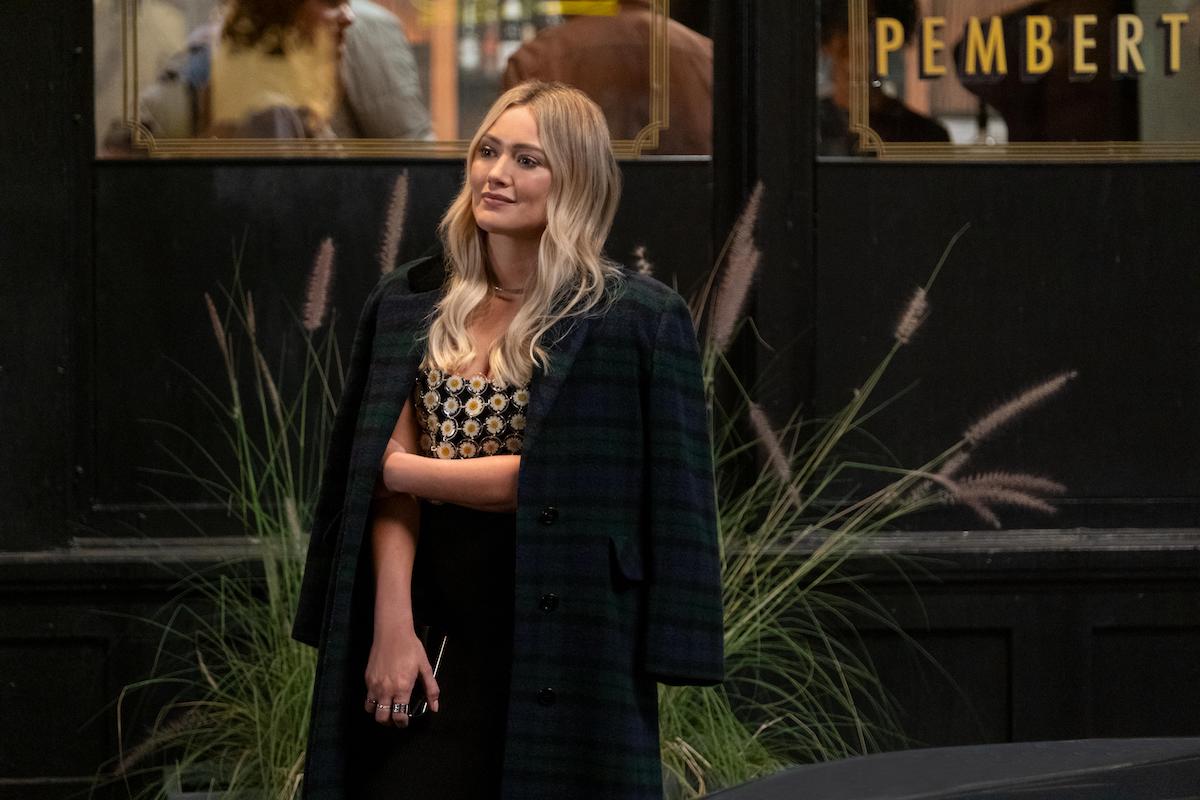 Sophie (Hilary Duff) | Patrick Wymore/Hulu
'HIMYF' Season 2 premieres on Hulu Jan. 24 
Season 2 of the How I Met Your Mother spinoff returns with "Cool and Chill" on Jan. 24. Showrunners initially considered
Cobie Smulders reprised her role as Robin Scherbatsky in the first season of How I Met Your Father, but fans can expect a cameo from another How I Met Your Mother character in season 2. The HIMYF premiere concludes with a surprise appearance from a main character in the original series. Find out who pops up in the episode despite what the actor previously said about guest starring in the spinoff. 
[SPOILER ALERT: Spoilers ahead regarding the How I Met Your Father Season 2 Premiere "Cool and Chill." 
Sophie (Hilary Duff) | Patrick Wymore/Hulu
'HIMYF' Season 2 premieres on Hulu Jan. 24 
Season 2 of the How I Met Your Mother spinoff returns with "Cool and Chill" on Jan. 24. Showrunners initially considered releasing this season in it's entirety, but decided to stick with the weekly release model. New episodes will drop every Tuesday on Hulu. 
The season 2 premiere picks up where season 1 of HIMYF left off. Sophie (Hilary Duff) finds herself staring Ian (Daniel Augustin) in the face after his surprise return. Meanwhile, Sid (Suraj Sharma) and Hannah (Ashley Reyes) host an impromptu wedding reception at Pembertons. Plus, after struggling with the decision to break things off with Sophie and go on tour with Meredith (Leighton Meester), Jesse (Chris Lowell) confides in Ellen (Tien Tran). 
Neil Patrick Harris returns as Barney Stinson in 'How I Met Your Father' Season 2
At the end of the season 2 premiere, future Sophie (Kim Cattrall) hints at what's to come. "Rock bottom wouldn't come until later that year," Sophie tells her son, flashing forward to a scene of a frantic Sophie trying to reach her mother. 
"Mom — please call me back, I think I'm dating my dad!" Sophie says before rear-ending a car with a "LGNDRY" license plate. "Duuude," Barney Stinson says just before the episode ends. 
How Barney will play into the story of How I Met Your Father is unclear. At one point in season 1, there was a theory about Barney being Sophie's father or connected to Sophie in some familial way. Now, their connection seems to be purely accidental (pun intended). Regardless, fans can expect to see more of Barney Stinson in How I Met Your Father Season 2. 
Neil Patrick Harris once 'worried' about Barney's 'antics' working in 'How I Met Your Father'
In 2022, Harris interviewed Duff for his newsletter Wondercade. In the interview, Duff asked if the actor would ever reprise his role as Barney Stinson in How I Met Your Father. 
At the time, Harris suggested the ladies man's "antics" wouldn't fly with today's audiences. "As for coming on your show (insert joke here), I worry," Harris said of his role.  
The @wondercade shenanigans are soon to ensue. Sign up now for my newsletter: https://t.co/tWTK1MuTAH
— Neil Patrick Harris (@ActuallyNPH) October 5, 2021
Related
'How I Met Your Father': Sophie's Son Could Have More Than One Father in the Hulu Series
"Barney's antics, his overt delusions of grandeur, would likely get everyone in trouble. So, unless he's changed his ways or joined a nunnery (insert an insert joke here), …read more
Source:: Showbiz Cheat Sheet
(Visited 1 times, 1 visits today)