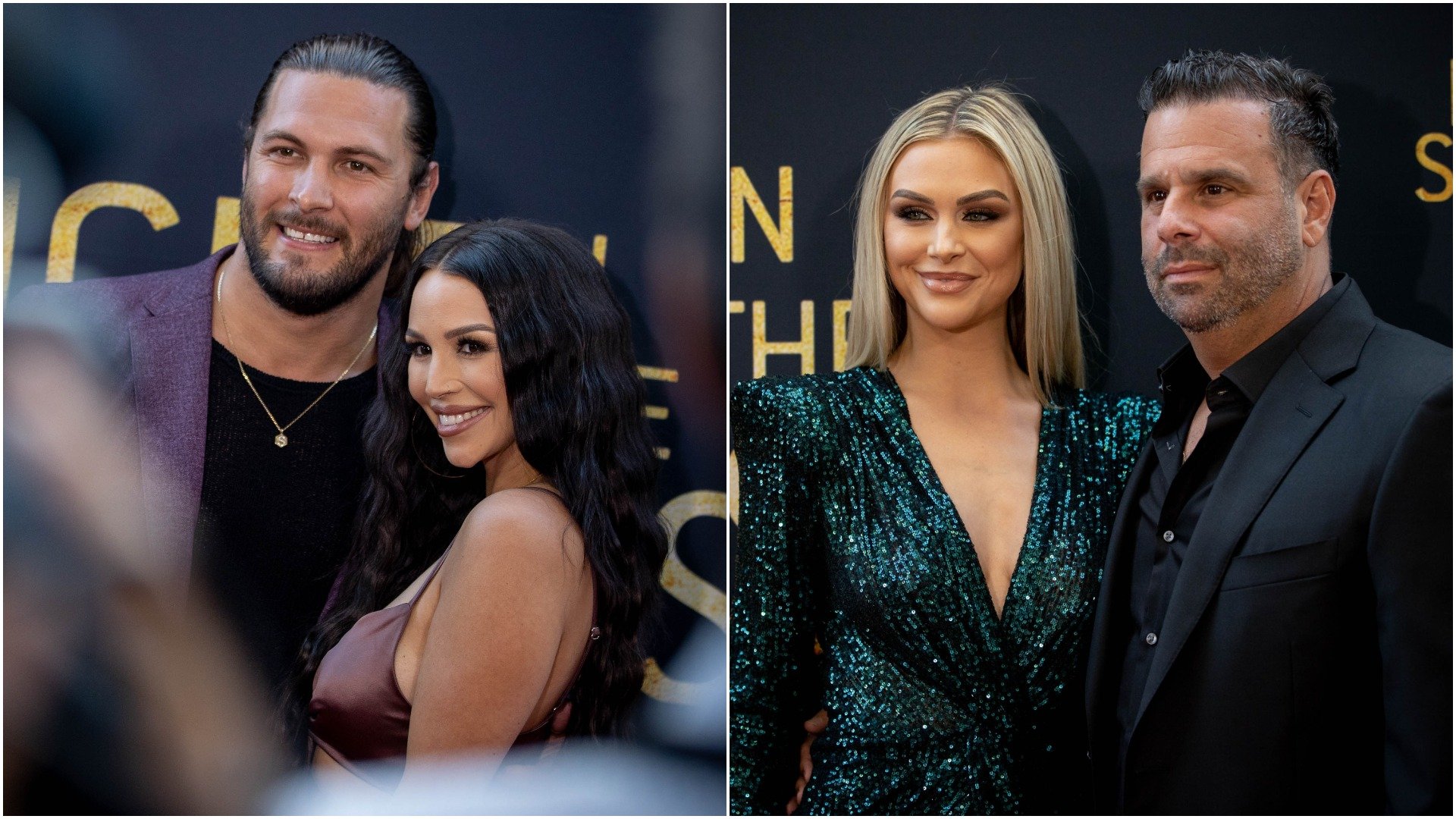 During the latest episode of Vanderpump Rules, Lala Kent is shocked and seems deeply saddened to hear that Brock Davies hasn't seen his children in four years. She becomes emotional in a confessional, wondering how he's managed to be away from his kids. But Scheana Shay shares in her own confessional that he has tried to see his children and Kent doesn't know the whole story.
Brock Davies from 'Vanderpump Rules' opens up about his first marriage
The Vanderpump Rules parents have a playdate while on vacation in Palm Springs. That's when Davies reveals that he was "very young" when he first became a father. "When I went through my marriage and that first time around," he explained. Adding that he was only 20 years old when his first child was born. "I was a different person, you know?" he said. He recently proposed to Shay.
Brock Davies from Vanderpump Rules, along with Scheana Shay, Lala Kent, and Randall Emmett |Emma McIntyre/WireImage
Davies and his first wife split about five years ago. "Me and my ex, we had two beautiful kids," Davies says in a confessional. "We split up and she felt like I had abandoned her and the kids by coming to America. She moved on with the kids' stepdad. Who then fulfilled the role of being a dad for my kids." Shay then adds that her infant daughter with Davies shares a birthday with his older daughter. Plus, Shay and Davies named their daughter Summer, which works with his older daughter's name, which is Winter.
Lala Kent is stunned by the reveal that Brock Davies hasn't seen his children in 4 years
Kent was pretty blown away by this information. "If Randall [Emmett] went off and had another baby and named her Lake, I'd be pissed," she said. Kent and Emmett's daughter is named Ocean. And while she would have been annoyed with the name, Kent couldn't seem to get past the fact that Davies then shares that he hasn't seen his children in four years.
"He had to have meant four days," Kent says in a confessional. "He did not mean that he hasn't seen his kids in four years."
Shay says in her own confessional, "It sounds bad, but there's a lot more to it." Davies shares that he doesn't get to FaceTime with his other children, adding that his ex completely cut his entire family from their lives.
We love seeing @scheana and Lala hug it out! Who else got emotional during this moment? pic.twitter.com/ruxIAfv07O
— Bravo (@BravoTV) September 29, 2021
RELATED: 'Vanderpump Rules' Coachella 2021 Didn't Go as Exactly as James Kennedy Hoped
"I cannot imagine going four years without seeing my baby," Kent gets emotional in a confessional. "They're acting like it's not a big deal! This is a big deal! What world am I living in?
Again, Shay says, "No contact, but that's not for the lack of trying. He …read more
Source:: Showbiz Cheat Sheet
(Visited 11 times, 1 visits today)