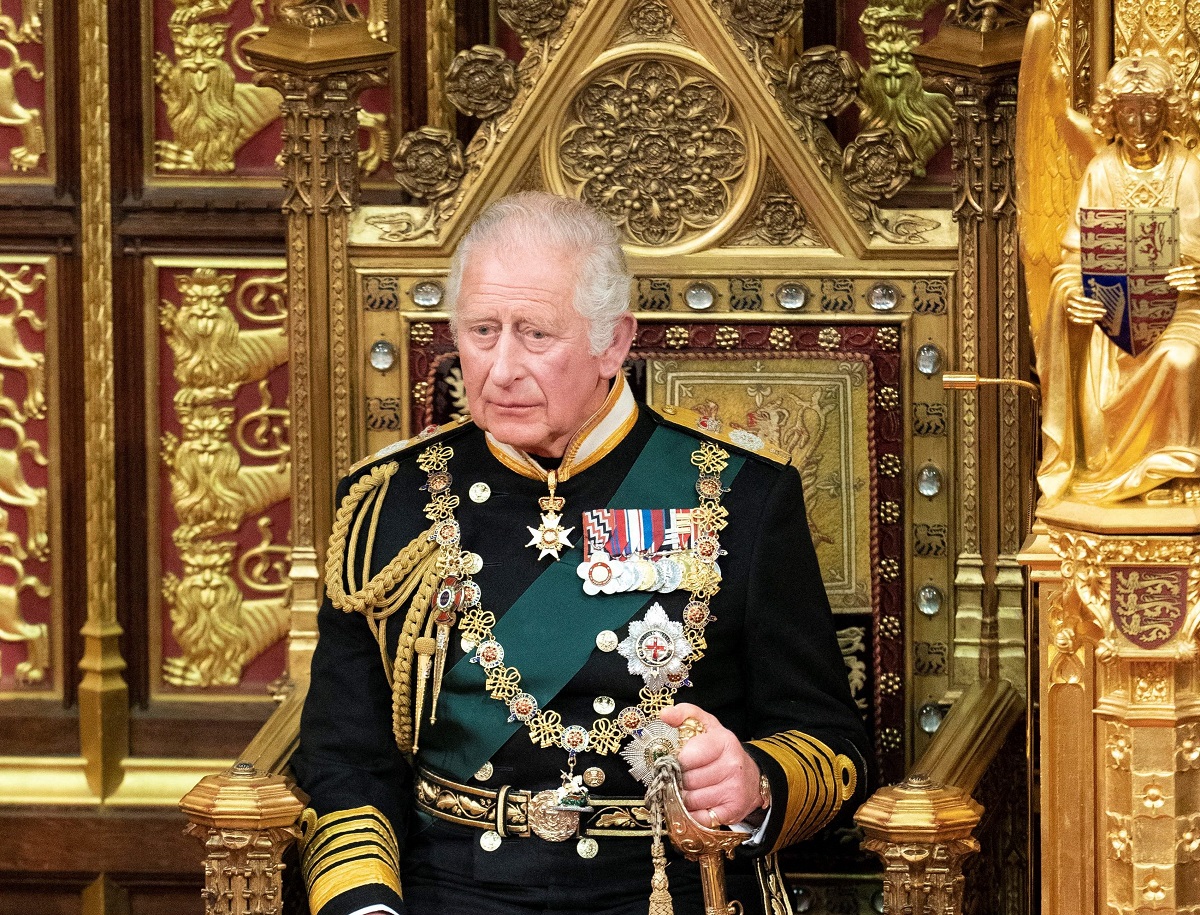 It's no secret that King Charles III's upcoming coronation is being held at a difficult time for many people across the U.K. and the Commonwealth. Some have discussed a "budget coronation" so not to appear too flashy given the cost of living crisis in Britain and beyond.
The Palace has stated that the king's coronation will be a bit different from the late Queen Elizabeth II's. However, even a toned-down affair is still one that is expected to "knock your socks off."
Prince Charles sitting in the House of Lords chamber, during the State Opening of Parliament | ARTHUR EDWARDS/POOL/AFP via Getty Images
The tradition King Charles is skipping
King Charles' coronation will be held at Westminster Abbey on May 6, 2023.
The ceremony will follow a traditional format with a few tweaks to modernize things. One change is that the monarch will not wear silk stockings and breeches. Charles will instead wear his military uniform following the advice of his aides that the standard attire previously worn is outdated.
"They think having a 74-year-old king arriving in stockings and breeches in 2023 looks too dated. They are probably right," a source told The Sun. "Though some of the more long-winded elements of the coronation will be moved aside or modernised, the king was happy to wear the breeches and stockings. But in discussion with senior aides they are saying he should not wear them, so [he] will arrive in a military uniform instead."
King Charles III proceeds behind the Imperial State Crown through the Royal Gallery during the State Opening of Parliament | HANNAH MCKAY/POOL/AFP via Getty Images
The coronation will reportedly 'knock your socks off'
There will be far less attendees at Charles' coronation than his mother's in 1953. Around 8,000 people attended the queen's, but just about 2,000 will attend the king's.
Despite being a scaled-down coronation compared to the last one, it is still a historical event and royal affair that, as the Daily Mail put it, "will knock your socks off."
The publication noted that King Charles III will wear St. Edward's Crown, which was first used in 1661 for the coronation of King Charles II. It is made of solid gold and features more than 400 gemstones including six sapphires, and 12 rubies. The crown weighs nearly five pounds.
"The coronation will reflect the monarch's role today and look towards the future, while being rooted in longstanding traditions and pageantry. The coronation is a solemn religious service, together with an occasion for celebration and pageantry," a statement from Buckingham Palace said.
Will Prince Harry and Meghan be there?
"The door is always open."
Prince Harry sits down for an exclusive interview with Tom Bradby this Sunday at 9pm on ITV1.
Harry: The Interview | Watch on ITV1 or stream on ITVX at 9pm on Jan 8.@tombradby #ITV #ITVX pic.twitter.com/dJotkK7pOz
— ITV (@ITV) January 5, 2023
Related
The Royals Are 'Disappointed, Angry, and Confused,' and That Jeopardizes …read more
Source:: Showbiz Cheat Sheet
(Visited 1 times, 1 visits today)