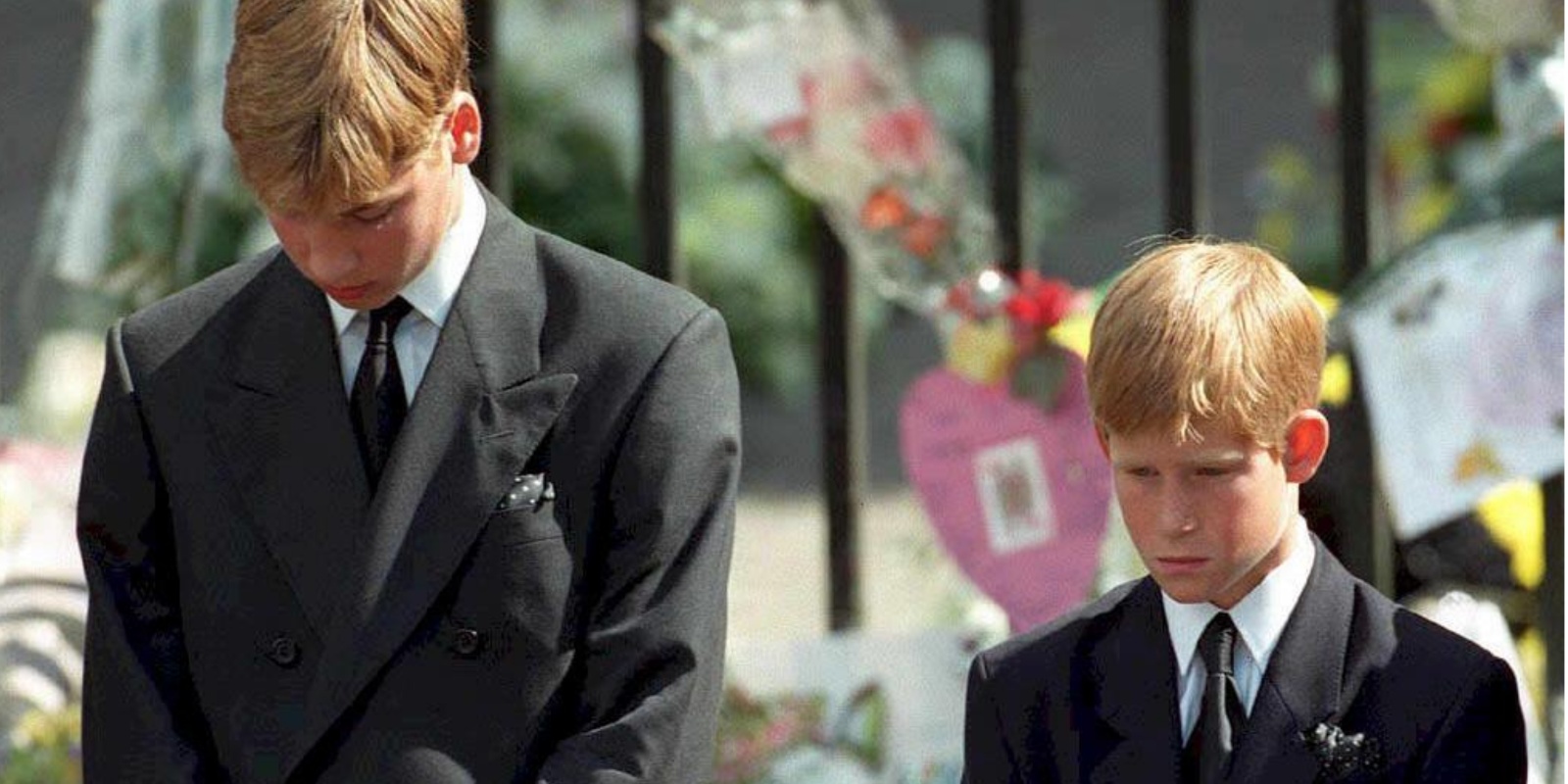 Prince William and Prince Harry walk behind Princess Diana's casket during her funeral procession | Adam Butler/AFP via Getty Images
Prince Harry's final wish after his mother, Princess Diana's death, was refused by King Charles, claims a royal journalist. Harry was reportedly adamant about going with his father to bring Princess Diana's body home from Paris but his request was turned down.
Prince Harry wanted to be with his father when King Charles brought Princess Diana's body home
Royal journalist and friend of the late Princess of Wales, Richard Kay, told Express that Prince Harry had a specific request of his father, then-Prince Charles, after learning his mother had died. Harry wanted to travel to Paris with his father and collect Princess Diana's body.
Charles reportedly refused his youngest son's request. Richard Kay did not explain why. Perhaps he believed Harry would have been even more traumatized by the experience, adding to the sadness he already felt at the loss of his mother.
Kay explained, "the queen and Prince Charles's view was that the boys were their main priority." He continued, "Charles made the decision that he was going to Paris to bring back Diana's body."
"This was a surprising and brave move. He was an ex-husband and had no right to be there other than as the father of her sons."
King Charles defied Queen Elizabeth's wishes to travel to Paris with Diana's two sisters
Princess Diana and King Charles were only officially divorced for one year when she was killed in a car crash in Paris, France, in August 1997. However, Charles was adamant about accompanying his ex-wife's body home to London.
The then-Prince of Wales defied his mother, Queen Elizabeth, who disagreed with his decision, to fly to Paris as one final gesture toward his wife of 15 years. He was accompanied by her sisters, Lady Sarah McCorquodale and Lady Jane Fellowes.
According to ABC News, Charles showed himself "at his best" by flying to retrieve his ex-wife's body and bring her home to the United Kingdom. On the other hand, Queen Elizabeth was adamant that Diana did not deserve special treatment as a former senior royal.
However, the site reported that Charles stood his ground, telling the monarch that Diana's many admirers would not stand for her to be treated with anything other than the dignity she deserved as a valued member of the royal family.
Charles also reportedly had a hand in planning Diana's funeral. The ceremony and procession were watched by an estimated 2 billion people worldwide.
In hindsight, Prince Harry is 'glad' he was part of his mother's funeral procession
Prince William and Prince Harry walk behind Princess Diana's casket during her funeral procession | Adam Butler/AFP via Getty Images
Related
How Did the Royal Family React to Princess Diana's Death?
In his 2023 memoir, Spare, the Duke of Sussex wrote about the decision for he and Prince William to walk behind the carriage carrying their mother's coffin to Westminster Abbey. He revealed that "several adults were aghast" at the idea.
Harry penned, "Mummy's brother, Uncle …read more
Source:: Showbiz Cheat Sheet
(Visited 1 times, 1 visits today)