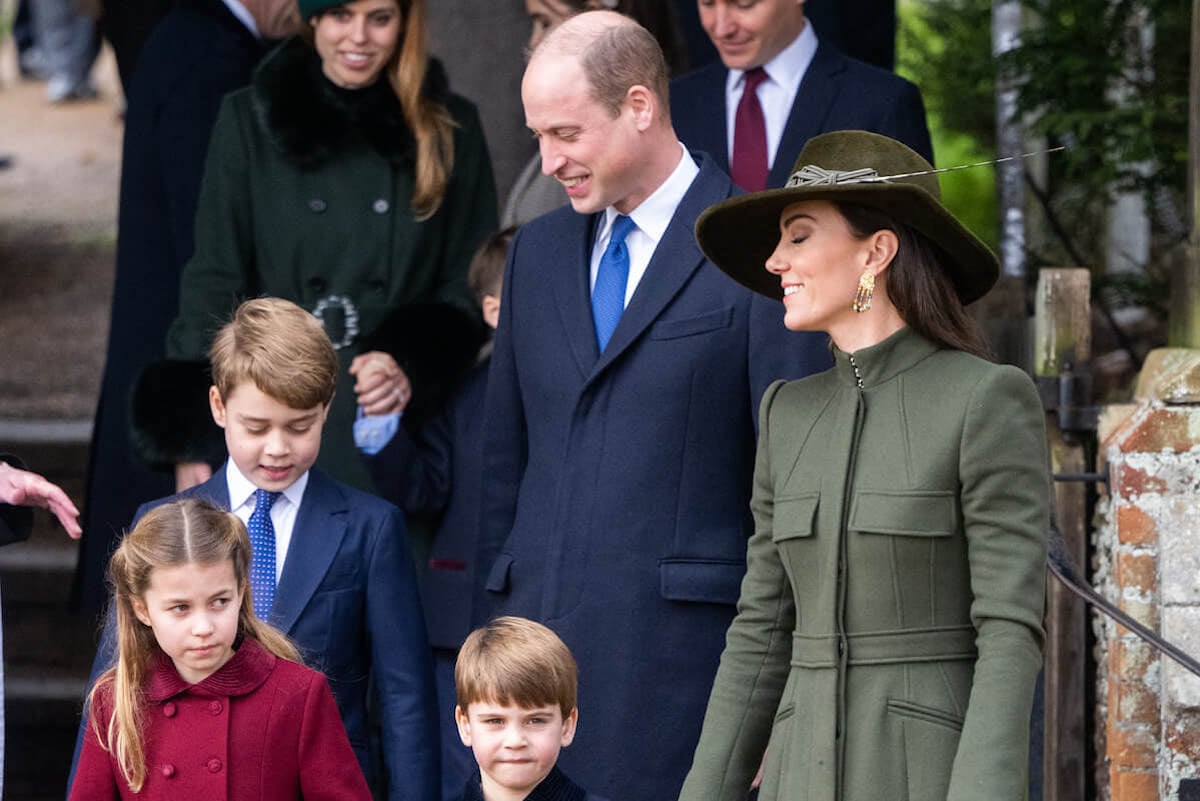 Princess Charlotte, Prince George, Prince William, Kate Middleton, and Prince Louis | Samir Hussein/WireImage
Royals are constantly under a big spotlight from the moment they join the family, either through marriage or birth. The spotlight is even brighter when it's on the heir to the throne. Prince William and his wife, Kate Middleton, have three children together and have been together for over a decade. Middleton recently revealed that she was under "big pressure" when the time came to name her three children.
A background on Kate Middleton
Kate was born in Reading and grew up in Buckleberry. She attended Marlborough College, St. Andrew's School, and St. Andrew's University, where she studied art history. She has a younger sister, Pippa Middleton, who frequently appears on tabloids, and a brother, James.
William and Kate began dating in 2003 after meeting at the University of St. Andrew's and even shared a flat with two other friends during their relationship. The couple split briefly in 2004 but rekindled their relationship. After graduating, Kate became a tabloid sensation, but often, the media wasn't too easy on her, giving her some unsavory nicknames.
In 2007, she and William split once more but reunited shortly afterward. The prince proposed to Kate in 2010 in Kenya with a ring belonging to his late mother, Princess Diana of Wales. They held one of the most celebrated weddings in British history in 2011, with Kate wearing a dress by famous English designer Sarah Burton at Alexander McQueen.
After the wedding, Kate became part of the royal family and assumed the title Her Royal Highness The Duchess of Cambridge, effectively dropping her last name, Kate. When William's father assumed the throne after the Queen's passing in 2022, her title changed to Catherine, Princess of Wales. However, the tabloids still use her family name and nickname to refer to her.
An overview of their children
Princess Charlotte, Prince George, Prince William, Kate Middleton, and Prince Louis | Samir Hussein/WireImage
Related
Why Prince William and Kate Middleton's Kids Aren't Allowed to Eat With Them at Major Royal Events
A year after their wedding, news broke that Kate was pregnant with the couple's first child and heir apparent. The news broke earlier than usual as the duchess had been admitted due to hyperemesis gravidarum, a pregnancy condition that causes excessive nausea, vomiting, and weight loss.
She remained hospitalized at King Edward VII's Hospital for three days before being discharged. Kate gave birth to Prince George in July 2013 at St Mary's Hospital in London. The following pregnancies weren't easy on her either, with the severe morning sickness returning with her pregnancy with Princess Charlotte.
Given the complications, Kate had to cancel her official engagements to seek medical assistance and prepare for her second child. The duchess gave birth to Princess Charlotte in May 2015. Charlotte is fourth in the line of succession to the British throne. She gave birth to their third child and second son, Prince Louis, in April 2018. He is the fifth in line to the throne.
Kate Middleton felt the pressure when …read more
Source:: Showbiz Cheat Sheet
(Visited 1 times, 1 visits today)