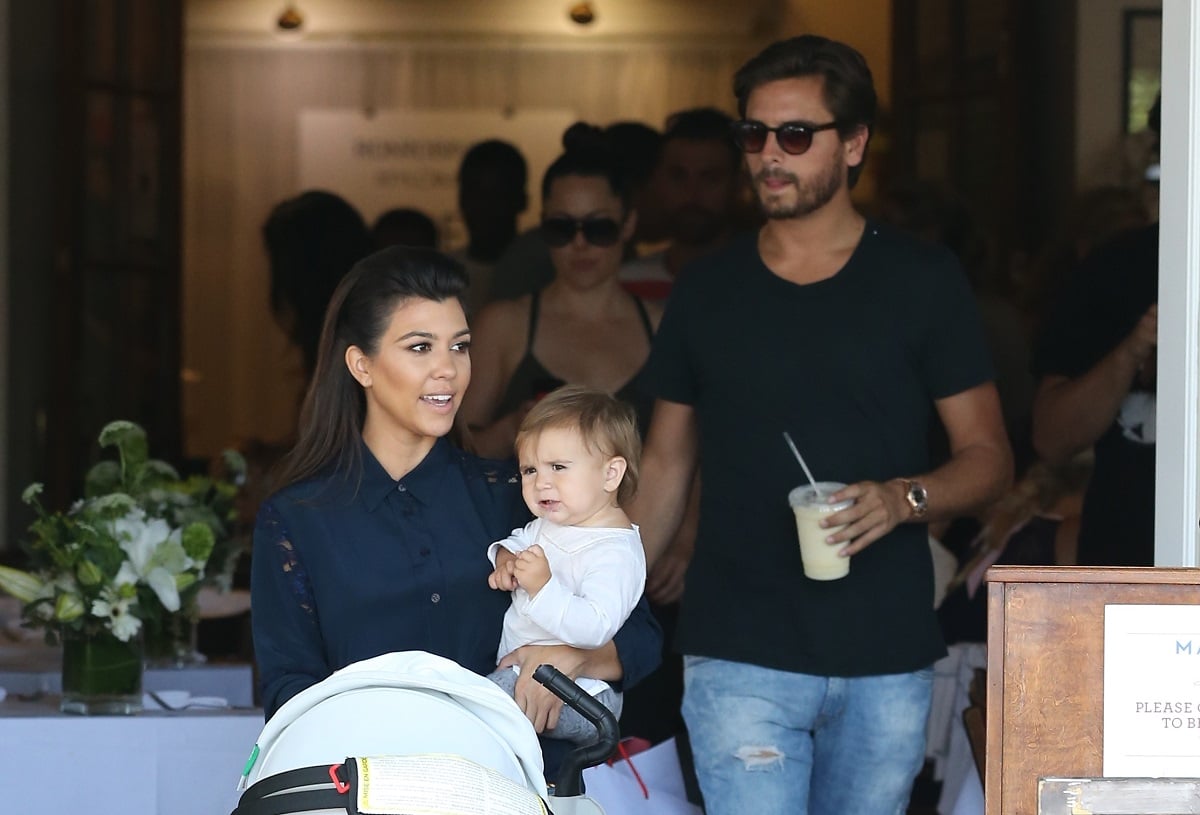 The Kardashian family has been in the spotlight for a long time. Though it's been more than a decade since they burst onto the scene, fans still have a lot to say about the clan. One of the most controversial members of the Kardashian family is Scott Disick — Kourtney Kardashian's ex-partner and the father of her three children. Even though Disick and Kardashian are no longer together, their relationship and family dynamic are at the heart of many of the headlines about the famous group. Recently, some fans took to Reddit to discuss Disick and Kardashian's middle child, their daughter Penelope, discussing why they think the child looks just like her father.
What did fans say about Penelope Disick looking like her father, Scott Disick?
Kourtney Kardashian, Penelope Disick and Scott Disick are seen on August 1, 2013 in Los Angeles, California. (Photo by JB Lacroix/WireImage)
Fans have seen Disick's children grow up on camera. First on the family's original reality show, Keeping Up with the Kardashians, and then on the new Hulu show, The Kardashians. It's no wonder that viewers have a lot of thoughts about how the children are evolving and changing. In a recent Reddit thread, fans dished on Penelope Disick. "She looks just like Scott!" one fan wrote in response to an Instagram photo shared by Disick featuring his only daughter.
"There was a recent pic of P and Kourt together on a jet and it was the first time I thought they looked alike… I think it may have been the face shape/jaw. But totally, the eyes, brows, mouth, etc. all super similar to Scott. They're adorable!" another fan wrote. "So sweet. I was watching episodes of kuwtk the other day when Kourtney and Scott were trying to get pregnant again and now she's like 9 :')" a longtime follower of the family reminisced.
Fans have a lot to say about Scott Disick and Kourtney Kardashian's family
In the same Reddit thread, fans talked about Disick and Kardashian's other children: Mason, born in 2009, and Reign, born in 2014. "All his kids definitely favor him look wise," one poster noted. "Though when Mason was a baby he did look like all the Armenian kids in my family! So cute." Others agreed Mason Disick, who prefers to stay mostly out of the spotlight, resembles Disick a great deal.
"Mason somehow looks super armenian and super similar to scott," one fan said. There's no doubt that Disick and Kardashian's family has been the central focus of many plotlines on Keeping Up with the Kardashians. Mason's birth was one of the first real iconic moments on the groundbreaking reality show, with fans worldwide watching as Kardashian delivered her firstborn child. These days, Disick and Kardashian are no longer a couple. But they maintain a close co-parenting relationship for the sake of their kids.
Disick and Kardashian dished on their co-parenting relationship
Since their breakup, Kardashian and Disick have tried to keep …read more
Source:: Showbiz Cheat Sheet
(Visited 5 times, 1 visits today)