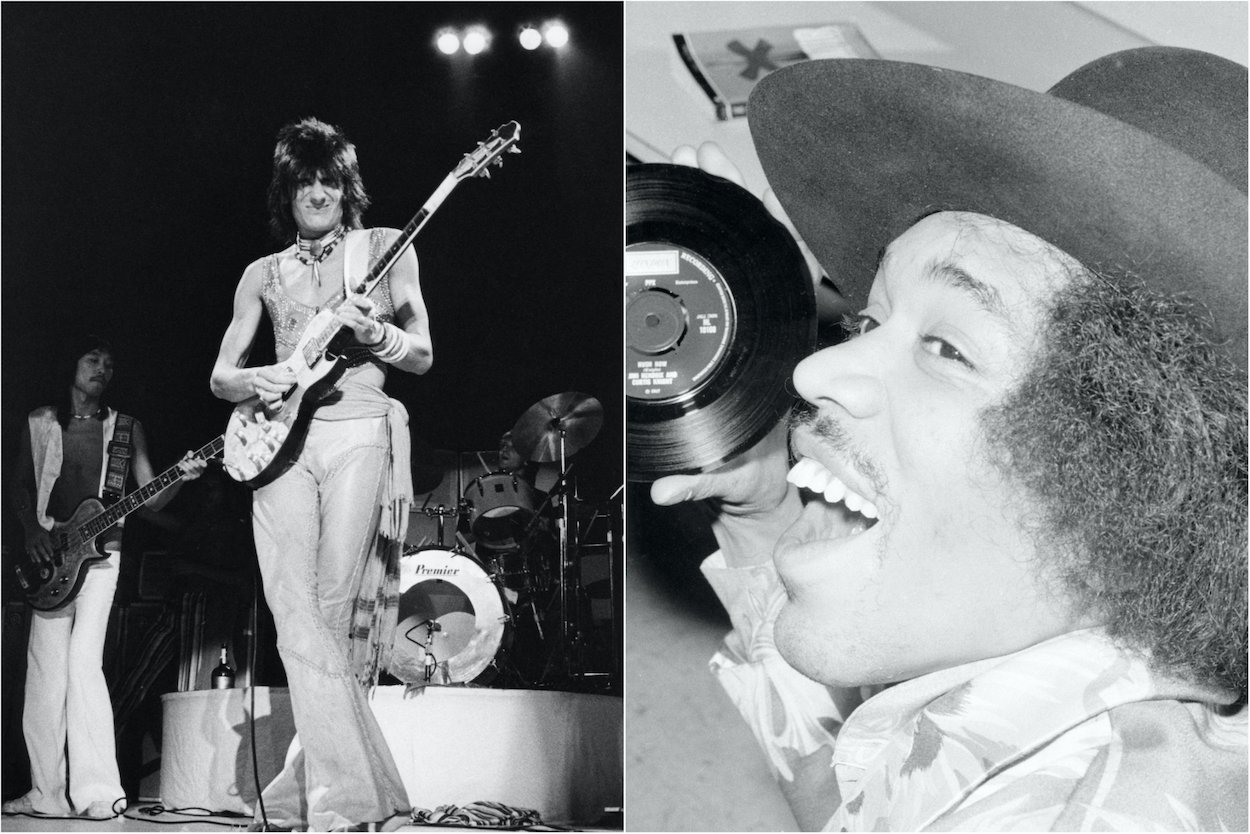 Ronnie Wood didn't have to wait long to become a notable musician. Before joining The Rolling Stones, he was a teenage star in The Birds, who had some success in England, played a stolen bass in the Jeff Beck Group, and then switched to guitar in The Faces. But that progression might not have happened if Wood's guitar playing hadn't been inspired by Jimi Hendrix's gift.
(l-r) Ronnie Wood; Jimi Hendrix | Robert Knight Archive/Redferns; Mirrorpix; Getty Images
Ronnie Wood and Jimi Hendrix shared a flat in London
Wood's commitment to The Faces and Hendrix's career kept both guitarists busy. They hung out in the same circles outside of gigs, and they also shared a living space. 
As Wood writes in his autobiography Ronnie, he and Hendrix lived in soul singer P.P. Arnold's building in London. Hendrix resided in the basement, Wood on the first floor, and Arnold upstairs. It didn't happen often because of their schedules, but they occasionally spent quiet time at home hanging out together.
Hendrix confessed to Wood how much he hated singing during one night together. Wood advised Hendrix to treat his voice like another instrument. Jimi must have liked the advice because he gave his neighbor a pair of blues albums as a gift, and they impacted Wood's guitar playing more than most people know.
Hendrix's gift inspired Wood to get serious about his guitar playing
The Jeff Beck Group and Faces had toured the United States and found success in England when Hendrix and Wood were roommates. It might sound surprising to hear it took a gift from Hendrix for Wood to get inspired about playing guitar, but he said the present changed his life forever.
Was it a guitar? Insight into Hendrix's technique? A guest spot on one of his albums? No, it was two LPs, Wood writes in his book:
"The first was 'James Brown Live at the Apollo.' The second was 'B.B. King Live at the Regal.' It was recorded in 1964, when the Regal was Chicago's version of New York's Apollo … Jimi never knew it, but he changed me forever by giving me those two records because they inspired me to play much better. I'd never heard stuff like this before. They were so filled with energy. Both of these albums blew me away."
Ronnie Wood describes how Jimi Hendrix's gift inspired his guitar playing
Wood implies that, until Hendrix's gift, his guitar success was based solely on his innate talent. But hearing Brown's high-energy live performance (the Godfather of Soul never really did anything low-energy) and King's expressive blues guitar helped him understand how much better his own playing could be. A few years later, it was good enough for The Rolling Stones to know he was the ideal candidate to replace Mick Taylor.
The inspired guitarist wrote a Rolling Stones song just before he joined
Related
Ronnie Wood Was Lucky to Survive a Violent Attack Before He Joined The Rolling Stones
Stones singer Mick Jagger was part of a group of musicians that joined Wood during a 1973 …read more
Source:: Showbiz Cheat Sheet
(Visited 1 times, 1 visits today)