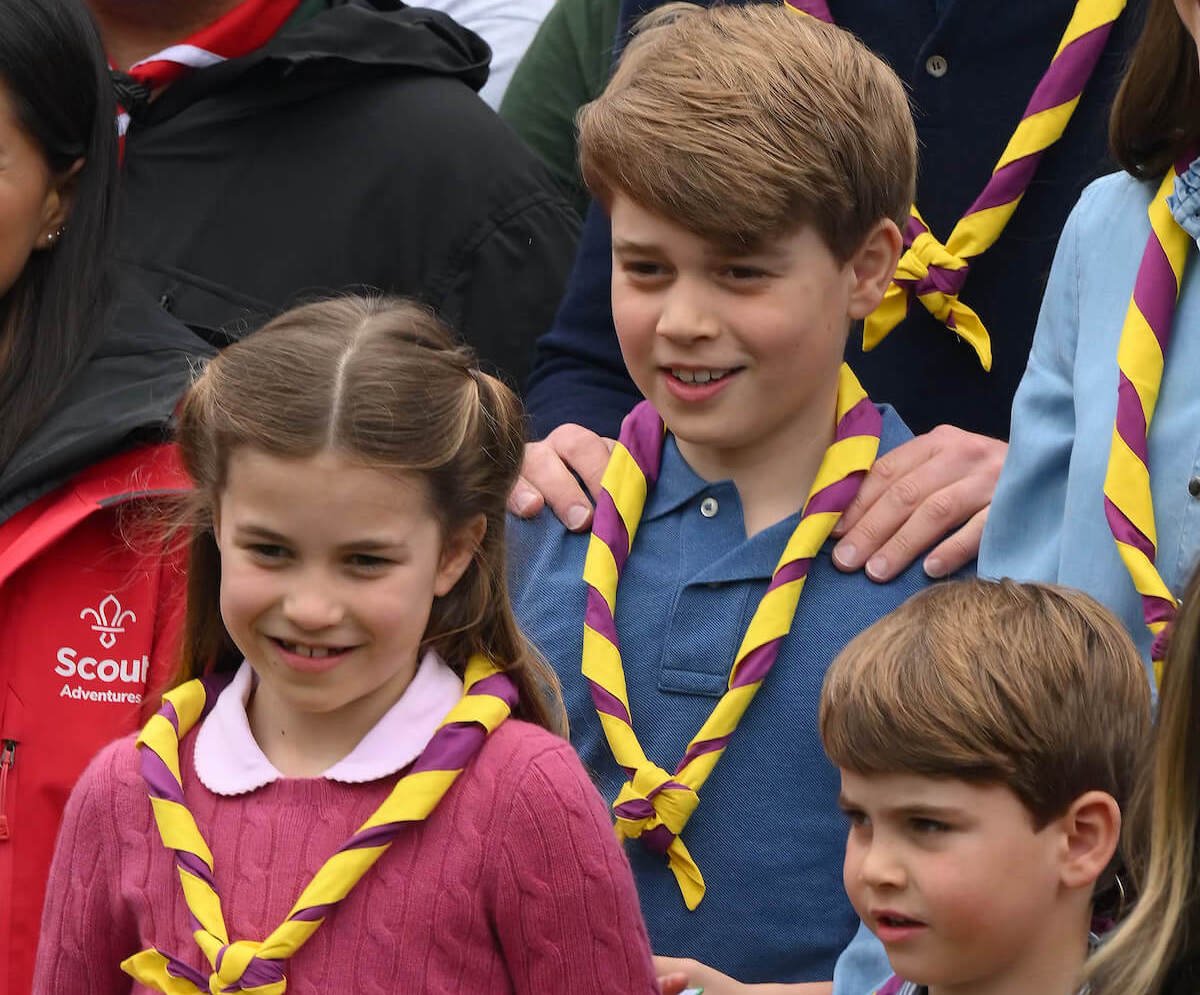 Apparently, Prince William and Kate Middleton have a distinct way of getting Prince George, Princess Charlotte, and Prince Louis to behave in public. "Signs" a body language saw coronation weekend and how the Prince and Princess of Wales were "models" for their kids. 
George, Charlotte, and Louis didn't appear to be 'nudged along' by their parents during coronation weekend 
Princess Charlotte, Prince George, and Prince Louis | Daniel Leal – WPA Pool/Getty Images
Coronation weekend marked a big public appearance for George, Charlotte, and Louis after Queen Elizabeth II's funeral and Platinum Jubilee. They were in the spotlight on numerous occasions throughout the days-long festivities.
They attended the ceremony itself on May 6. Later they watched a star-studded concert at Windsor Castle — sans Louis — and volunteered.
Between May 6 – 8, "there was no sense that George, Charlotte, and Louis had been nudged along with warnings to be well-behaved," body language expert Judi James told Express. 
Take, for instance, the children joining William and Kate in Slough, England, at the 3rd Upton Scouts Hut to do some volunteering as part of coronation weekend's Big Help Out. 
"The signs are that as soon as the family spot[s] a sporting or activity challenge or an opportunity to get stuck in and compete in public," James said. "They throw themselves into it with genuine enthusiasm." 
"Their family team-bonding appears to have an even spread when it comes to enthusiasm and enjoyment," she added. "Kate will always compete as much as William and their role-modelling [sic] means their children will copy that very equal sense of enthusiasm."
George, Charlotte, and Louis looked enthusiastic with Prince William and Kate Middleton
James continued, saying all three of William and Kate's kids appeared to take after their parents during the coronation weekend event. Louis, who turned 5 just a few weeks earlier, "set about filling a wheelbarrow with total, rapt enthusiasm, suggesting he throws himself into tasks at home in the same way." 
The same goes for Charlotte, who followed her mom's lead. "Kate took her archery seriously and therefore, so did Charlotte," the expert said. 
Meanwhile, George, who took on the role of coronation page for King Charles III's crowning, appeared to take after William. "While his mother eyed up the target, we can see George with his hands in his pockets, mirroring his dad's splayed elbow pose as he watched to see who would be the winner," James said. 
"Kate also shows her skill to create confidence in her children when they do compete or join in play," she added. When the family gathered around the fire making s'mores, for instance, Kate "dipped down" to be closer to Louis. The move, James explained, "allow[ed] him to feel motivated but not overly parented." 
Kate Middleton uses a 'secret code' to 'calm' George, Charlotte, and Louis in public 
Related
Kate Middleton's Yellow Blazer Said a Lot About How Far She's Come in the Royal Family, Expert Says
Photo Agency Flatly Denies Harry and Meghan's 'Demand' …read more
Source:: Showbiz Cheat Sheet
(Visited 2 times, 1 visits today)