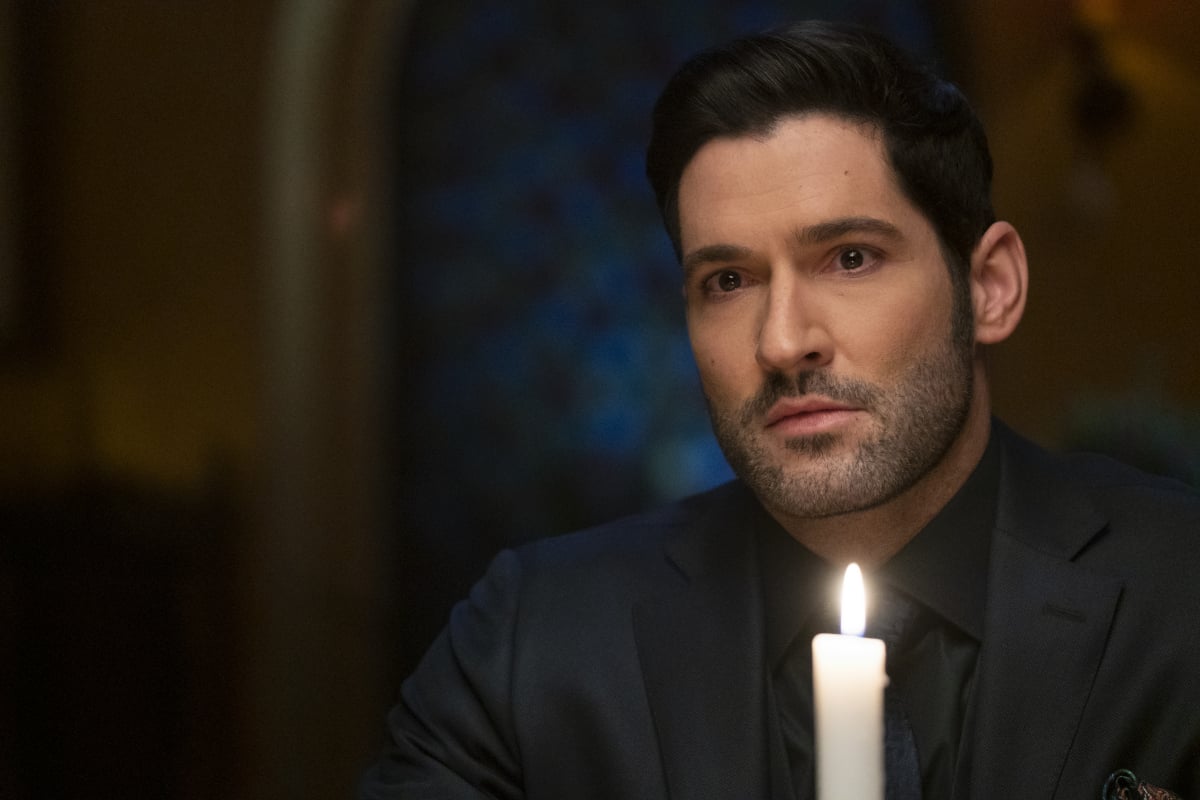 Fall is officially upon us, and that means spooky season is here. It seems like horror, supernatural and other creepy television series have only gotten more popular as the years go by. Streaming services like Netflix and Hulu are overflowing with options for fans of spooky shows. Keep reading to find out the most searched spooky show in your state, and how you can watch it this October.
Tom Ellis as Lucifer Morningstar in 'Lucifer' | John P. Fleenor/Netflix
The following data on which spooky shows were the most searched in each state in 2021 was compiled by Century Link.
'Lucifer' – AL, AK, AZ, FL, KS, MI, MO, NV, NC, OK, OR, PA, TN, TX, WA, WI
By a landslide, Lucifer was the most searched spooky show in the largest amount of states. According to Century Link, the series tallied up a full 16 states in total. As the name suggests, Lucifer centers around the fallen angel Lucifer, who leaves Hell to run a nightclub in Los Angeles.
Although Fox canceled Lucifer after only three seasons, Netflix picked up the show for an additional three. Perhaps the show's rise in popularity this year was due to the fact that 2021 marked Lucifer's end. The series released the final episode on Sept. 10. All episodes of Lucifer are currently streaming on Netflix.
'You' – DE, IL, IN, IA, MD, NJ, NY, ND, OH, VA
The Netflix series You is returning for a third season in 2021. Perhaps that is the reason it was the second most searched show this year. The show's main character, Joe Goldberg, is a stalker and serial killer who finds a new woman to obsess over in each season. You Seasons 1 and 2 are currently available on Netflix, and season 3 will drop on Oct. 15.
'The Handmaid's Tale' – CO, ME, MA, MN, NH
In April 2021, Hulu released season 4 of The Handmaid's Tale. The dystopian series, based on the novel by Margaret Atwood, is set in a totalitarian society formed from what used to be the United States. Fertile women are forced to become sex slaves and bear children to attempt to repopulate the world. All episodes of The Handmaid's Tale are currently streaming on Hulu.
'Supernatural' – AR, ID, KY, WY
Supernatural is the longest-running series on this list. The drama series first aired on The WB and ran for a total of 15 seasons before ending in 2020. Supernatural follows brothers Dean and Sam Winchester as they hunt monsters, ghosts, and other violent creatures following the death of their mother. All episodes of Supernatural are available on Netflix.
Brothers. Stream the series finale of #Supernatural: https://t.co/qZmBzKkln2 pic.twitter.com/BGpnXJs0K7
— Supernatural (@cw_spn) December 3, 2020
'American Horror Story' – LA, NM, RI, SC
American Horror Story famously changes up the storyline each season, while recycling some of the same actors. The FX series aired the first episode of season 10 on Aug. …read more
Source:: Showbiz Cheat Sheet
(Visited 10 times, 1 visits today)