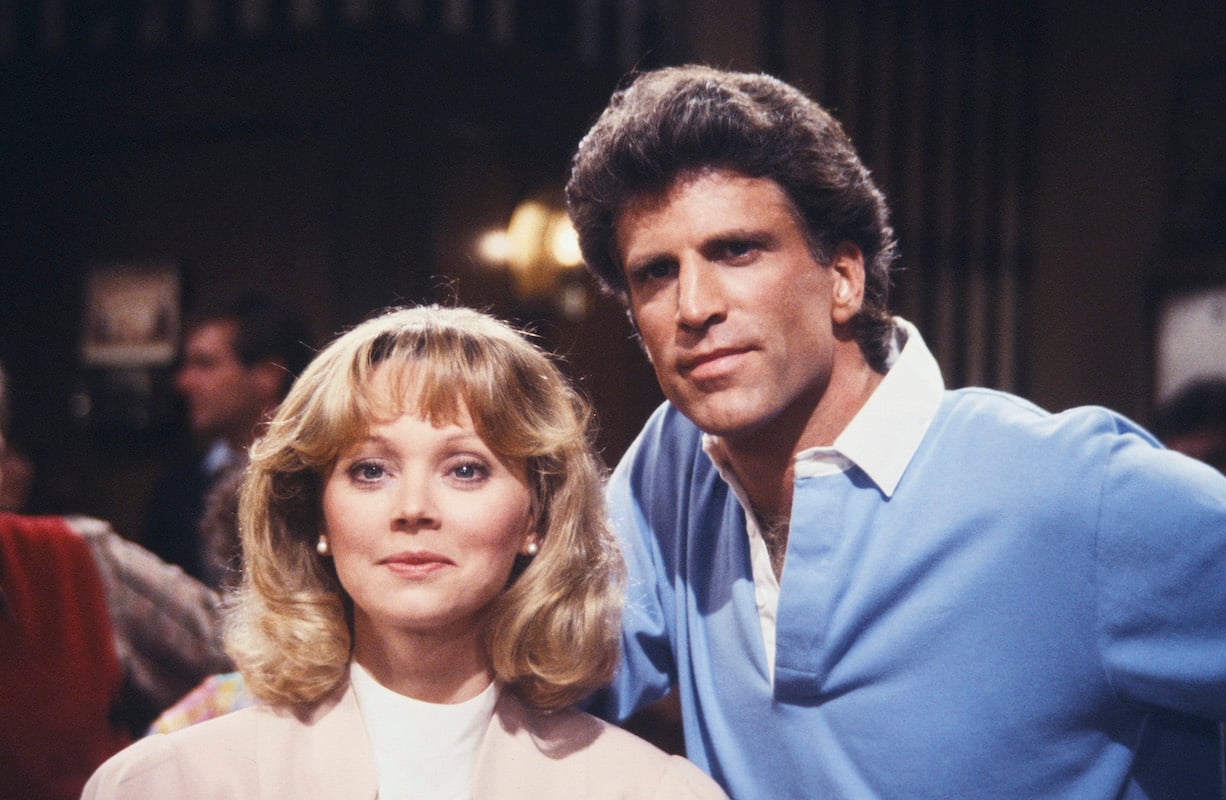 The NBC comedy Cheers comes from a bygone era of television, one in which theme songs were integral to the series. The Cheers theme song was memorable with its chorus "where everybody knows your name." Today, most shows can't spare 30 seconds for a theme song. The new Night Court throws fans a bone with just 10 seconds of it. NBC had other issues with the opening of Cheers in the '80s. 
L-R: Nicholas Colasanto, Rhea Perlman, Shelley Long, and Ted Danson | Herb Ball/NBCU Photo Bank/Getty Images
Cheers writer Ken Levine revealed the 2 issues the Cheers theme song and opening titles caused the network on his Hollywood & Levine podcast. It wasn't the lyrics, which the creators of the show changed prior to the pilot. 
'Cheers' opening titles didn't show cast photos 
As "Where Everybody Knows Your Name" played, Cheers did not show photographs of the actors. Instead, they listed cast names over artistic likenesses during the theme song. 
"Main titles were done by Castle Bryant [Johnsen] and were pretty remarkable," Levine said on Hollywood & Levine. "NBC originally loved the opening titles and then the show floundered in the ratings. When the show premiered, Brandon Tartikoff who was the president of the network came to all of us sitting in the writers room and said, 'Look, you guys are doing great work. Don't change anything. If the show doesn't do well early on, we still believe in it. Don't change anything. You're doing a fantastic job.'"
NBC wanted to show the 'Cheers' cast during the theme song
Tartikoff himself reconsidered on the artistic opening titles to Cheers. This wouldn't be the only time Cheers creators disregarded network notes. 
Who do you think was the person who suggested that we change the titles? Yup, Brandon Tartikoff. What he wanted was more of the standard type titles where you saw the actors and maybe a clip of them doing something zany, those awful cliche opening titles because they were saying well, the names are up there but you don't know who's who? We figured well, yeah, but there's classy. They're classy. And the song and the whole mood. It's telling a story. It's setting the tone for the show. It's not just about seeing George Wendt have a cross eyed expression. They wanted that changed and of course it wasn't. 
Ken Levine, Hollywood & Levine, 9/20/2020
NBC wanted a different singer too
Gary Portnoy and Judy Hart Angelo wrote the Cheers theme song. Apparently they wrote multiple songs creators Glen and Les Charles rejected for Cheers.
Grab your barstool and raise your glass, because starting July 15, you can stream #Cheers for free on @PeacockTV. pic.twitter.com/ATkZqDEV6D
— Ted Danson (@TedDanson) June 24, 2020
Related
'Cheers' Tried 1 Money Saving Trick That Ended up a Disaster
George Wendt's Fave 'Cheers' Jokes Are Both Woody Harrelson's
Kirstie Alley: How 'Cheers' Made Her 'Cocky' and Prepared Her for the Future
"The theme that you hear was not the very first …read more
Source:: Showbiz Cheat Sheet
(Visited 1 times, 1 visits today)