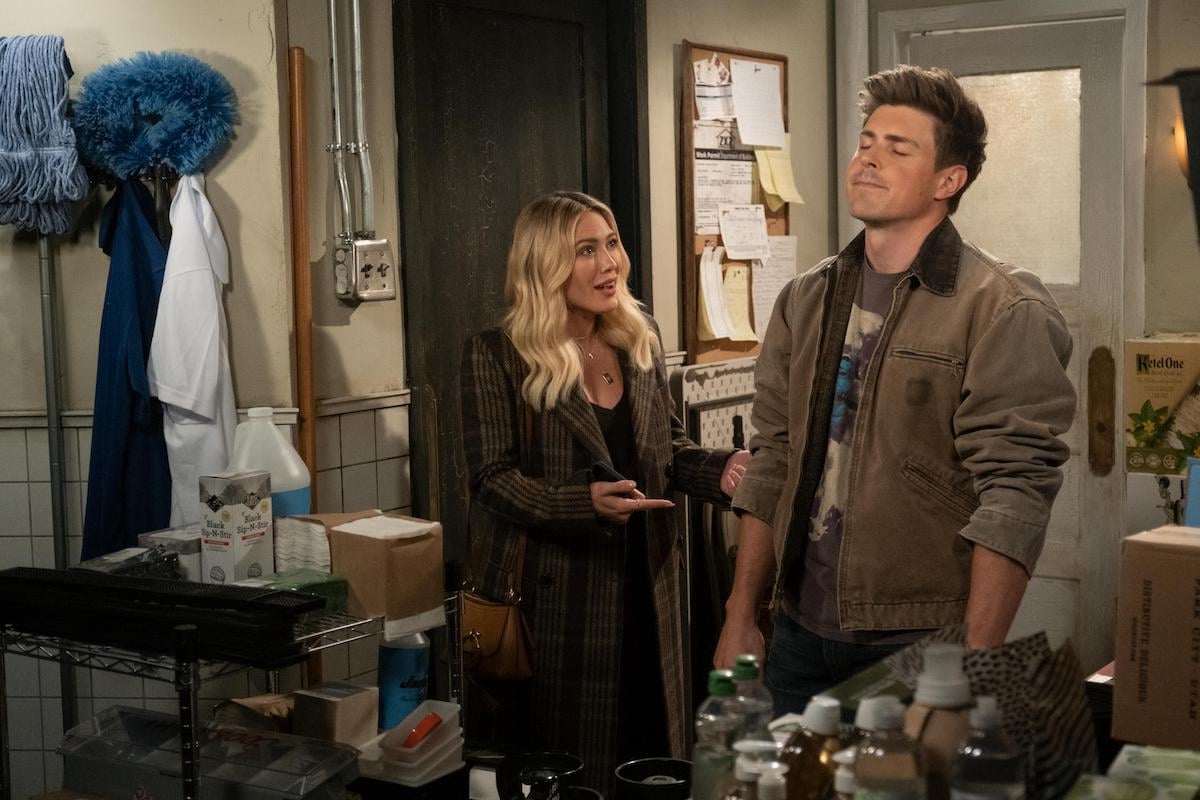 Hilary Duff is back in new episodes of Hulu's How I Met Your Father Season 2 starting Jan. 24. As thrilled as Duff is to be part of the How I Met Your Mother spinoff, her first day on set was not a good one. Find out why Duff "got in the car and cried" on the first day of filming for the Hulu series HIMYF.
Sophie (Hilary Duff) and Jesse (Chris Lowell) in the 'HIMYF' Pilot | Patrick Wymore/Hulu
Hilary Duff returns in season 2 of 'How I Met Your Father' on Jan. 24 
The 20-episode second season of HIMYF kicks off on Jan. 24, 2023. Like Netflix, Hulu typically releases new episodes of a series at 12 a.m. PT/3 a.m. ET. 
In the second season, Sophie (Duff) is still telling her son the story of how she met his father: a story that catapults us back to the present, where Sophie and her close-knit group of friends are figuring out who they are, what they want out of life, and how to fall in love in the age of dating apps and limitless options.
Christopher Lowell, Francia Raisa, Tom Ainsley, Tien Tran, and Suraj Sharma return in new episodes. Fans can also expect to see recurring guest stars like Kim Cattrall, Daniel Augustin, Ashley Reyes, and Josh Peck to return.
Hilary Duff tested positive for COVID on her first day filming 'How I Met Your Father'
In January 2022, Duff spoke with the New York Times about the early days of How I Met Your Father. On her first day on the set of the Hulu series, Duff tested positive for coronavirus (COVID-19). 
Not HILARY DUFF TESTING POSITIVE FOR COVID MERE HOURS AFTER DAY 1 OF FILMING HIMYF. NO GOD NO! pic.twitter.com/8YsJzXImKW
— Nicole Gallucci (@nicolemichele5) August 20, 2021
Related
'How I Met Your Father' Season 1 Recap: 7 Things to Remember Before Season 2
"I had not gotten Covid all through the Younger shoot," she told the outlet. "I was vaxxed up." Duff continued: 
"We had our first day of rehearsal. I'd never done multicam before, and I had no idea what to do. I was only four months out of having a baby. I got in the car and cried to my husband: 'I don't know if I can do this job. I don't know what's wrong with me. This isn't who I am.'" 
Hilary Duff, The New York Times
At the time, Duff didn't know she had COVID-19. "That night, I got the results back at like four in the morning," she said. "It was awful. And I shut us down one more time because my son got Covid." After following the necessary safety protocols, everyone was able to safely return to work and film the first season of the Hulu series successfully. 
COVID-19 doesn't exist in the world of 'How I Met Your Father' 
HIMYF is told from an older Sophie's (Cattrall) perspective and set in 2022. Despite taking place two years after the coronavirus pandemic touched down in New York City, How I …read more
Source:: Showbiz Cheat Sheet
(Visited 1 times, 1 visits today)