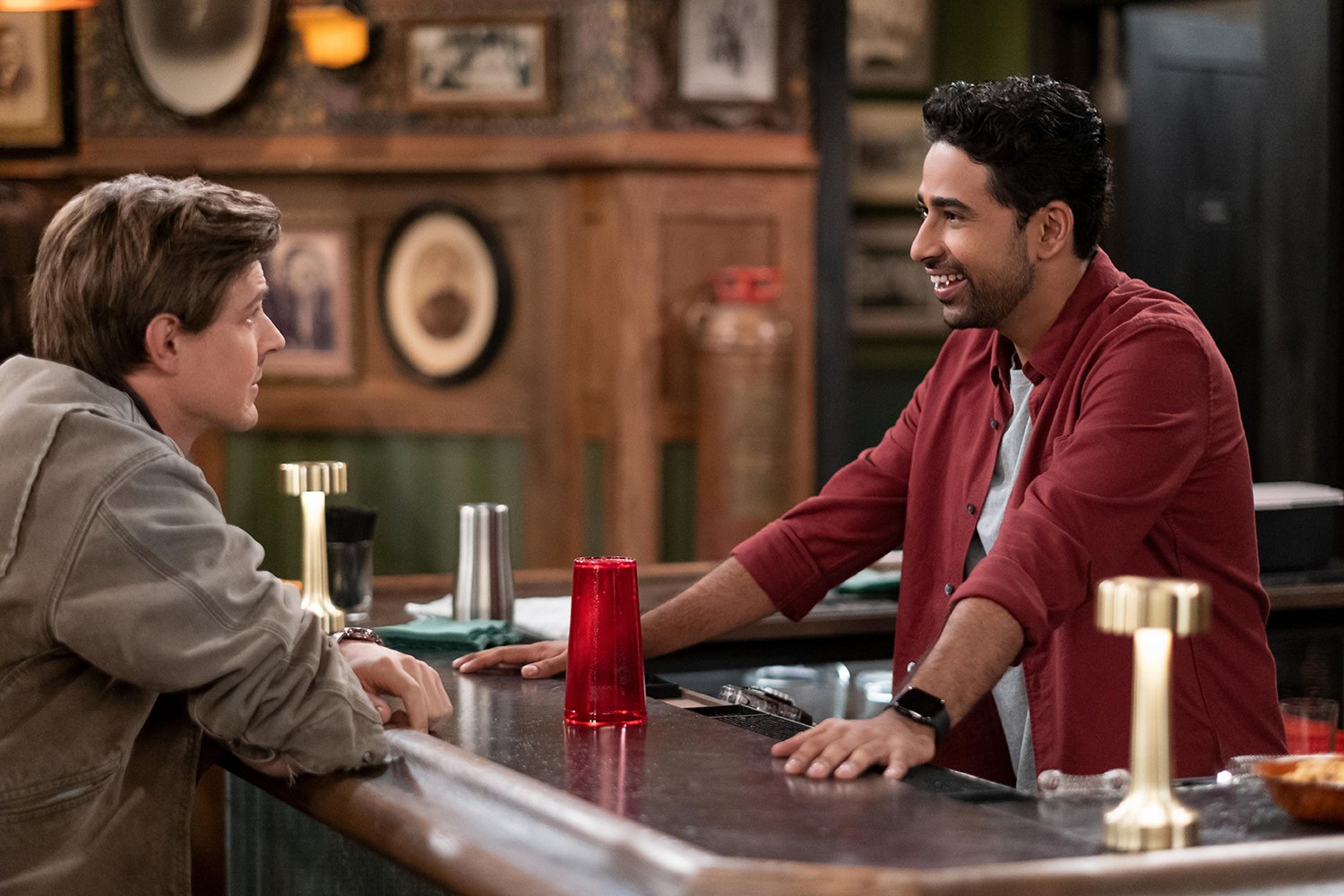 How I Met Your Father finally returns to Hulu this week to continue the story of Sophie's (Hilary Duff) search for love in New York. This time, fans can expect twice as many episodes. Here's the full list of episodes in How I Met Your Father Season 2 and their release dates.
Chris Lowell as Jesse and Suraj Sharma as Sid in 'How I Met Your Father' Season 2 | Patrick Wymore/Hulu
How many episodes are in 'How I Met Your Father' Season 2?
The first season of How I Met Your Father had a standard 10-episode run. However, season 2 received a supersized order of 20 episodes, bringing the show a little closer to the style of its predecessor, How I Met Your Mother.
"[Audiences are] accustomed to sitcom seasons being longer, and when they're longer, you get more time for those episodes where the group is hanging out and having a wild night out," HIMYF co-creator Isaac Aptaker told TVLine last year. "Those episodes don't necessarily advance the plot in a huge way but are sometimes the best episodes when it comes to these hangout shows."
Like season 1, the new batch of episodes will run for about 25 minutes each. Next-episode shared the alleged leaked titles for the first 11 episodes:
Episode 1: "Cool and Chill"Episode 2: "Midwife Crisis"Episode 3: "The Reset Button"Episode 4: "Pathetic Deirdre"Episode 5: "Ride or Die"Episode 6: "Universal Therapy"Episode 7: "A Terrible, Horrible, No Good, Very Bad Valentina's Day"Episode 8: "Rewardishment"Episode 9: "The Welcome Protocol"Episode 10: "I'm His Swish"Episode 11: "Daddy"
Fans should note that these episode titles are not yet confirmed and are subject to change.
'How I Met Your Father' Season 2 release schedule
How I Met Your Father Season 2 will drop its first episode on Tuesday, Jan. 24, only on Hulu. A new episode will then be available every week on the same day. If the season continues without any interruptions, it should wrap up with the season 2 finale on June 6. Here's the tentative release schedule:
Episode 1: Tuesday, Jan. 24Episode 2: Tuesday, Jan. 31Episode 3: Tuesday, Feb. 7Episode 4: Tuesday, Feb. 14Episode 5: Tuesday, Feb. 21Episode 6: Tuesday, Feb. 28Episode 7: Tuesday, March 7Episode 8: Tuesday, March 14Episode 9: Tuesday, March 21Episode 10: Tuesday, March 28Episode 11: Tuesday, April 4Episode 12: Tuesday, April 11Episode 13: Tuesday, April 18Episode 14: Tuesday, April 25Episode 15: Tuesday, May 2Episode 16: Tuesday, May 9Episode 17: Tuesday, May 16Episode 18: Tuesday, May 23Episode 19: Tuesday, May 30Episode 20: Tuesday, June 6
What time is 'How I Met Your Father' Season 2 on Hulu?
They're saving you a seat. #HIMYF returns for Season 2 January 24!
?: @maddiedeutch pic.twitter.com/bAE7HXA9p1
— How I Met Your Father (@HIMYFonHulu) January 18, 2023
Related
'How I Met Your Father' Season 1 Recap: 7 Things to Remember Before Season 2
'How I Met Your Father': The Best Fan Theories Ahead of Season 2
'How I Met Your Father' Season 2 Spoilers …read more
Source:: Showbiz Cheat Sheet
(Visited 1 times, 1 visits today)