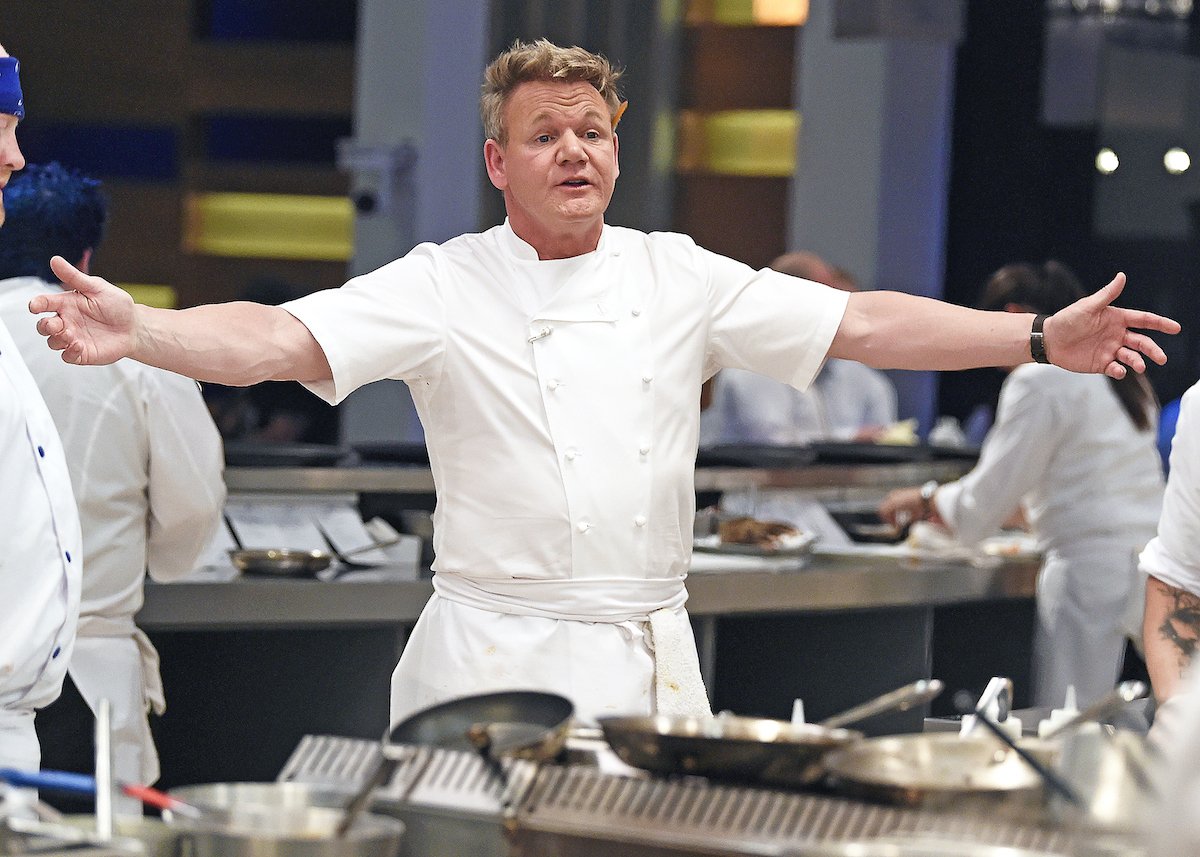 The Hell's Kitchen season 21 finale episode isn't until Feb. 9, but fans think they already know who's going to win the Gordon Ramsay cooking show. Here's who viewers think has the best shot of winning Hell's Kitchen: Battle of the Ages.
Gordon Ramsay | FOX/FOX Image Collection via Getty Images
'Hell's Kitchen' season 21 winner gets a chef position at Gordon Ramsay's Atlantic City Restaurant
Season 21 of Hell's Kitchen premiered on Sept. 29, 2022. It started filming in January 2022, making it the first season of the show filmed since the start of the coronavirus (COVID-19) pandemic.
For the third time in the show's history, chefs were not divided by gender at the beginning of the season. Instead, they were split into two groups according to age: "20-somethings" composed the red team, while "40-somethings" made up the blue team. 
Gordon Ramsay returned as the host and head chef of the reality competition series, while season 10 winner Christina Wilson serves as the red team sous-chef. Season 7 runner-up Jason Santos returned as the blue team sous-chef.
At the end of episode 3, teams were divided by gender again, with men on the blue team and women on the red team.
Related
Rita Ora's Outfit Got Her Turned Away From 1 of Gordon Ramsay's Restaurants
'Hell's Kitchen' fans think they know the winner of season 21
Although the Hell's Kitchen: Battle of the Ages finale episode doesn't air until Feb. 9, fans think they already know who is going to win season 21 of the Gordon Ramsay show. They shared their predictions in a Reddit thread, and many think that Alex Belew, from the "40-somethings" and blue team, will be the victor.
"Alex – one of the strongest chefs I can remember seeing in HK not named Meghan Gill," wrote one fan. "Forgetting his [beurre] blanc on the challenge a few eps ago makes me wonder if he's going to do a Jon, and crash and burn on the pass, but I think he's going to win."
"OK my takes are… Alex Cheyenne finals, Alex wins," wrote another fan.
And another fan predicted, "In the finale, Cheyenne is the first one out, leaving Alejandro and Alex for the grand prize. Alex wins."
If Belew does win, he will take home a $250,000 cash prize and the head chef position at Ramsay's brand new Hell's Kitchen restaurant at Caesars Atlantic City.
View this post on Instagram
Alex Belew has been working in the restaurant industry for 24 years
Hell's Kitchen season 21 contestant Alex Belew has been working in the food industry since he was 15 years old. 
In 2018, he opened his own …read more
Source:: Showbiz Cheat Sheet
(Visited 1 times, 1 visits today)