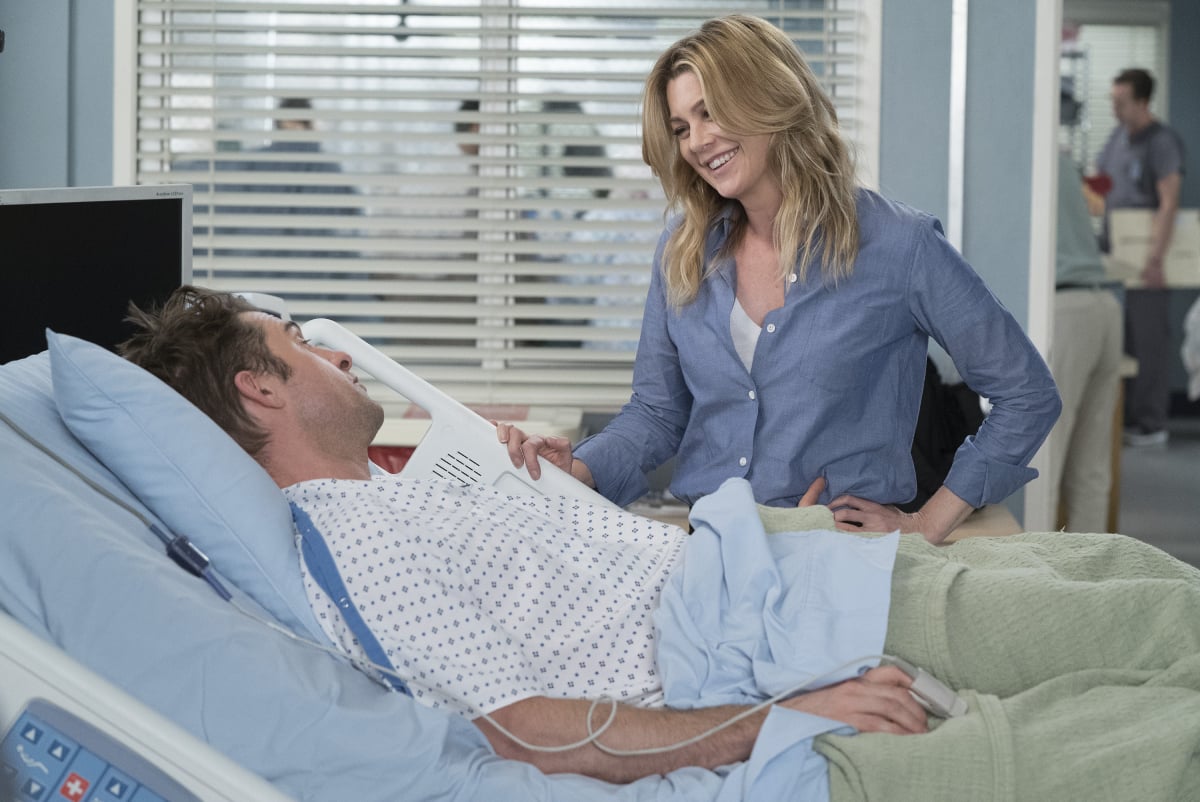 ARTICLE HIGHLIGHTS
'Grey's Anatomy' fans have watched Meredith journey to find love again since Derek died in season 11
Scott Speedman made his debut as Dr. Nick Marsh way back in season 14
When Meredith spoke to Alex about meeting Nick, she teased that he could possibly be her endgame
Ellen Pompeo and Scott Speedman on 'Grey's Anatomy' in 2018 | Eric McCandless/Getty Images
Grey's Anatomy set the internet on fire in the season 18 premiere with the surprise return of Dr. Nick Marsh. In the days leading up to the episode, the ABC medical drama teased that "someone from Meredith's past comes back."
But fans never expected that the mystery person would be Nick. However, his guest appearance in season 14 did have a few clues that he might return one day. The episode titled "One Day Like This" actually teased that Nick Marsh was endgame for Meredith Grey years ago.
Nick and Meredith randomly crossed paths in the 'Grey's Anatomy' season 18 premiere
The first Grey's Anatomy post-pandemic episode took Meredith (Ellen Pompeo) out of Grey Sloan Memorial and sent her to the Mayo Clinic. The award-winning surgeon traveled to Minnesota for the opening of a library dedicated to her mother. But while she was there, Dr. David Hamilton (Peter Gallagher) attempted to woo her away by offering her a state-of-the-art Parkinson's Disease research lab.
RELATED: 'Grey's Anatomy' Fan Theory Explains Exactly Why Season 18 Will Be the Last
She also randomly crossed paths with Dr. Nick Marsh (Scott Speedman), a traveling transplant surgeon who she treated and saved in season 14 after he received his own kidney transplant.
Fans hoped Dr. Nick Marsh would become a series regular
Even though Nick only appeared in one episode, fans quickly noticed the chemistry between him and Meredith. It was so obvious, that many fans were convinced Speedman would be joining Grey's Anatomy in season 15 as a series regular.
That speculation intensified when shortly after his Grey's guest appearance, Speedman confirmed that he had left his leading role on TNT's Animal Kingdom. However, at the Felicity 20-year reunion panel at ATX in the summer of 2018, Speedman broke the news that he would not be returning to the long-running medical series.
'Grey's Anatomy' teased Nick was endgame for Meredith in season 14
At the end of the season 14 episode that featured Dr. Nick, Grey's Anatomy teased that he was endgame for Meredith. However, the timing just wasn't right.
The final scene saw Meredith talking to Alex Karev (Justin Chambers) about her day. She explained that she had saved the life of a "smart, funny, and hot" transplant surgeon. And she confessed that he made her feel something she hadn't felt since Derek (Patrick Dempsey).
RELATED: 'Grey's Anatomy': Meredith's Soulmate Was Not Derek Shepherd or Andrew DeLuca
But the possible romance never went anywhere because Meredith had just come off a string of relationships, and Pompeo wanted her character to take a break from that for a while.
"That season, if you'll recall, Season 14, Ellen had come off a string of …read more
Source:: Showbiz Cheat Sheet
(Visited 12 times, 1 visits today)