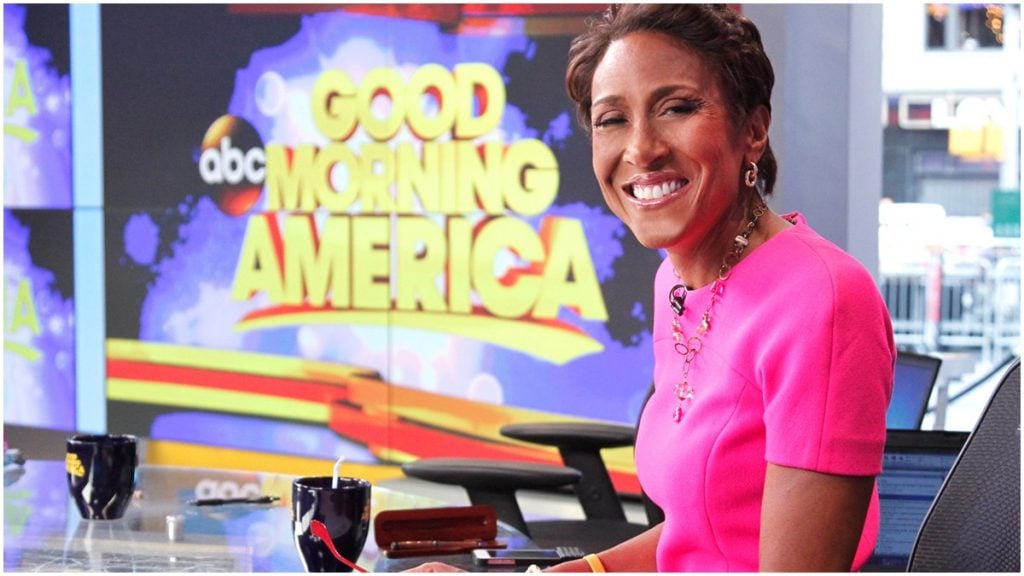 Good Morning America anchor Robin Roberts spent her hiatus from the anchor desk of the morning news show celebrating the birthday of her longtime love Amber Laign. Roberts honored the massage therapist with a loving birthday tribute on social media ahead of her return to Good Morning America. She said she "counted her blessings" that Laign was in her life. How did they meet, and how long are Roberts and Laign together?
Robin Roberts | Lou Rocco/Disney General Entertainment Content via Getty ImagesRobin Roberts has been a "Good Morning America" anchor for 16 years
Roberts has been a Good Morning America anchor for 16 years. Before her work on the ABC morning news show, Roberts was the host of Sportscenter for ESPN. In 2005, Roberts filled the seat vacated by Diane Sawyer, who left GMA to anchor ABC World News Tonight.
Today, Roberts helms Good Morning America alongside fellow anchors George Stephanopoulos and Michael Strahan. With Ginger Zee, Amy Robach, and Lara Spencer, this team of reporters and anchors helped propel the morning news show to a number one position in the ratings.
Robin Roberts and Amber Laign were set up by friends
View this post on Instagram
A post shared by Robin Roberts (@robinrobertsgma)
RELATED: What 'GMA's' Robin Roberts Loves About Her Instagram Page
Roberts met Laign 16 years ago. Mutual friends first introduced the women in 2005 and they went on a blind date. In her memoir titled "Everybody's Got Something," Roberts says Laign did not know who she was.
"She rarely followed sports, so she never saw me on ESPN. Her office mates at the time watched a different morning show … ouch… The main thing we have in common is positive energy. She sees the good in everyone," Roberts penned.
The Good Morning America anchor remained silent about her relationship with Laign until 2013 when she came out for the first time in a Facebook post.
Robin Roberts first addressed her relationship with Amber Laign on social media
Flashback 12/29/12….Hard to believe this was 1 year ago today..when I reached a critical milestone of 100 days post…
Posted by Robin Roberts on Sunday, December 29, 2013
RELATED: Robin Roberts' Surprising Connection to Kenny Rogers
In 2013, Roberts was thankful for overcoming a second cancer battle. After a diagnosis of breast cancer in 2007, the GMA anchor later fought a blood and bone-marrow disorder triggered by her treatments. Roberts received a life-saving transplant from her sister Sally-Ann Roberts, a TV news anchor in New Orleans.
In the caption of the Facebook post seen above, Roberts listed those she was thankful for at the end of a very challenging year. Laign was one of those Roberts thankfully mentioned.
She says she was grateful to "God, my doctors, and nurses for my restored good health. I am grateful to my sister, Sally-Ann, for being my donor and …read more
Source:: Showbiz Cheat Sheet
(Visited 12 times, 3 visits today)