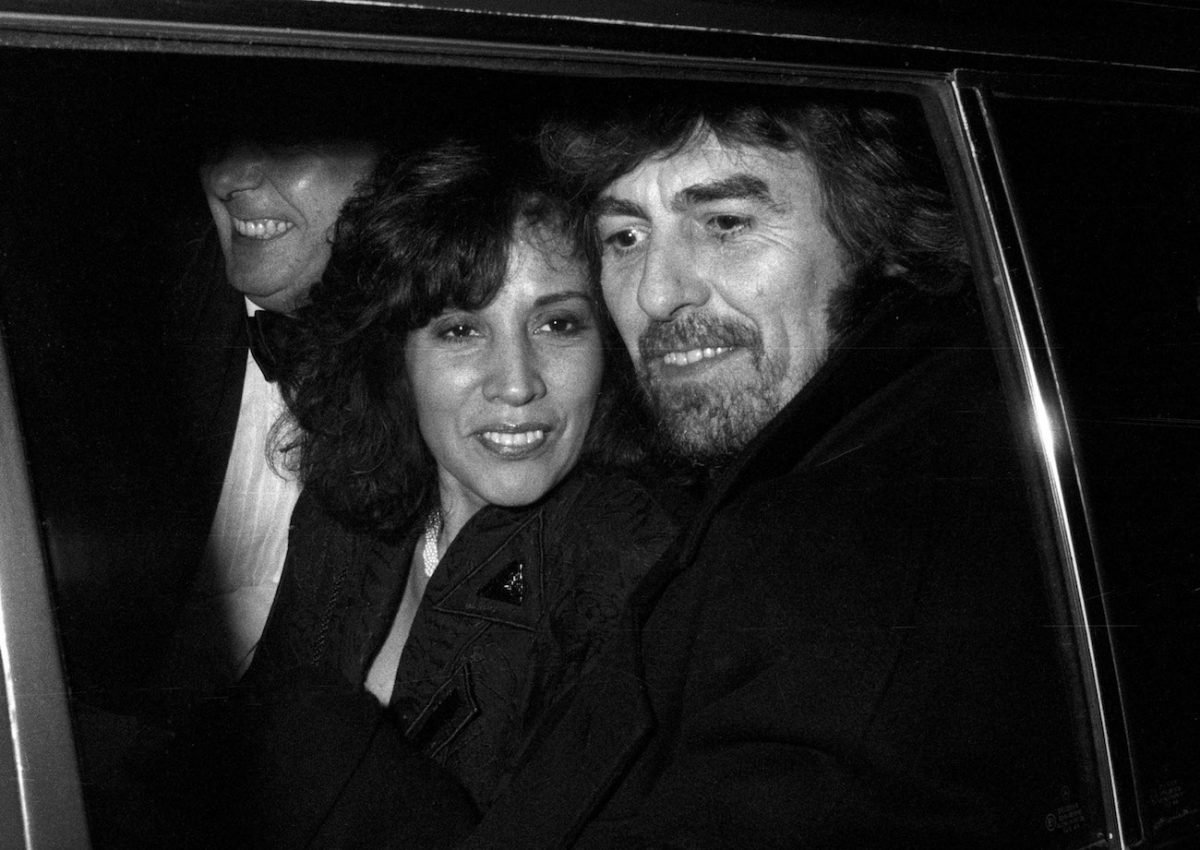 George Harrison and his wife Olivia | Tom Wargacki/Getty Images
George Harrison and his wife Olivia met in 1974
George Harrison went through 10 years with The Beatles, a horrible American tour, a (the first) benefit concert, seven solo albums, a major lawsuit, a public divorce, the creation of his record label, and the birth of his son Dhani, by the time he married his wife, Olivia.
Olivia hadn't seen such a huge part of his life. However, she took on the hardest job in the world. She and George's similarities were what bound them together.
George Harrison and his wife Olivia | Tom Wargacki/Getty Images
George Harrison and his wife Olivia met in 1974
In 1974, George split from his first wife, Pattie Boyd, and things went downhill. George said he had "no voice and almost no body at times."
In 1972, Olivia Arias started working at A&M Records. She began having regular correspondence with George over the phone because A&M was distributing George's new record label, Dark Horse Records.
Olivia impressed George. So, he arranged for her to work at the new label. The first time they met in person, Olivia greeted George outside Dark Horse Records' offices on its launch day.
"I thought somebody should," Olivia told Rolling Stone in 2020. "He drove onto the lot by himself in this little car, and I thought, 'Jeez, this is a big day in his life,' and I went outside and said, 'Welcome!' George asked Olivia, "What's going on?" Olivia said, "He was very excited, but it was just me."
Shortly after that, George and Olivia started dating. In 2005, Olivia told the LA Times, "I was from outside of his world. I was shelter from the storm. I was simple, and he needed some simplicity at that point."
Olivia told the publication that she "never really stopped to think about the implications of getting involved with a musician, much less an ex-Beatle."
She explained, "You can't really think about it that way, otherwise you're just playacting."
George and Olivia soon found out that they had similar interests and upbringings.
RELATED: Why George Harrison Thought Dick Clark Was a Greedy Vulture: 'I'd Be Embarrassed if I Was Him'
George and Olivia had similar upbringings
In a recent interview with The Sunday Times, Olivia said she and George both came from modest backgrounds, "poor you'd say." In her new poem, "SHE: 34° North," from her book of poetry, Came the Lightning, Olivia talks about her childhood, living in a part of LA where her family was the only Mexican family.
Her grandparents immigrated to California from Guanajuato in central Mexico. She and her four siblings grew up in a "happy but humble home."
Before taking George there, she tried to prepare him. However, there was nothing for Olivia to worry about.
George said the modest home was "a mansion compared to my youth." He was also happy, growing up in two-up, two-down with an outside bathroom.
In his memoir, I Me Mine, George wrote that the house he shared with his parents and three …read more
Source:: Showbiz Cheat Sheet
(Visited 5 times, 1 visits today)