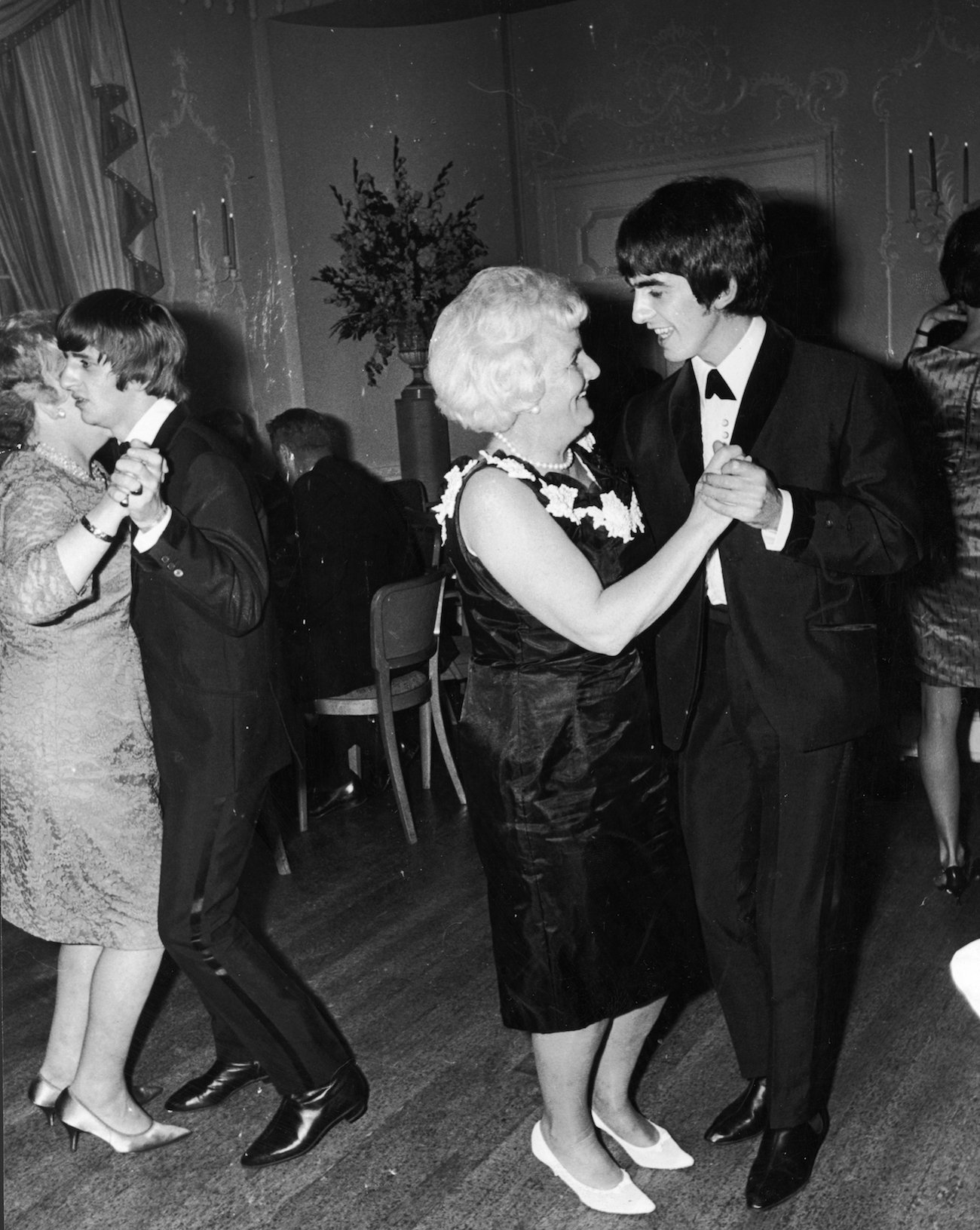 George Harrison and his mother | Express/Express/Getty Images
George Harrison went off to be a Beatle while his mother stayed home and answered fan mail
The Beatles' fame didn't just affect them. It also affected their parents and guardians. John Lennon's Aunt Mimi
George Harrison loved his mother dearly, but they disagreed on some things, including her answering fan mail. From the day that George came home and asked for his first guitar, Louise Harrison supported her son. She encouraged him musically and let him leave school to travel to Hamburg, Germany, with The Beatles.
When the band played at The Cavern Club, she always cheered them on in the front row. After The Beatles became famous and Beatlemania exploded, the only way she could support her son was to support his fans. So, she answered fan mail. All fans deserved a personal answer for loving him so much.
George Harrison and his mother | Express/Express/Getty Images
George Harrison went off to be a Beatle while his mother stayed home and answered fan mail
The Beatles' fame didn't just affect them. It also affected their parents and guardians. John Lennon's Aunt Mimi didn't associate much with Beatles fans. However, Ringo Starr and George's parents willingly invited bus-loads of fans who'd traveled to Liverpool from all over the world into their homes. What could they do?
Soon, excited girls started visiting and pointing at George's house. Louise, in particular, made an effort to interact with her son's fans as much as possible, answered fan mail, and communicated with fan clubs.
In Here Comes the Sun: The Spiritual and Musical Journey of George Harrison, Joshua M. Greene wrote, "Harold's hesitations were swept away in the deluge of his son's success, brothers Harry and Pete basked in the reflection of their kid brother's glow, and mother Louise looked after George's fans.
"Each week she traveled to Beatles Fan Club headquarters in Liverpool to pick up batches of promotional photos. Then she returned home and stayed up late answering fan mail longhand, often writing two thousand letters per month. Shelves along one wall of their new home displayed gifts sent from around the world."
On George's 21st birthday, almost a million cards, letters, and gifts arrived at the Harrison house. Seven truckloads of mail filled their home's entry. The postal department said it was the most mail delivered to one address outside the royal family. Meanwhile, screaming fans mobbed the house. Some even kissed the doorknob.
Suddenly, Harold and Louise became celebrities, just like their son. "People always think we must be different now, because of George," Louise said. "We went to a fan's wedding the other day, and people said, 'How can you enjoy yourselves with the likes of us?' They expect us to wear mink all the time."
Louise also became pen pals with a fan for five years. She told Lorraine O'Malley about what was happening in The Beatles and even some personal things about her son.
RELATED: 1 Guru Didn't Agree With Something Maharishi Mahesh Yogi Taught George Harrison
George disagreed with his mother answering fan mail
In a 1968 interview, Louise explained that she got fan mail from most parts of the world. She said when George saw all the fan mail, he always told her …read more
Source:: Showbiz Cheat Sheet
(Visited 34 times, 1 visits today)