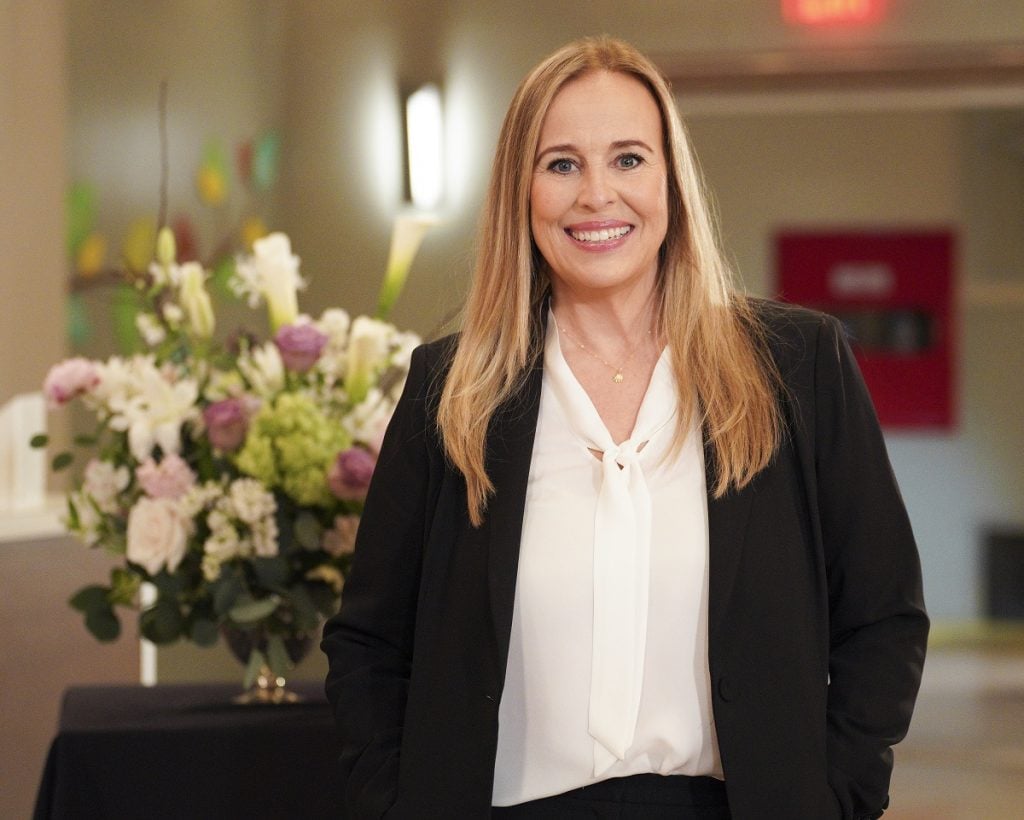 Genie Francis I Christopher Willard/ABC via Getty Images
'General Hospital' spoilers indicate Laura Collins' life is in danger
The beginning of the week starts with the 15,000th episode; however, it won't be a celebratory occasion. Laura Collins (Genie Francis) is the subject of the special episode because
General Hospital spoilers reveal it'll be a suspenseful week in Port Charles. The ABC soap opera hits a special milestone with its 15,000th episode, which centers on one of its favorite heroines. Read on to see what's happening during this momentous week.
Genie Francis I Christopher Willard/ABC via Getty Images
'General Hospital' spoilers indicate Laura Collins' life is in danger
The beginning of the week starts with the 15,000th episode; however, it won't be a celebratory occasion. Laura Collins (Genie Francis) is the subject of the special episode because she's Port Charles' iconic leading lady. As mayor, Laura is doing a fine job looking after her beloved city. Yet, there are setbacks to being in the public eye. 
According to Soaps.com, General Hospital spoilers suggest it'll be a suspenseful time for Laura with her life in danger. A mystery person is watching Laura and speculation it might be Cyrus Renault (Jeff Kober) who's back to cause trouble.
The entire cast and crew were thrilled to celebrate the filming of our 15,000th episode today and we wanted to share a little of that excitement with you! #GH15K won't air until June, but who doesn't love an excuse to eat some cake? Thank you for your continued support. #GH59 pic.twitter.com/l2A1ZkCu9q
— General Hospital (@GeneralHospital) May 12, 2022
RELATED: 'General Hospital' Comings & Goings: Genie Francis Is Back!
The ELQ merger reaches its climax
Valentin Cassadine's (James Patrick Stuart) week starts with him and Anna Devane (Finola Hughes) enjoying some romantic time. However, his week goes from bad to worse, thanks to the ELQ merger. Valentin's been trying to persuade Ned Quartermaine (Wally Kurth) to vote in his favor. However, it appears Ned decides to join forces with Michael Corinthos (Chad Duell) and Drew Cain (Cameron Mathison).
ELQ merging with Aurora is a massive moment and one that Carly Corinthos (Laura Wright) wants to celebrate. However, the celebration might be cut short. According to Celeb Dirty Laundry, General Hospital spoilers suggest Leo Quartermaine (Easton Rocket Sweda) overhears Michael's plan to use ELQ to take down Sonny Corinthos (Maurice Benard).
General Hospital' spoilers reveal Nina Reeves gets into a confrontation
Recently, Nina Reeves has been going through a rough time after losing her custody bid for Wiley Corinthos (Viron Weaver). Like any woman, she keeps her head high as she moves on. Yet, being Port Charles' pariah, she gets a lot of slack.
"Let's make 'em suffer." #GH pic.twitter.com/RjxOWLd4ZJ
— General Hospital (@GeneralHospital) June 14, 2022
RELATED: 'General Hospital': Is Nina a Victim or Villain?
According to Fame10, General Hospital spoilers say that Nina and Sasha Gilmore (Sofia Mattsson) are accosted by Olivia Quartermaine (Lisa LoCicero) at Metro Court. It's unknown why Olivia sparks an argument with the two women, but things become complicated when Willow Tait (Katelyn MacMullen) becomes involved. After her confrontation with Olivia, Nina meets her aunt Liesl …read more
Source:: Showbiz Cheat Sheet
(Visited 9 times, 1 visits today)