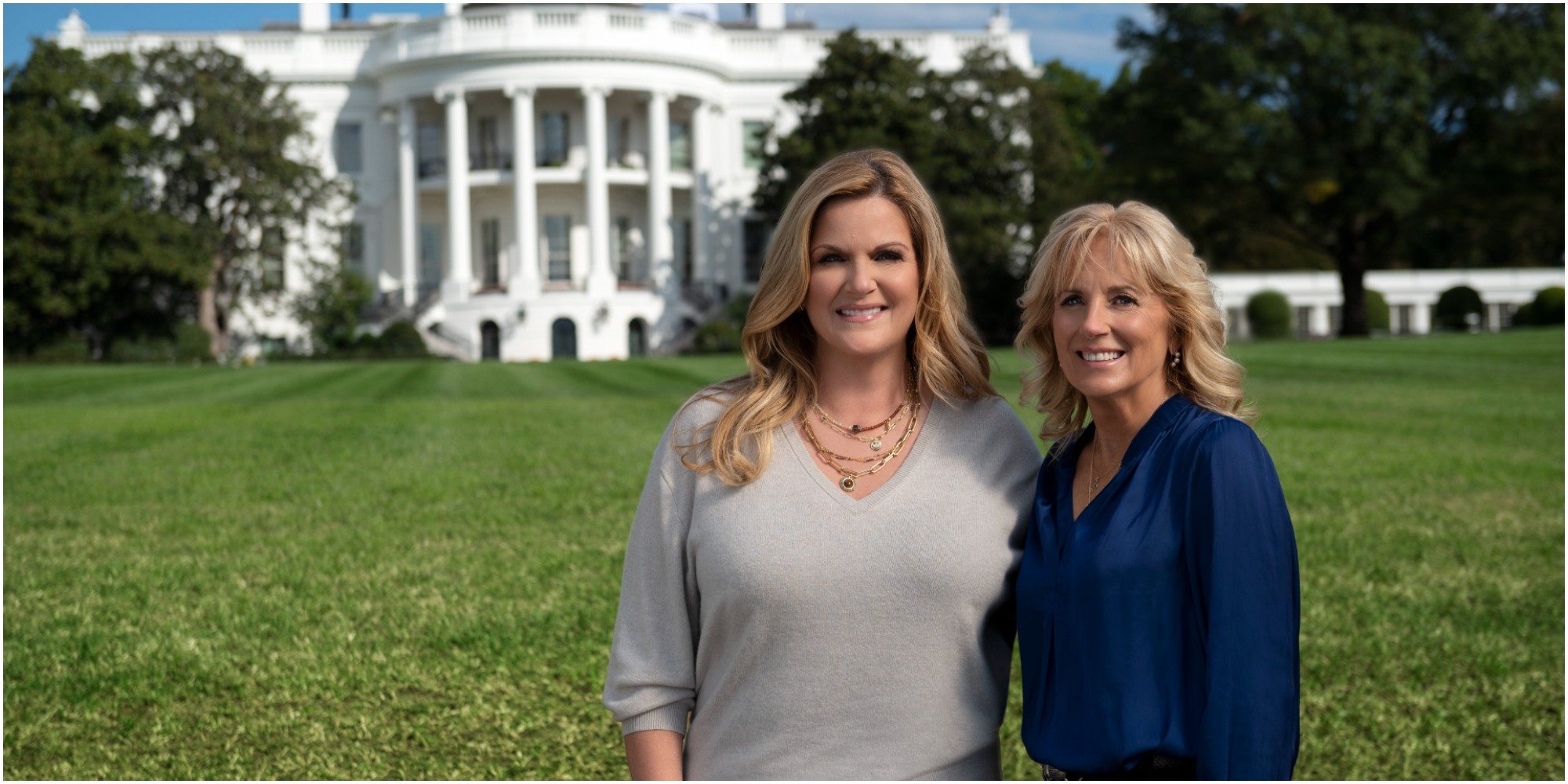 Trisha Yearwood and Dr. Jill Biden | Food Network/Discovery Press
Trisha Yearwood and Dr. Biden swapped recipes and family stories
The First Lady and the country superstar prepared their favorite Turkey Day dishes, including the First Lady's Grandmom Jacobs' Savory Stuffing recipe and
Food Network fans reacted with delight to a Thanksgiving special starring Trisha's Southern Table star Trisha Yearwood and the First Lady of the United States, Dr. Jill Biden. The special, titled A White House Thanksgiving, premiered on Food Network on Nov. 20 and highlighted Yearwood's trip to the White House, where she learned of the traditions the Biden family holds close during the holiday season. These include the favorite recipes of the First Lady and her family.
Trisha Yearwood and Dr. Jill Biden | Food Network/Discovery PressTrisha Yearwood and Dr. Biden swapped recipes and family stories
The First Lady and the country superstar prepared their favorite Turkey Day dishes, including the First Lady's Grandmom Jacobs' Savory Stuffing recipe and Trisha's Thanksgiving Turkey Gravy.
White House Executive Chef Cristeta Comerford joined them to cook the White House Thyme Roasted Turkey, White House Chief Floral Designer Hedieh Ghaffarian for the floral and table décor, and White House Executive Pastry Chef Susan Morrison to make the White House Apple Crisp recipe topped with the President's favorite ice cream flavor, chocolate chip.
Trisha Yearwood and Jill Biden spoke of their thanks this holiday season
Trisha Yearwood | Discovery Press/Food Network
"Food is love – and gathering together this year for Thanksgiving is healing for our hearts," said First Lady Jill Biden as reported by Food Network.
"The family recipes passed down through the generations, the fun traditions that continue, and the meaningful blessings shared all keep me filled with gratitude," Dr. Biden continued.
"It was fun opening up the White House to Food Network and learning cooking tips from Trisha and the White House chefs and florist while sharing my family recipes. I hope everyone watching comes away feeling that cooking a Thanksgiving meal is something anyone can do, but if you're still nervous about making the gravy-like I am, you're in good company!" she joked.
Trisha added the sentiments of her day spent at the White House.
"Food brings us together. I so enjoyed my time at the White House, cooking with Dr. Jill and the White House chefs and sharing our holiday food traditions," said Yearwood.
"I hope this special is a reminder to all of us about what we all have in common. Love one another."
Fans reacted with delight to the special starring Trisha Yearwood and Jill Biden
View this post on Instagram
A post shared by Trisha Yearwood (@trishayearwood)
Yearwood shared a photograph with her Instagram followers of herself and the First Lady seated at a table and laughing.
Fans reacted with delight to the image and how the women came together to share their commonalities over a meal.
"Two beautiful, intelligent women — you love to see it!" wrote one follower.
"Recorded and can't wait to watch. She's the most elegant First Lady we had have had in a long, long time!" claimed a second Instagram user.
"Wonderful! I will be watching, love your recipes, …read more
Source:: Showbiz Cheat Sheet
(Visited 30 times, 1 visits today)