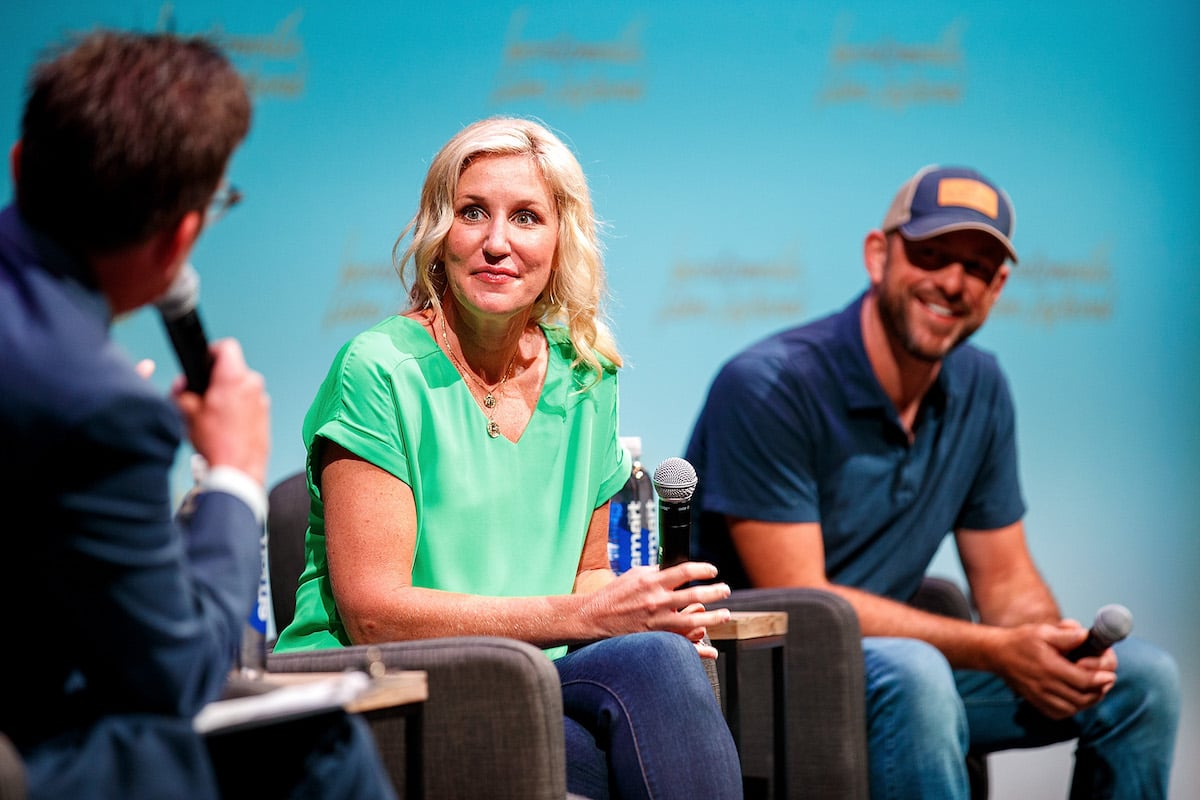 Jenny Marrs | Justin Ford/Getty Images for Bentonville Film Festival
Jenny Marrs and her husband, Dave Marrs, star in the HGTV renovation show 'Fixer to Fabulous' 
Fixer to Fabulous host Jenny Marrs has years of experience restoring and designing homes. The HGTV star has a surprising way of updating any living room to appear more modern. Here's the trick Marrs uses in many of her designs to give living rooms a fresh and fancy look. 
Jenny Marrs | Justin Ford/Getty Images for Bentonville Film Festival
Jenny Marrs and her husband, Dave Marrs, star in the HGTV renovation show 'Fixer to Fabulous' 
Dave and Jenny Marrs restore classic and historic homes in their hometown of Bentonville, Arkansas, on the reality renovation show Fixer to Fabulous. According to HGTV, Jenny "specializes in designing spaces that are welcoming and inviting," while her husband, Dave, is "an expert craftsman, builder, general contractor and all-around handyman." The Marrses have been married for 17 years, and they share five children: Nathan, Ben, Sylvie, Charlotte, and Luke. 
Dave and Jenny are renovation experts, and they have learned that restoring a home the right way rarely means adhering to a strict schedule. "Always plan on it taking longer and costing more," Dave told House Digest in December 2022. "… it never fails: There's always a surprise. I always tell people, 'If this restoration takes an extra month or an extra two months, this is something that you're trying to put together for your family for a lifetime, so take the time."
Jenny Marrs has a surprising technique to update any living room
Fixer to Fabulous host Jenny Marrs has a tried-and-true trick to make any living room look fancier. And the best part is, you may not need to hire a crew to do it for you if you're handy. 
According to the HGTV website, Jenny dresses up a living room by installing paneling, also known as molding or trim. It maintains the original charm of the space while giving it a luxurious feel. 
Topping the room off with cozy furniture and a few personal touches, but not too much clutter, makes the living area bright, open, and inviting. Here's a helpful guide to installing molding in your own home.
Related
'Fixer to Fabulous': Dave and Jenny Marrs Always Avoid This 1 Renovation Rule When Restoring a Home
The 'Fixer to Fabulous' star's other living room tips 
Another tip Jenny Marrs has for creating a fancier-looking living space is creating a seamless flow between indoor and outdoor spaces. She likes to use large glass doors and lots of windows when possible in her living room designs. It makes the room look larger and provides a cozy space for listening to storms or watching the sky turn from day to night. 
She also recommends using simple, unadorned furniture with clean lines, subdued hues, and low-key textiles to create a calm, relaxing environment. You can add a splash of color or a geometric print by using throw pillows or a piece of art, which can easily and inexpensively be changed out or removed if …read more
Source:: Showbiz Cheat Sheet
(Visited 1 times, 1 visits today)