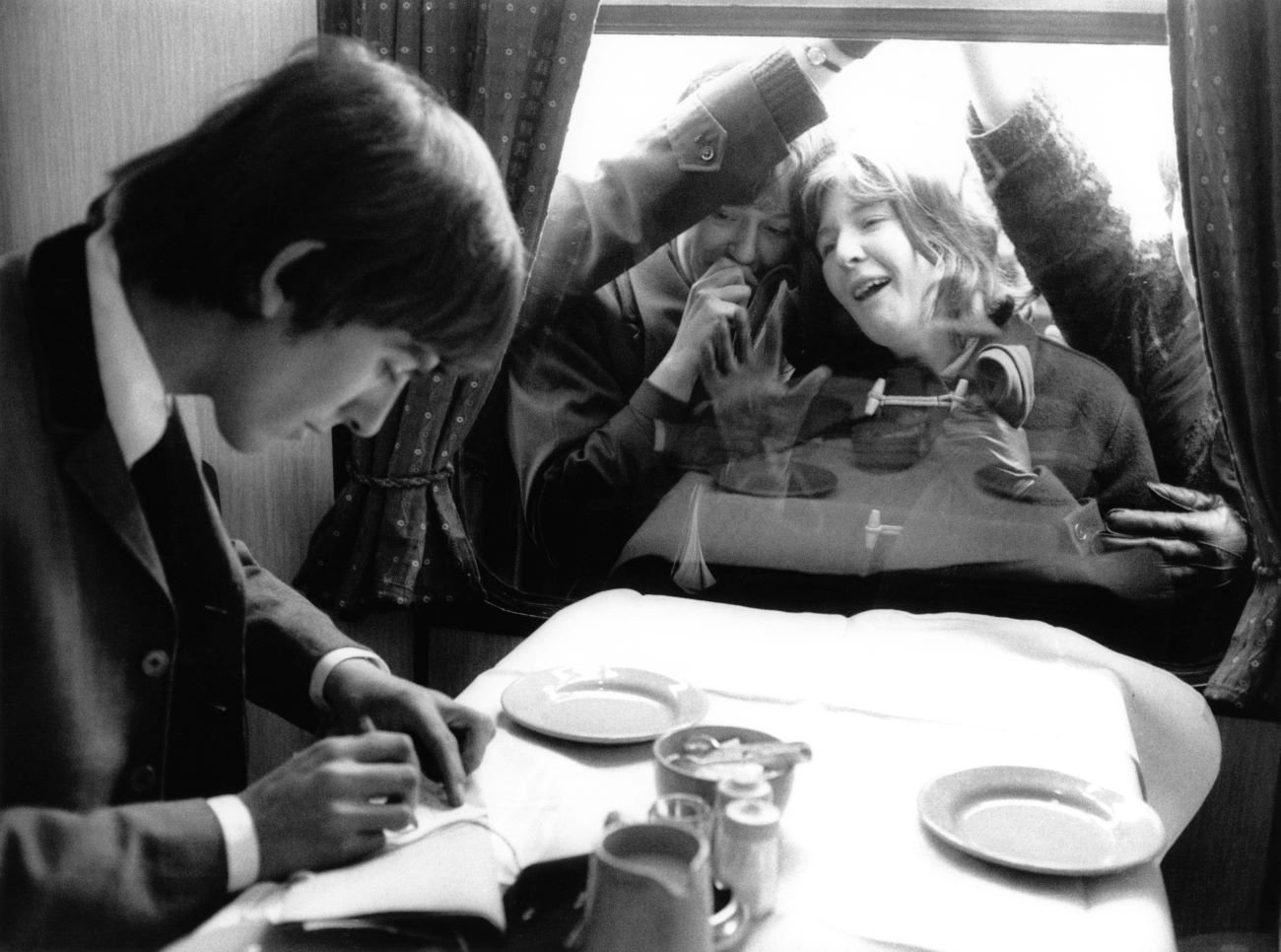 When John Lennon, Paul McCartney, Ringo Starr, and George Harrison arrived in America, thousands of screaming fans met them at the airport. They were already a sensation in England and were causing an even bigger frenzy in the United States. Though it seemed as though The Beatles received nothing but delirious praise from fans, they weren't happy with all the members of the band. Some fans were irritated with Harrison during one of the band's first shows.
George Harrison and fans | Max Scheler – K & K/Redferns
The Beatles came to America in 1964
In Feb. 1964, The Beatles touched down at New York's John F. Kennedy airport, much to the delight of the thousands of fans waiting for them. While the band hadn't been successful in the country in previous years, "I Want to Hold Your Hand" had recently hit number one. Suddenly Beatlemania was sweeping through America with the same ferocity as it had in England. 
On this day in 1964, Beatlemania arrived in the United States via airplane as the Beatles touched down in New York for their first U.S. appearances (including the Ed Sullivan show a few days later). They flew from Heathrow to JFK Airport on a 707-331 operated by Pan Am. pic.twitter.com/InivrfWocm
— National Air and Space Museum (@airandspace) February 7, 2022
"What happened in the States was just like Britain," Starr said, per the book The Beatles: The Authorized Biography by Hunter Davies, "only ten times bigger, so I suppose it wasn't like Britain at all. That first Washington crowd was 20,000. We'd only been used to 2,000 at home."
The band would play The Ed Sullivan Show and two performances at Carnegie Hall while they were in New York.
Fans were not happy with George Harrison during the concert
While fans were happy to see the band, some couldn't help but feel annoyed with Harrison. 
"The first concert wasn't all that wild, I mean there wasn't much screaming, nothing like later concerts which were completely wild," teenage concertgoer Sandi Stewart said. "I remember being very annoyed with George that first concert, perhaps that was why I didn't like him."
The fans had come to see all four Beatles perform, and Harrison was making this impossible. Audience members began shouting at him.
"He seemed to be standing in the way of Ringo and we couldn't see him," Stewart explained. "We all shouted at him to get out of the way and let us see Ringo."
Stewart added that she and her fellow concertgoers believed the band could see them and take note of their demands through the din.
"You really do believe they can see you, just you alone, when they're up on the stage," she said. "That's why you scream, so they'll notice you. I always felt John could see me. It was like a dream. Just me and John together and no one else."
Fans warmed up to George Harrison quickly
While fans may not have been happy with Harrison at the early American concerts, they quickly warmed …read more
Source:: Showbiz Cheat Sheet
(Visited 1 times, 1 visits today)