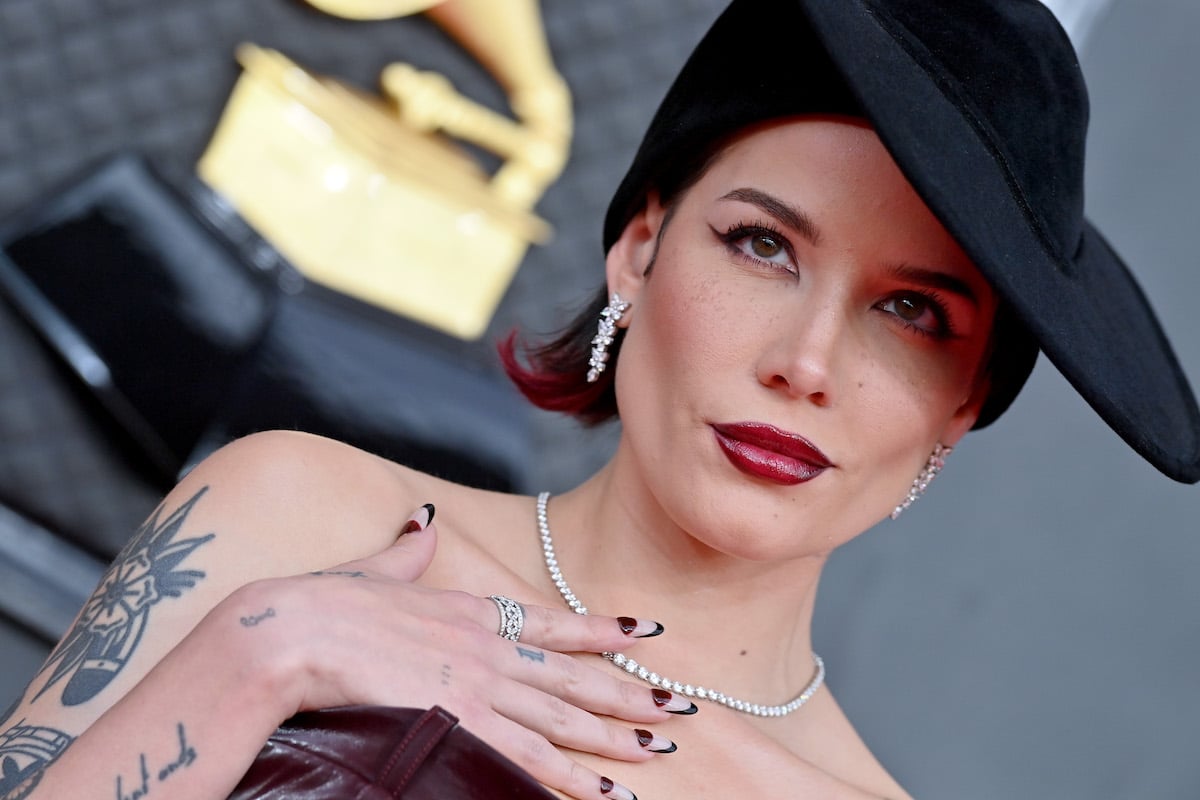 Halsey | Axelle/Bauer-Griffin/FilmMagic
Halsey revealed multiple diagnoses, including Ehlers-Danlos, Sjogren's, POTS, and MCAS
Halsey recently revealed they were diagnosed with multiple health conditions, including Ehlers-Danlos Syndrome, Sjogren's, MCAS, and POTS. The singer said her upcoming "Love and Power" tour dates will not be affected by her diagnoses. Here's how Halsey's fans reacted to their news.
Halsey | Axelle/Bauer-Griffin/FilmMagic
Halsey revealed multiple diagnoses, including Ehlers-Danlos, Sjogren's, POTS, and MCAS
On May 10, Halsey gave fans a health update via their Instagram Stories. The singer was in bed wearing a heart monitor while she spoke into the camera to her fans.
"So I know that a lot of you guys have been wondering what's been going on with my health, and some of you saw a TikTok I posted yesterday basically confirming that I'm allergic to, like, literally everything, so I just wanted to give you a little update," the "Nightmare" singer said.
Halsey revealed that they were "hospitalized for anaphylaxis a few times," that "basically after seeing like 100,000 doctors," they were diagnosed with "Ehlers-Danlos Syndrome, Sjogren's Syndrome, Mast Cell Activation Syndrome, POTS." They also said that they are "still looking for answers to the root cause of some of these things."
She said that her condition has "exacerbated" since her pregnancy and giving birth to her son Ender, who was born in July 2021. Halsey has been open about their health in the past, including their battle with endometriosis.
Halsey suffering with 'multiple conditions' and is 'allergic to everything' https://t.co/r4xy8uaRiy pic.twitter.com/4jqeyFEk5V
— Mirror Celeb (@MirrorCeleb) May 11, 2022
Halsey's fans reacted after they revealed their diagnoses of Ehler-Danlos, Sjogren's, POTS, and MCAS
Fans reacted to Halsey's diagnoses on a Reddit thread. Most of them were very supportive of the singer and shared that they had similar diagnoses.
"I have POTS too," wrote one fan. "Can't imagine having to deal with it alongside those other syndromes." Another fan replied, "I can't imagine having pots and doing all that cardio and dancing. I have trouble just bending over to pick something up."
"I have EDS and POTS as well," said another fan. "Getting diagnosed and getting people to take you seriously is a battle in and of itself. I'm glad H got some answers!"
Fans also took to Twitter to discuss the artist's health and express gratitude for opening up about her diagnoses.
"Finding out that @halsey has almost identical diagnoses to me makes me sad for them, but also makes me feel seen and represented in a way that I cannot express," one fan tweeted. "My heart breaks for them, but watching someone like me be so incredible feels hopeful. I'm thankful for their openness."
Tour starts in less than 2 weeks!!!!! I can't wait for you to see it (last slide is important!!!)https://t.co/gfDQn6nPv2 pic.twitter.com/n9MqLesbbe
— h (@halsey) May 6, 2022
The singer said their 'Love and Power' tour will go on as planned
Although Halsey was recently diagnosed with several health conditions, she assured fans in her Instagram …read more
Source:: Showbiz Cheat Sheet
(Visited 8 times, 1 visits today)