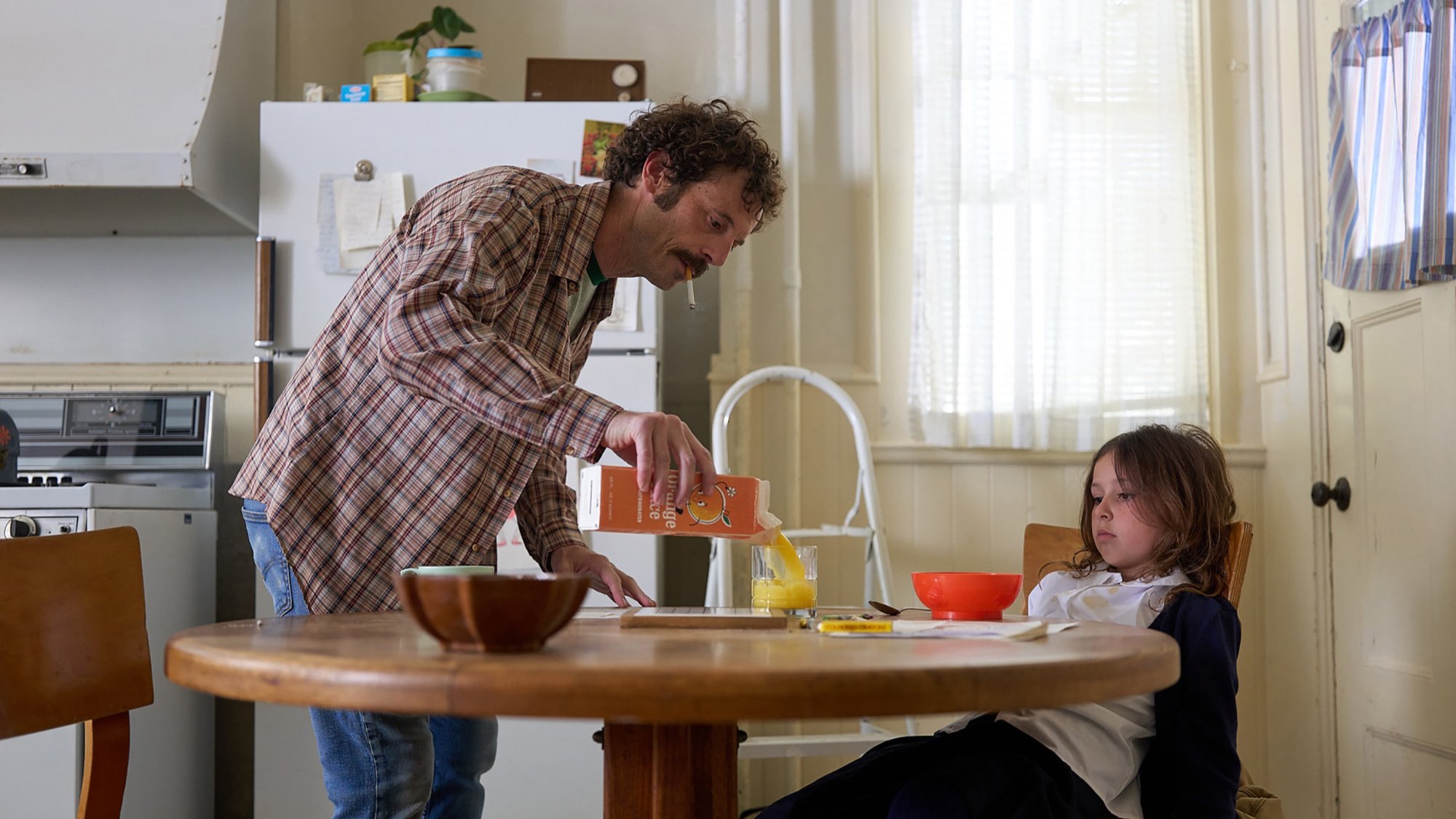 L-R: Scoot McNairy as Steve Abbott and Nessa Dougherty as Younger Alysia Abbott | Courtesy of Sundance Institute
Andrew Durham makes his directorial feature debut at the Sundance Film Festival with an adaptation of Alysia Abbott's remarkably intimate memoir, Fairyland: A Memoir of My Father, shortening the title to just Fairyland. The story spans from her childhood to adulthood, capturing a longitudinal look into her relationship with her father in a city that became home. Fairyland is emotionally moving, but Durham's screenplay trips a bit on bringing the source material to the silver screen.
'Fairyland' follows a father and daughter chasing a new life in San Francisco
L-R: Cody Fern as Eddie Body, Scoot McNairy as Steve Abbott, and Nessa Dougherty as Younger Alysia Abbott | Courtesy of Sundance Institute
Alysia (Nessa Dougherty as younger, CODA star Emilia Jones as older) suddenly loses her mother in a tragic car accident. Her father, Steve (Scoot McNairy), sees an opportunity for a new start with his daughter, moving to San Francisco in the 1970s. There, he develops his skills as a writer crafting poetry and begins to live his authentic life dating men.
With very little money attached to his name, Steve tries his best to raise Alysia in a gritty city bursting with life and freedom. However, their bonds are tested in various painful ways as she matures and wrestles with understanding the truth about their lives and the harsh life lessons he instilled in her.
Identity and making up for lost time
#Sundance Film Festival Photos: 'Fairyland', 'Earth Mama' & 'To Live and Die and Live' Premieres On Day 2 https://t.co/8dx86YkqDl
? Getty pic.twitter.com/aScKQKj4QT
— Deadline Hollywood (@DEADLINE) January 20, 2023
Fairyland finds Steve and Alysia making a new life for themselves in San Francisco, initially moving into an already-crowded household with strangers as roommates. There, they discover the notion that "real family" doesn't exist, but it's all about who supports them along the way. Steve and Alysia meet people there that make lifelong impacts on them, even though it throws the young girl into the world of adult partying and recreation.
At such a young age, Alysia wrestles with the idea of death, unable to fully grasp that she will never see her mother again. There, in San Francisco, she gains a greater understanding of gender and societal expectations from their housemates. Steve strikes up a romantic relationship with a man sleeping on their couch named Eddie (Cody Fern), who simultaneously forms a close bond with Alysia. The entire household takes a part in helping to raise the young girl, giving her a family that she never dreamed of.
Meanwhile, Steve is finally able to fully embrace his sexuality and further experiment with his gender expression through dress. He's making up for lost time, but he often puts his duties as a father on the back burner in pursuit of his own identity. Steve claims that it's a lesson in teaching her independence, which isolates her on her own journey of discovery through her childhood and teenage years. As a result, Alysia and Steve's relationship becomes increasingly volatile, …read more
Source:: Showbiz Cheat Sheet
(Visited 2 times, 1 visits today)