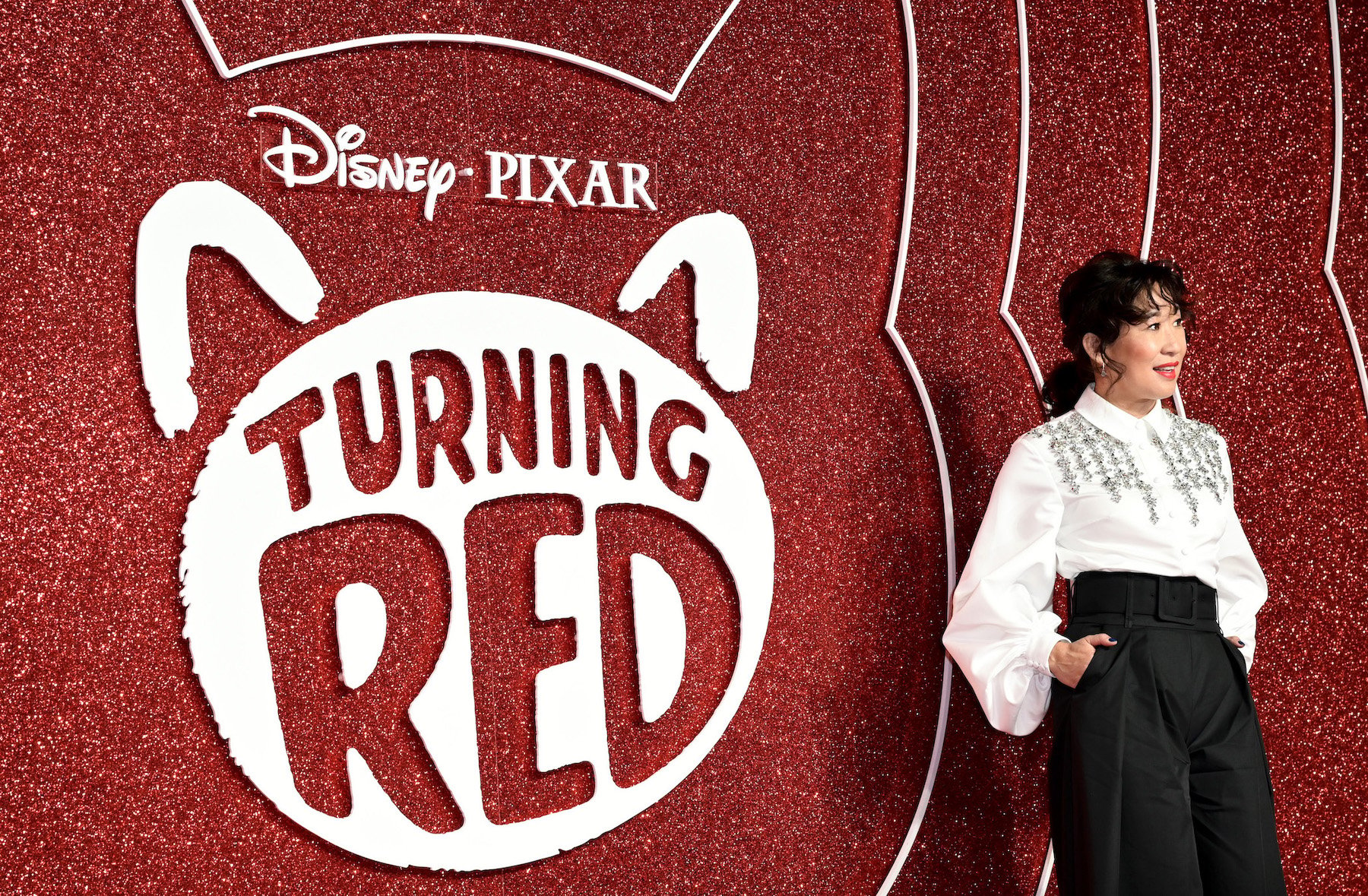 Mei Lee is 4*Townie, sharing her love for each member of the fictional boy band. Some viewers wonder, however, why the Turning Red group is called 4*Town if there are actually five members. Here are some theories surrounding the Disney and Pixar production.
Disney and Pixar's 'Turning Red' introduced the boy band 4*Town
Sandra Oh attends the UK gala screening of 'Turning Red' at Everyman Borough Yards | Gareth Cattermole/Getty Images for Disney UK
Mei Lee and her friends are unapologetic 4*Town fans, with "1 True Love" and "U Know What's Up," included on the Turning Red soundtrack. One of the boy band's most popular songs is "Nobody Like You," performed by all five members of the fictional group.
These original songs were written by the sibling songwriting duo of Billie Eilish and Finneas, with Jordan Fisher as Robaire, Josh Levi as Aaron Z., Topher Ngo as Aaron T., Finneas O'Connell as Jesse, and Grayson Villanueva as Tae Young. 
As with most boy bands, each member has a distinct personality. As noted by Mei, "Jesse went to art school, Tae fosters injured doves, Robiare speaks French — and Aaron T. and Aaron Z. are, like, really talented, too!" Together, these five artists make up 4*Town.
Ming even questioned the 4*Town name in the film. Why are there five members when they're called 4*Town? She even pointed out 4 is an unlucky number in Chinese culture. Although it's never officially explained in the film, there are a few theories regarding 4*Town's band name. 
Why are they called 4*Town when there are 5 members?
There are fan theories surrounding the Turning Red band name. According to the 4*Town Fandom page, director Domee Shi stated she "like[s] to think that in 4*Town canon they were all born on the fourth of a different month." 
Although it's never explicitly explained, the same website states this boy band originally had four members. A fifth was added later — presumably, Aaron Z. 
To keep the integrity of the group (and because the two Aarons share a first name) the artists kept their original band name. This is similar to Mei's friend group, who first appeared in Turning Red as four and later added a fifth friend — Tyler. 
Related
'Turning Red' Movie Review: Pixar Tells an Important Story for the Whole Family
There may be a pop culture reason for the 4*Town band name 
Pop Sugar theorized that 4*Town's band name could be the creators "poking fun at boy bands whose number of members don't match the number in their name." There's 5 Seconds of Summer with four members, K-pop group Seventeen at 13 members, and British boy band 5ive which performs with three members, to name a few. 
The name "Seventeen" actually stems from phase "13 members + 3 units + 1 group," referencing the different member roles, but that's beside the point. One Reddit user supposed Disney and Pixar didn't single out one boy band to emulate. 
"I think they were …read more
Source:: Showbiz Cheat Sheet
(Visited 1 times, 1 visits today)