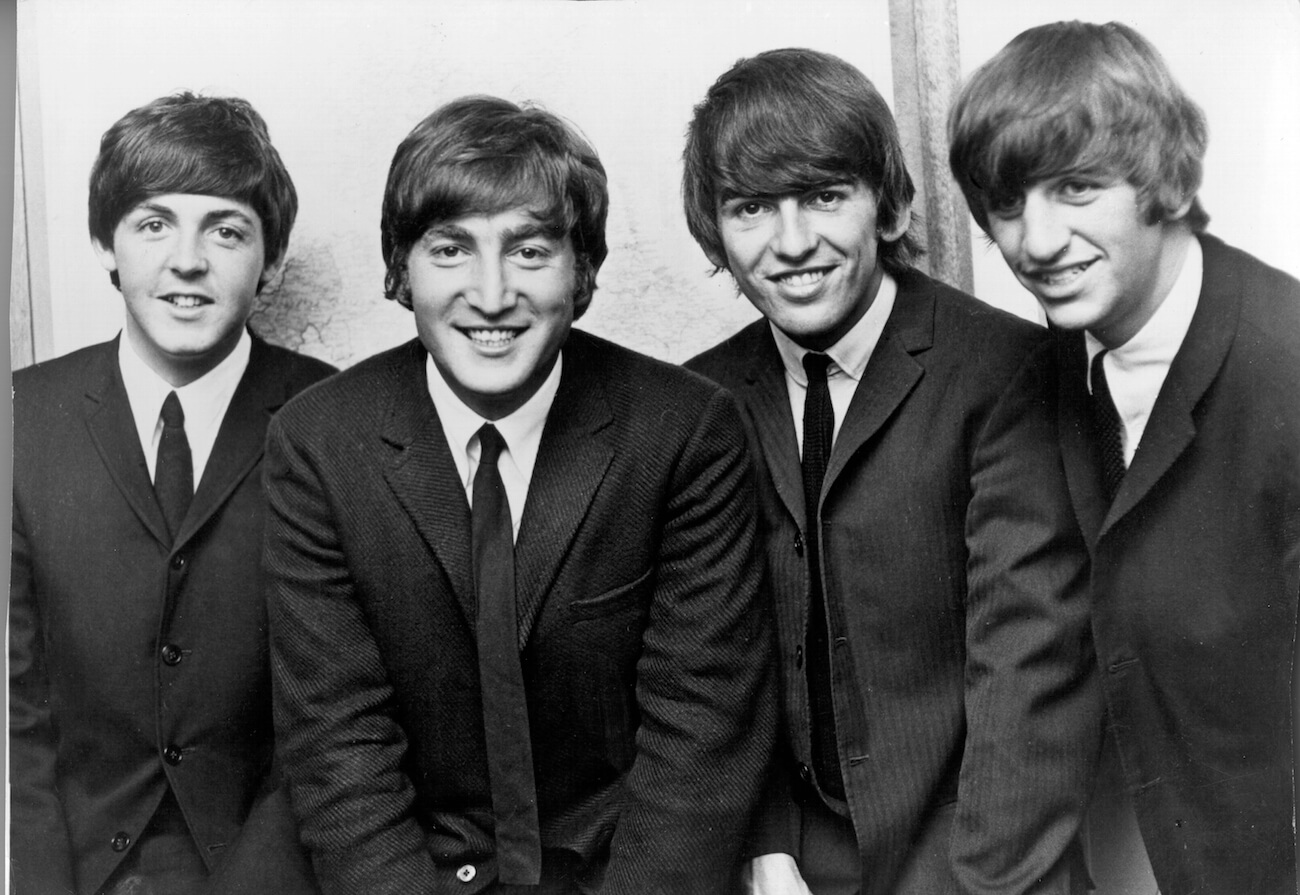 Even Paul McCartney thinks the origin of The Beatles' name is "clouded in mystery." However, he does have his theories about where his band's name came from.
The Beatles | Michael Ochs Archives/Getty Images
The Beatles' first name was The Quarry Men
Interestingly, the first permutation of The Beatles' name was The Quarry Men, which is nothing like The Beatles. John Lennon formed the skiffle group in high school. The Quarry Men came from his grammar school, Quarry Bank High School.
In the summer of 1957, Paul McCartney saw John and The Quarry Men perform at a Village Fete at St Peter's Church in Woolton. The two musicians met that day, and Paul played "Twenty Flight Rock" by Eddie Cochran, his "party piece." John was impressed.
Days later, John had bandmate Pete Shotton ask Paul to join the band. Paul took a week to decide. In his book, The Lyrics: 1956 to the Present, Paul wrote that when he and later George Harrison joined The Quarry Men, they inherited that title. However, they didn't mind. "It was just a name," Paul wrote.
Later, they became The Silver Beetles. That didn't last long.
Paul McCartney's theory on the origin of The Beatles' name
In The Lyrics, Paul explained that he and John loved Buddy Holly because he "had it all." He was a writer, lead guitarist, and singer. He also had a band with a cool name, The Crickets. Toward the end of the 1950s, Paul and John wanted their band to have a similar name with a dual meaning.
While Paul thinks the actual origin of The Beatles' name is "clouded in mystery," he does have a theory about it. According to his memory, they were "striving to find something with a dual meaning because of The Crickets."
There was cricket the game and crickets the little grasshoppers. Paul wrote, "What if we could find an insect that also had some double meaning? When you take 'Beatles' out of context and imagine it as just the insect, it's not immediately attractive. But now that it's been around awhile, you totally accept it and you don't even think of the creepy-crawlies."
The Beatles achieved that dual meaning that The Crickets had. There were beetles the bug, but the group used "Beatles" instead of "Beetles" because they made beat music. Later, the group further honored their hero by covering his song "That'll Be The Day" for the A-side of their first-ever recording.
Related
Paul McCartney Said Wings' 'Let Me Roll It' Is Mostly 'Lennon-Esque' Because of the 'Bog Echo'
The name might've come from a vision
There are many theories about the origin of The Beatles' name. According to The Beatles' publicist, Derek Taylor, the name came from 1953's The Wild One, starring Marlon Brando. In the film, Brando's gang is referred to as "the young beetles."
In some interviews, John simply states that he just came up with it. However, in others, he claimed the name came to him in a …read more
Source:: Showbiz Cheat Sheet
(Visited 2 times, 1 visits today)