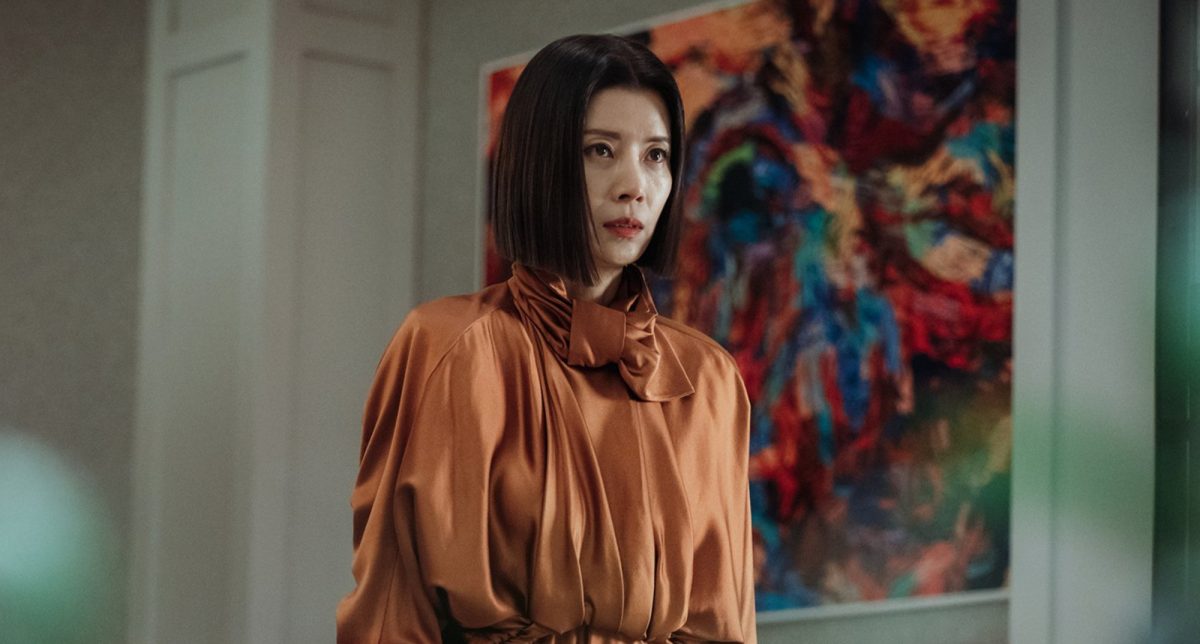 Eve is taking a dramatic turn, with fans on the edge of their seats for the K-drama. While Ra-el continues her plan for revenge and becomes So-ra's confidant, she learns a dark truth. In Eve Episode 6, Ra-el learns more about Yoon-kyum's past lover, the reality of her mother's disappearance, and how it ties to So-ra.
[WARNING: This article contains spoilers for Eve Episode 6.]
Actor Yoo-sun as So-ra in 'Eve' Episode 6 | via tvN
Yoon-kyum's mother was killed in a supposed car accident in 'Eve'
Part of Ra-el's story in Eve is that she is unaware of where her mother is. In the first few episodes of the K-drama, the flashbacks reveal that Ra-el's mother disappeared shortly after her father's death. This left Ra-el with no guardian until Moon-hee found her. In one flashback, fans see Ra-el would visit the last care facility her mother was a patient.
Despite her efforts, there was never information about her mother's whereabouts. Eve also shocks fans with the mystery behind Yoon-kyum's past. Ra-el and Moon-hee learn from Eun-pyeong that Yoon-kyum is an illegitimate son. He was born to a housemaid that worked for his father.
When Ra-el looks for evidence against LY Group in his study, she finds a newspaper clipping. The article states a three-car collision that resulted in the death of two people. One is assumed to be Yoon-kyum's mother. The other is theorized to be Moon-hee's daughter.
But the K-drama also reveals that Yoon-kyum had a past lover who was a singer. She also miraculously died after a car accident. It just so happens that a club madam close to Yoon-kyum is also killed in a hit-and-run in Eve Episode 4. Eve Episode 6 reveals the truth behind Ra-el's mother's death and Yoon-kyum's lover.
So-ra admits to Ra-el that she changed the course of a few lives in 'Eve' Episode 6
아내 있는 남자 박병은,
복수녀 서예지와 영원한 사랑 맹세?!
고품격 격정멜로 복수극
매주 [수목] 밤 10:30 tvN 방송#tvN #이브 #eve#서예지 #박병은 #유선 #이상엽 #스트리밍은TVING pic.twitter.com/LooRAiY1mN
— tvN drama (@CJnDrama) June 15, 2022
RELATED: 'Eve' Episode 4: Fans Worry Ra-el May Abandon Her Revenge Plan and Fall for Yoon-kyum
After Ra-el successfully entices Yoon-kyum to decide to have an affair, everything goes downhill for So-ra. In Eve Episode 6, So-ra spirals as Yoon-kyum no longer hides his disinterest and hatred toward her. She is unaware the "other" woman is Ra-el. While Ra-el gains enough evidence on the company to start a criminal case, her world breaks when So-ra confides in her.
At her dance studio, the other two mothers pretend to make nice and throw So-ra a small birthday party. So-ra could care less and became enraged. In private with Ra-el, So-ra calls in the male dancers and offers them money for sleeping with the two other mothers and getting footage of it.
Ra-el is shocked and trie to reason with So-ra, but So-ra says it has …read more
Source:: Showbiz Cheat Sheet
(Visited 8 times, 1 visits today)