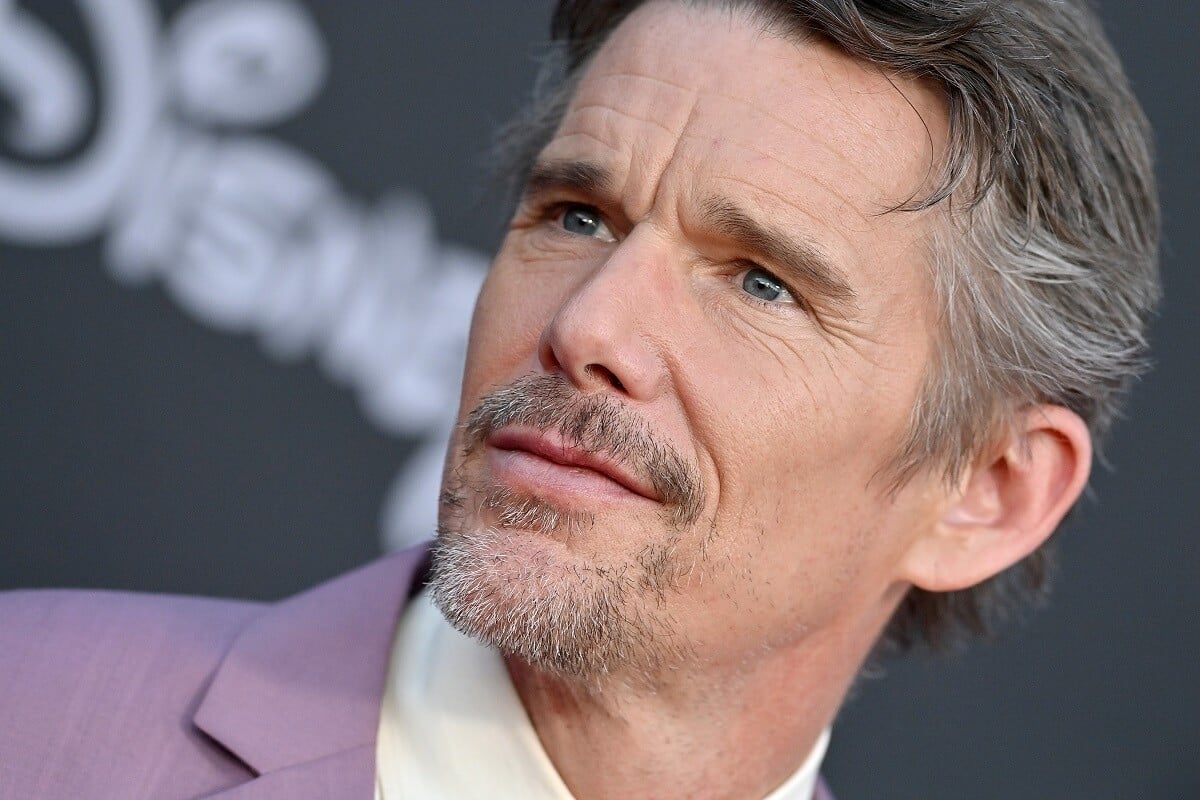 Ethan Hawke | Axelle/Bauer-Griffin/FilmMagic
Before DiCaprio seized the lead role in Titanic, there were many other actors vying for the part. Gattaca star Ethan Hawke also once auditioned to star opposite Kate Winslet in
Leonardo DiCaprio became a megastar almost overnight after starring in the 1997 feature Titanic. But Ethan Hawke believed Titanic might have done as much harm as it did good for the actor's career. So much so that Hawke had a change of heart when it came to collaborating with the star.
Ethan Hawke once wondered what his life would've been like if he starred in 'Titanic'
Ethan Hawke | Axelle/Bauer-Griffin/FilmMagic
Before DiCaprio seized the lead role in Titanic, there were many other actors vying for the part. Gattaca star Ethan Hawke also once auditioned to star opposite Kate Winslet in the record-breaking feature. But he considered losing the role a blessing after seeing what the movie's success did to DiCaprio. Hawke witnessed the dramatic change DiCaprio's life experienced when the two were drinking at the same bar.
"I sat there watching him and it was like watching a Beatle. The closest thing I've ever come to that frenzy. All the girls wanted to f*** him and all the guys wanted to fight him. I went to myself: 'Wow man, I'm glad I didn't get that part,'" Hawke once told The Telegraph.
Still, Hawke wondered how different his career might have been if he snagged the role.
"But you know, secretly, I couldn't help thinking that if I had got it maybe I could have lived exactly the life I wanted to. That I would never have had to worry about my career," Hawke said.
Ethan Hawke changed his mind about working with Leonard DiCaprio after his 'Titanic' success
Hawke didn't want to become too big of a movie star in the film industry. Although he realized a certain amount of movie stardom was sometimes needed to acquire the projects he wanted.
Still, there was a limit to how much fame Hawke wanted to have. He believed being famous like DiCaprio was after Titanic, for instance, might have been more detrimental to an actor's career than some would think.
"I think Leonardo is a great example of [a star who is too big,]" Hawke once said according to UPI. "I think he was definitely one of the most exciting actors of his generation and I think [his fame] has made it a lot harder on him … Titanic didn't do him any favors. He's a guy who used to be able to turn out two movies a year, and kind of do whatever he wanted."
Hawke also felt it wasn't a good idea to work with DiCaprio on a personal project of his. DiCaprio's Titanic fame risked being too much of a distraction.
"I had an idea to do a play with him and I finally realized: 'I can't do a play with this guy … it would be a stunt.' The audience would be full of 12-year-old girls who didn't [care] what … we could be doing the darkest Eugene O'Neill play in the world and people would still scream through Act Three. And he's placed in this position now …read more
Source:: Showbiz Cheat Sheet
(Visited 2 times, 1 visits today)