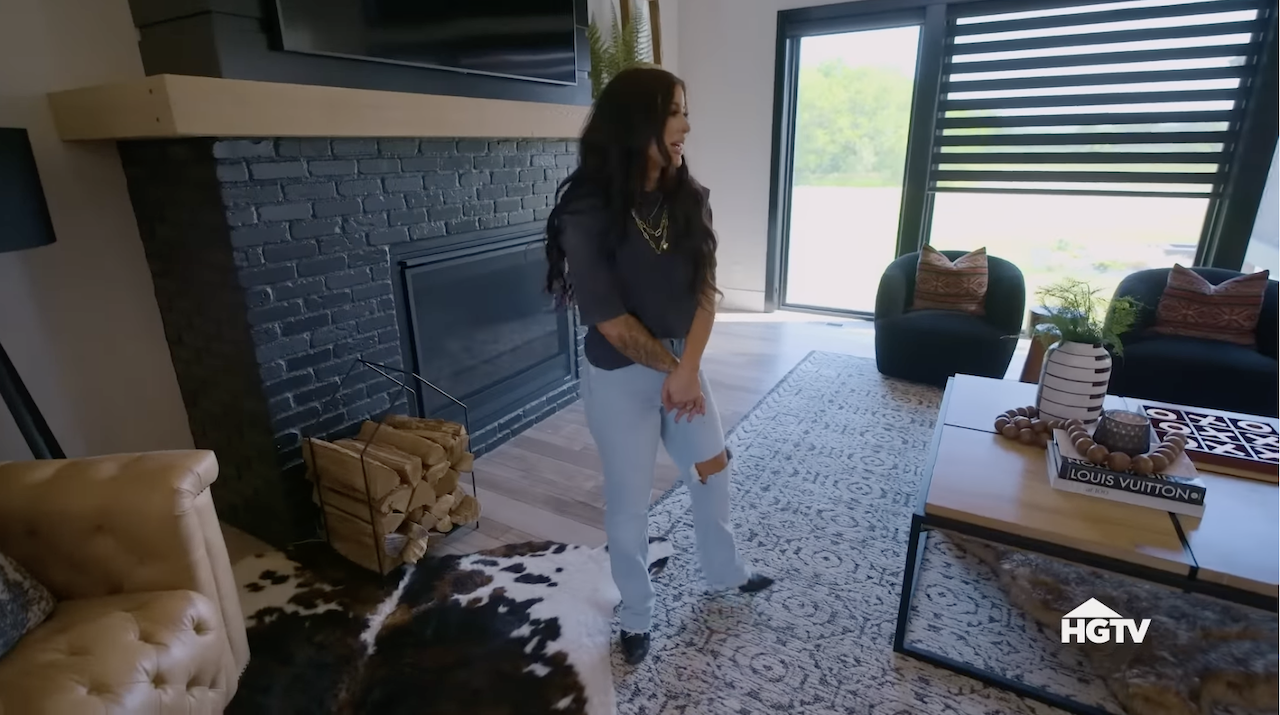 MTV to HGTV star Chelsea DeBoer opened up about building her new home with her husband, Cole. The project landed the parents of four a home renovation show, Down Home Fab.
One might assume it's a great-looking house solely based on that little tidbit. So, it might be hard to choose a favorite part, especially when the couple put so much work into it. But the former Teen Mom 2 star revealed there's one space she loves most.
Chelsea DeBoer | HGTV via YouTube
Chelsea DeBoer's favorite part of her new home is the living room and 'main gathering areas'
DeBoer spoke to HGTV about her home renovation and her favorite part of her new, finished home. She revealed she loves the communal areas where her family spends time together, first noting, "The living room and the big tall windows. I love seeing out over our property."
"We also love our screened-in back porch. We spend a lot of time out there," she shared, adding, "The main gathering areas are my favorite."
DeBoer said that she's "a living room person," offering, "I really like to bring cozy vibes. I love a living room that has a lot of windows and space. A fireplace is game-changing."
Chelsea DeBoer makes a bad day better by visiting animals on her property
#DownHomeFab co-host @ChelseaHouska answers fans most-asked questions — including how to recreate her famous messy bun. ? >> https://t.co/BFm02Dxin2 pic.twitter.com/HDat5uWPPT
— HGTV (@hgtv) January 13, 2023
Though some people might find it challenging to work and live with their spouse, DeBoer told HGTV that isn't an issue in her relationship. "It's been so, so fun to work with Cole and do projects together," she shared, naming it as one of the best parts of making the new show.
Notably, she gets the final say in disagreements, if there are any. But she said she knows just what to do in case her vibe shifts from good to bad. "If I'm ever having a bad day, I go out and see my goats and my cows, and it instantly makes my mood better," she shared.
Chelsea DeBoer reveals the favorite design trend she missed out on in her own home and the biggest renovation challenge
A4) Long live the classic checkerboard floor tile! It's got vintage charm and it's a little bossy, but it's so fun. This design by Claude Cartier masterfully puts dueling black and white patterns against each other for a design fit for an art gallery. #KBTribeChat pic.twitter.com/f2o5dyxDPG
— KBIS (@KBIS) July 6, 2022
Related
HGTV's 'Down Home Fab': Chelsea DeBoer and Cole Reveal Chip & Joanna Gaines From 'Fixer Upper' Is Their Binge [Exclusive]
Though their home is still new, DeBoer told HGTV there is one design trend they missed out on when they built it. She said she is "obsessed" with checkerboard tile flooring and wishes they had it somewhere in the house.
As for the most significant challenge they've encountered …read more
Source:: Showbiz Cheat Sheet
(Visited 1 times, 1 visits today)