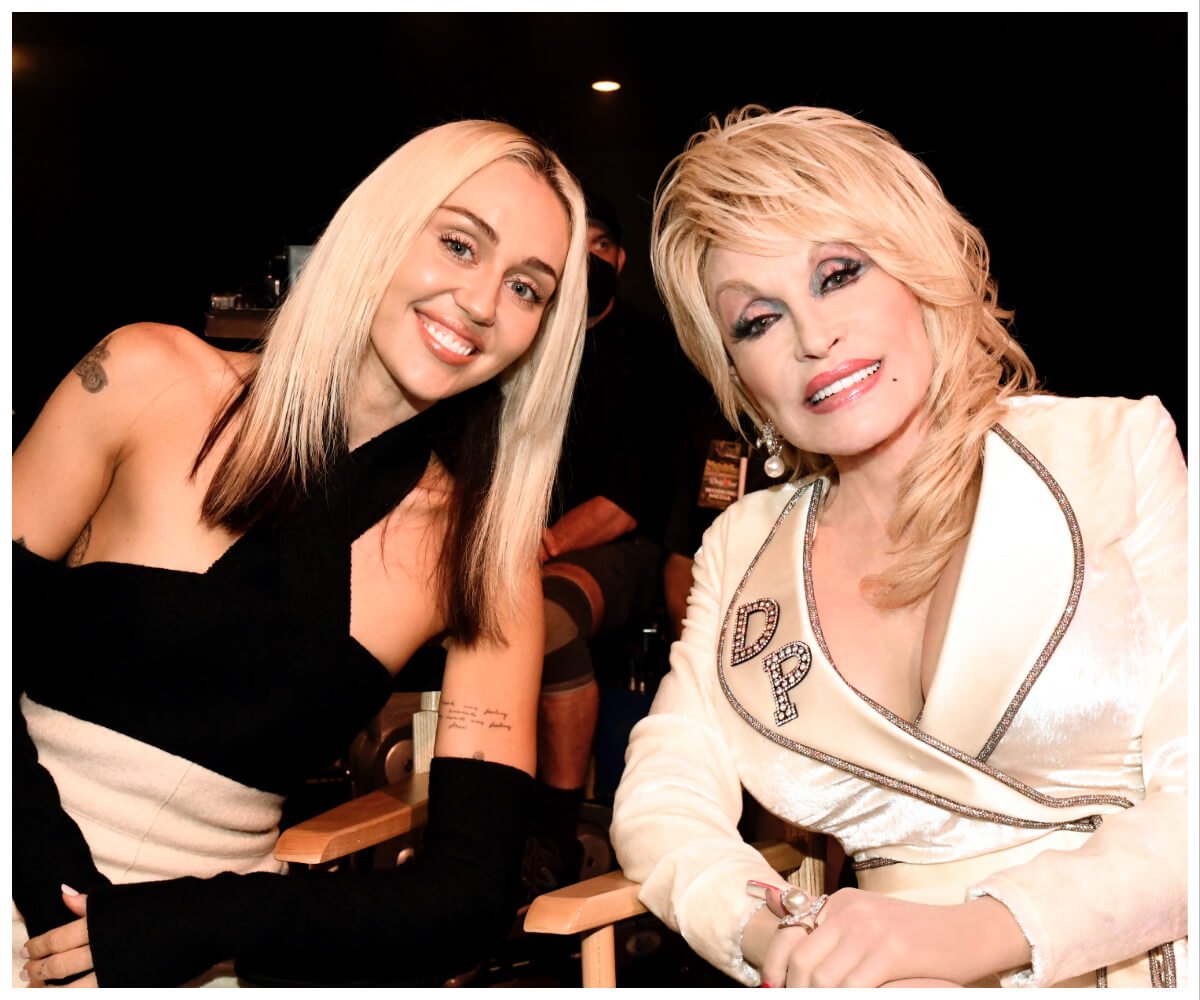 Miley Cyrus and Dolly Parton | NBC/NBCUniversal
Dolly Parton and Miley Cyrus have a special bond
Miley Cyrus and Dolly Parton have been close ever since the former Disney star was born, thanks to the country music star's friendship with
Dolly Parton is Miley Cyrus' godmother, and she once explained why people want to "punish" the Hannah Montana star. Here's what Parton said about Cyrus and why she compared her goddaughter to Shirley Temple.
Miley Cyrus and Dolly Parton | NBC/NBCUniversal
Dolly Parton and Miley Cyrus have a special bond
Miley Cyrus and Dolly Parton have been close ever since the former Disney star was born, thanks to the country music star's friendship with Cyrus' father, Billy Ray.
"I'm her honorary godmother. I've known her since she was a baby," Parton told ABC in 2009. "Her father is a friend of mine. And when she was born, he said, 'You just have to be her godmother,' and I said, 'I accept.' We never did do a big ceremony, but I'm so proud of her, love her, and she's just like one of my own."
Cyrus wrote a glowing essay about Parton when she was named one of the most influential people of the year by TIME magazine in 2021. "There's a theory that you shouldn't meet your heroes, but I wish everyone had the chance to meet Dolly Parton, because she's even better than your sparkliest dreams," the "Malibu" singer gushed (per Today). "She may be my fairy godmother, but I think she's that to everyone else too. I am happy to share her with the world."
Dolly Parton said she thinks people want to 'punish' Miley Cyrus
Parton once defended her "little friend Miley Cyrus" in a 2011 interview with The Guardian. She compared her goddaughter to another child actor, Shirley Temple.
"We're punishing her for growing up, just like we did to Shirley Temple," Parton said, referencing the negative attention Cyrus was getting from the media.
The year after Parton's interview, Cyrus left her Disney image behind once and for all by cutting off her signature long brown locks and sporting a platinum blond pixie cut.
Miley Cyrus and Dolly Parton will team up to host NBC's New Year's Eve coverage this year. pic.twitter.com/wtT8U6y6ay
— CONSEQUENCE (@consequence) November 21, 2022
Related
Dolly Parton or Her Goddaughter Miley Cyrus: Who Has the Higher Net Worth?
The country music star said she doesn't question her goddaughter
Although Dolly Parton and Miley Cyrus both have successful careers in the entertainment industry, the "Jolene" singer said she never tries to advise her goddaughter.
"If she needs my opinion on something I will surely give it and there have been times we've talked," Parton told the London Evening Standard (per The Guardian). "But I would never dream of calling her and saying, 'Well why are you doing this?' or, 'You shouldn't do this or that.'" She added that Cyrus "has thought this all through" and should be allowed to "go and do her own thing."
"It's not easy being young," Parton continued. "You've almost got to sacrifice your damn soul just to get anything done."
Source:: Showbiz Cheat Sheet
(Visited 2 times, 1 visits today)