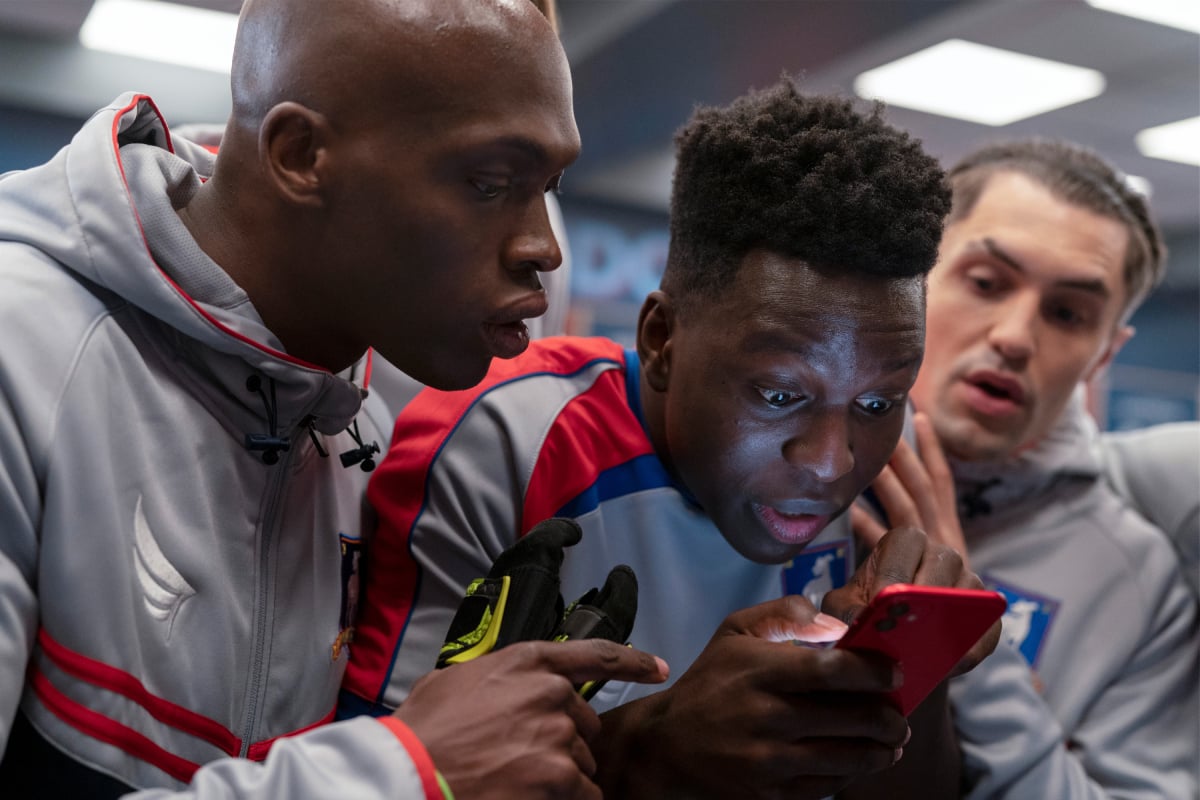 Toheeb Jimoh using his Apple iPhone in 'Ted Lasso' | Apple TV+
Fans can adore a show endlessly, but nothing cements the fact that a show is good like
Ted Lasso is the name on everyone's lips. After just two seasons on Apple TV+, the show has become an instant classic. It's not a typical sitcom. The main character, Ted, is kind and positive, which is a break from the typical, cynical sitcom lead. It could be one of the reasons why the show is so popular. Maybe after a global pandemic, the world needs a little more positivity and more biscuits in pink boxes. Even celebrities love Ted's style. Ted Lasso has some unexpected celebrity fans. According to Mashable, Diane Sawyer is actually a Ted Lasso aficionado. 
'Ted Lasso' cleaned up at the Emmys 
Toheeb Jimoh using his Apple iPhone in 'Ted Lasso' | Apple TV+
Fans can adore a show endlessly, but nothing cements the fact that a show is good like a few Emmy awards. Now, Ted Lasso has just that. These prestigious television honors prove that the show is not only good to fans, but it is objectively better than other shows. And Ted Lasso won big. According to the Emmys, Ted Lasso has had 20 nominations and seven wins. All of them are for the 2021 Emmy awards. 
Ted Lasso and its stars took home seven trophies after the award show, and some of them were for big categories. Jason Sudeikis won for Outstanding Lead Actor in a Comedy Series for his portrayal of the titular character, Ted. Hannah Waddingham took home the award for Outstanding Supporting Actress in a Comedy Series for her role as Rebecca. And perhaps most impressive, Ted Lasso won the Emmy for Outstanding Comedy Series. 
Diane Sawyer is a 'Ted Lasso' fan
After the Emmy showing, it's safe to say that almost everyone is a Ted Lasso fan. That includes serious journalist Diane Sawyer. She's so into the show that she tweeted for the first time in a year after Ted Lasso mentioned her name in an episode. In the scene, Ted is offered a drink by Rebecca. She asks, "What do you say to a cocktail, Coach Lasso?" to which Ted replies, "The same thing I'd say to Diane Sawyer if she ever asked me out on a date. Yes please." 
Sawyer tweeted the clip with the caption, "Dear @TedLasso – I'm in. Your move." 
Dear @TedLasso – I'm in. Your move. pic.twitter.com/durjeZkeIj
— Diane Sawyer (@DianeSawyer) July 25, 2021
Emmys are great, but the Diane Sawyer agreeing to a date is better. The official Ted Lasso twitter account had to respond, and obviously they name dropped another celebrity at the same time. The Ted account retweeted Sawyer's tweet with the caption "Oh my…you've got me more on my heels than Lady Gaga at the Met Gala. Any chance you like biscuits?"
Oh my…you've got me more on my heels than Lady Gaga at the Met Gala. Any chance you like biscuits? https://t.co/TYbIGW3d8W
— Ted Lasso (@TedLasso) July 25, 2021
Ryan Reynolds and Rob McElhenney demanded retribution after 'Ted Lasso' named them in a joke 
Sawyer isn't the only celebrity to respond …read more
Source:: Showbiz Cheat Sheet
(Visited 10 times, 1 visits today)