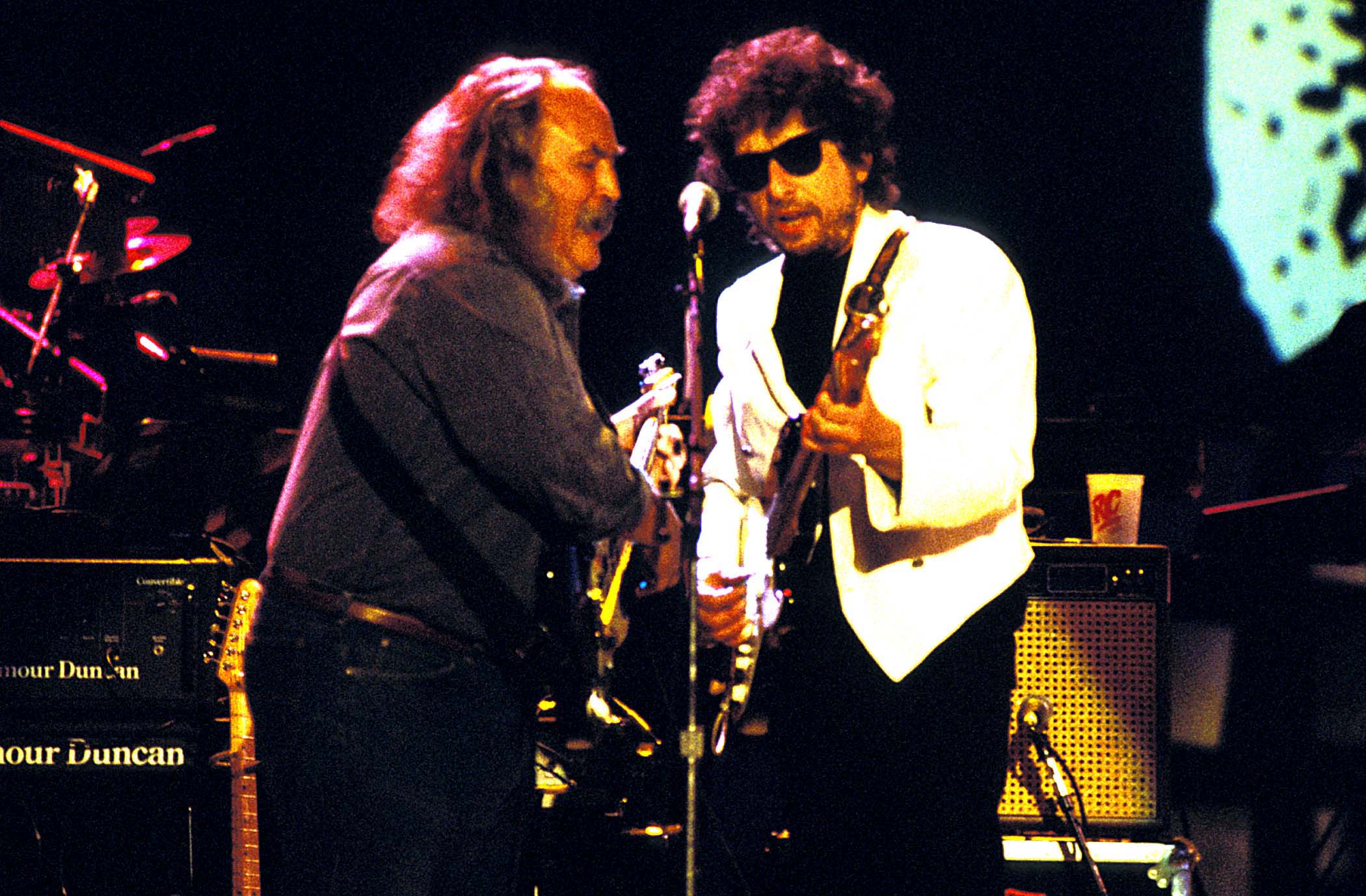 David Crosby and Bob Dylan | Jeff Kravitz/FilmMagic, Inc
The former Byrds musician didn't get along with many people
Crosby rose to success in The Byrds, but his bandmates cut his time with the group short, 
Bob Dylan and David Crosby met early in The Byrd's career, and the two men remained friendly for years. Both men are known for their eccentric personalities and overall spikiness. They also recognized these traits in one another. Crosby described Dylan as "weird" and "crazy," but he said it didn't matter because he was a talented musician.
David Crosby and Bob Dylan | Jeff Kravitz/FilmMagic, Inc
The former Byrds musician didn't get along with many people
Crosby rose to success in The Byrds, but his bandmates cut his time with the group short, firing him in 1967. Some believe that this was due to disagreements over what songs to record, but Crosby set the record straight.
"Ladies and gentlemen, that's not why they threw me out of The Byrds," he said in the documentary Echo in the Canyon. "They threw me out of The Byrds because I was an a**hole."
Since then, he has feuded with a number of his former collaborators, most famously with Neil Young. When Crosby, Stills, Nash, and Young reunited in 2014, Crosby soured the dynamic by referring to Young's future wife, Darryl Hannah, as a "purely poisonous predator."
"Neil has got a genuine beef," Crosby told The Guardian in 2021. "I did say something bad about his girlfriend. I said I thought she was a predator. OK, he can be mad at me. That's all right."
David Crosby said Bob Dylan was 'crazy' but considered him a friend
Crosby could rub people the wrong way, but he got along with Dylan, even though Dylan kept him at a distance. 
"He's friendly, but he's not out front," he told Stereogum. "He doesn't let you in. You'll say, 'Bob, where do you live?' And he'll say, 'Well, you're looking at a man that has no home.' He'd be telling you about life instead of telling you he lived in Malibu. He's not an easy guy. To this day, he's not an easy guy. He doesn't welcome you in with open arms and show you who Bob is."
Crosby described Dylan as a "very interesting guy to be friends with," perhaps because he thought he was weird.
Per the LA Times, Crosby said "old weird Bob [Dylan]" is "crazy as a f***ing fruit fly." He didn't have a problem with this because Dylan made good music.
"You look at an artist and you have to look at their art," he said. "Their art speaks for them better than they do. That's where you see who they are."
Bob Dylan felt similarly about David Crosby
Dylan held a similar opinion of Crosby. While he recognized he was prickly and unpredictable, he liked Crosby.
Was a fun night ..usually is with Bob https://t.co/hea2c34LSk
— David Crosby (@thedavidcrosby) October 30, 2020
Related
David Crosby Thought a Bob Dylan Song Sounded 'Really Terrible,' but He Covered It Anyway
"Crosby was a colorful and unpredictable character, wore a Mandrake the Magician cape, didn't get along with too many people and had a beautiful voice — an …read more
Source:: Showbiz Cheat Sheet
(Visited 1 times, 1 visits today)