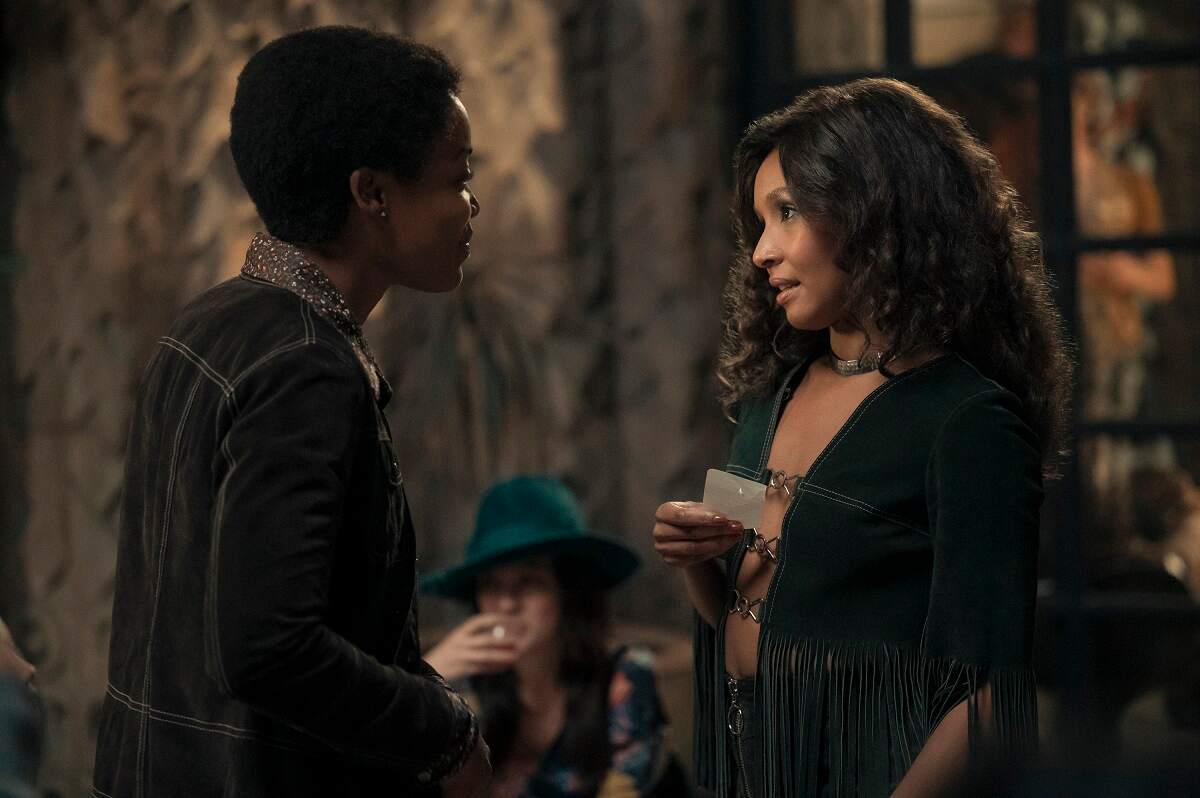 Amazon's new miniseries Daisy Jones & the Six clearly draws from the turbulent excellence that defined the peak years of Fleetwood Mac. But the adaptation of Taylor Jenkins Reid's 2019 novel also uses the careers of other important artists of the era for inspiration. The character of Simone Jackson (Nabiyah Be) was based on the stardom of three timeless singers from the 1970s. Her plotline takes the same shape in the TV version as it does in the book. But the screen highlights certain details to heighten the emotional stakes of Simone's story.
In 'Daisy Jones & the Six,' Nabiyah Be's Simone Jackson helps Daisy get to the stage
Nabiyah Be as Simone Jackson in 'Daisy Jones & the Six' | Lacey Terrell/Prime Video
Simone is one of the few people with a pure relationship with Daisy (Riley Keough) from the beginning of Daisy Jones & the Six. They serve as necessary cheerleaders for each other. Simone is a singer herself, though mostly in a background role for other artists, and Daisy encourages her to go solo full-time. In response, Simone is the first person that notices Daisy's talent and gives her the confidence to perform her own music instead of trying to exploit her as others did. 
Simone goes on to become a key voice in the burgeoning disco scene as Daisy becomes a singer-songwriting marvel in the vein of Stevie Nicks. 
Daisy Jones and the Six often requires its actors to perform music themselves, a requirement that Be is more than comfortable accomplishing. She is a musician currently working on her debut album. And her dad is renowned reggae artist Jimmy Cliff. 
As an actor, she has mostly appeared in Off-Broadway productions like Hadestown and School Girls; or The African Mean Girls. Be's performance in the latter earned her a Drama Desk award, making Be the first Black Brazilian woman to win a major American theatrical award. She also appeared in Black Panther as Killmonger's romantic accomplice. 
Simone Jackson is based on 3 icons of '70s pop
Be talked about the main muses for Simone during an interview with Wilson Morales of BlackFilmandTV.com. 
"I would say you definitely get an aura of Donna Summer through Simone and some early soul singers in her first steps, or when we first meet her in the series," she said. "If I was channeling Donna Summer, bless her spirit. I mean, Simone was really a big mixture of the big three, I would say: Donna, Diana Ross, [and] Chaka [Khan]."
All three singers are contemporaries of the same era. But Summer, aka the "Queen of Disco" is the most obvious point of comparison. And her legacy may have played a part in some of the changes this Daisy Jones adaptation makes to Simone's character. (Minor spoilers ahead.)
In the original book, Simone's sexuality is left undefined, though she later gets married and has a daughter named Trina. In the show, Simone is a queer woman whose sexuality plays a role in her career decisions and relationship with her record label. 
Disco music was heavily indebted to LGBT …read more
Source:: Showbiz Cheat Sheet
(Visited 1 times, 1 visits today)