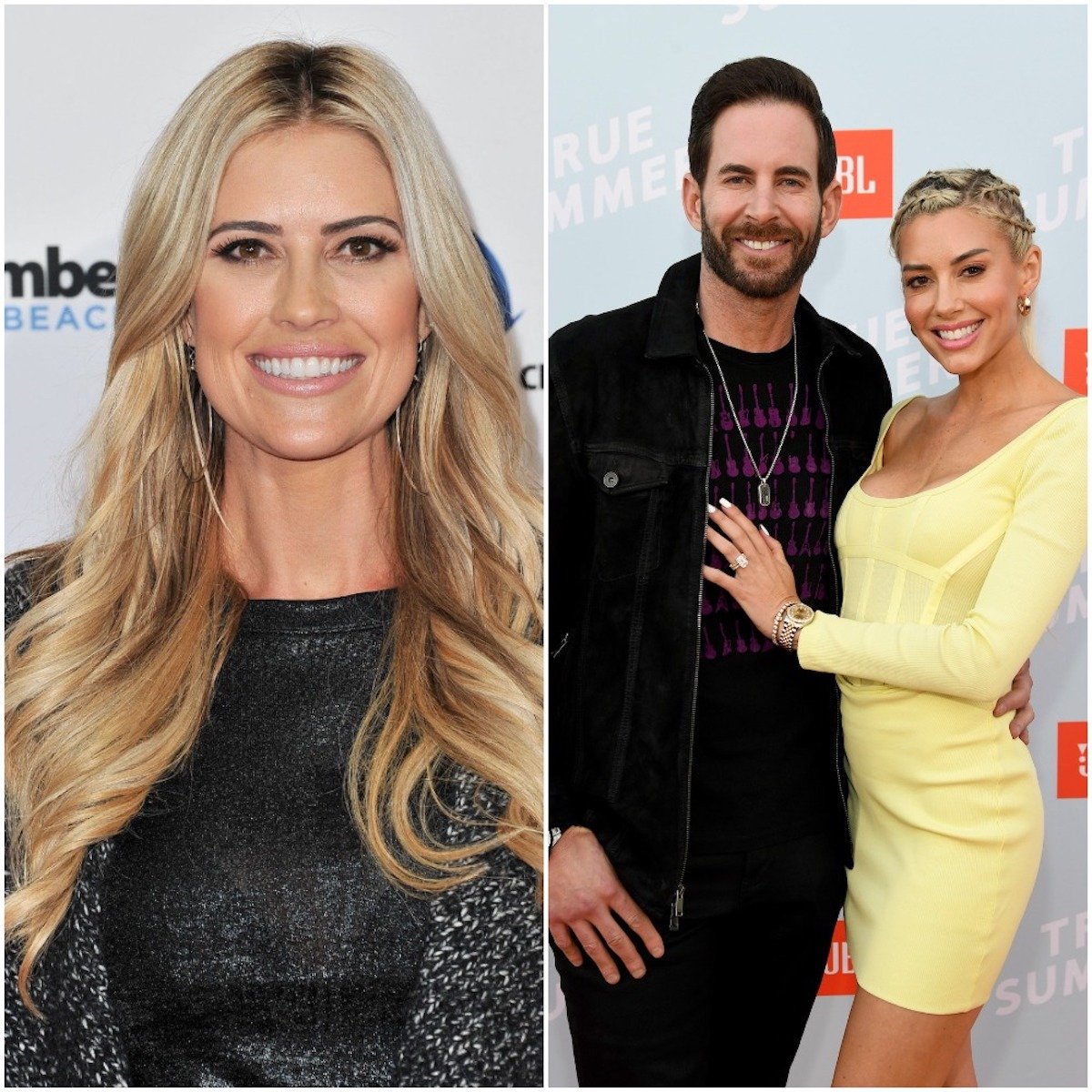 A united front. Christina Haack took to Instagram to share a photo alongside her ex-husband, Tarek El Moussa, his new wife Heather Rae Young, and her husband Joshua Hall. At an event for her daughter Taylor El Moussa, Haack said it's been a "rough few weeks" but the "kids come first." 
Christina Haack and Heather Rae Young appeared to have a tense moment at a soccer game in May 2022
Christina Haack in 2019; Tarek El Moussa and Heather Rae Young in 2021 | Allen Berezovsky/Getty Images; Kevin Mazur/Getty Images for JBL
On May 9, 2022, Haack and Young were spotted having what seemed to be an argument. The two were at a kids' soccer game in Newport Beach, California, sitting on the sidelines. 
Haack was there with her husband, Joshua Hall, whom she secretly married after one year of dating. As for Young, she attended the game with El Moussa, her current husband and Haack's former husband of seven years. 
Photos appeared to show Young and Haack in a tense conversation. At one point, El Moussa led Young away by the arm. Later, El Moussa and Hall had a heated exchange that was broken up by a soccer coach.
After the photos surfaced the couples released a joint statement. "A personal matter was discussed and has since been resolved," they said before adding they're "focused on co-parenting as a team moving forward."
Additionally, one report quoted an unnamed source on the reason for the argument. They noted "overall tension between both couples," saying Haack supposedly feels Young "oversteps her boundaries." As for Young, they said she "doesn't feel like she gets enough respect from Christina."
The following day Haack and El Moussa's 6-year-old son, Brayden, underwent emergency surgery. After the ordeal, Haack, El Moussa, and Young shared an update, saying they worked together to get through it. 
Christina Haack shared a group photo from her daughter's open house: 'Kids come first'
View this post on Instagram
A post shared by Christina Hall (@christinahaack)
On May 12, 2022, Haack took to Instagram to share a photo of her alongside Hall, her 11-year-old daughter Taylor El Moussa, Young, and El Moussa. 
"Co-parenting 101," the Christina on the Coast star captioned the post. "Kids come first. Taylor's open house. Next, on to middle school she goes."
Haack wrapped up the post with an update on her and El Moussa's son, Brayden. 
"Brayden is recovering well and we are all grateful," she wrote alongside a white heart emoji. The HGTV star concluded the post, saying, "It has been a very rough few weeks, ready for some peace ." 
Young and El Moussa shared almost identical photos from the family outing. The former Flip or Flop star also gave an update on Brayden. Meanwhile, Young ​​echoed Haack's sentiment about co-parenting in her own Instagram post. "Sometimes to shut …read more
Source:: Showbiz Cheat Sheet
(Visited 9 times, 1 visits today)